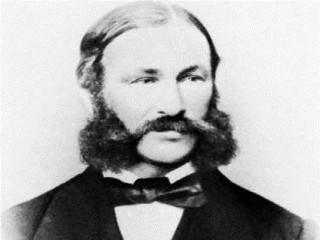 Heinrich Barth
Date of birth : 1821-02-16
Date of death : 1865-11-25
Birthplace : Hamburg, Germany
Nationality : German
Category : Arhitecture and Engineering
Last modified : 2011-06-03
The German explorer Heinrich Barth greatly expanded European knowledge of the western and central Sudan in Africa.
Heinrich Barth was born on Feb. 16, 1821, in Hamburg. He showed remarkable linguistic skill and learned English, French, Spanish, Italian, Arabic, and several African languages. In 1839 he entered the University of Berlin.
From 1845 to 1847 Barth visited most of the Mediterranean countries and then decided to pursue an academic career. Starting as an unsalaried university lecturer, he proved to be unpopular with his associates and a poor teacher and was forced to cancel his classes.
Meanwhile, James Richardson was assembling the English Mixed Scientific and Commercial Expedition to establish trans-Saharan communications with the banks of the Niger for commercial reasons, to help stop the slave trade, and to collect historical, geographical, and scientific information. Needing scientists, he accepted Barth, and they were joined by Dr. Adolf Overweg, also from Hamburg. They set out for the Sudan, crossing the Sahara Desert from Tripoli. Near Lake Chad, Barth and Overweg parted from Richardson because of disagreements. Richardson died in March 1851 and Overweg in September 1852, leaving Barth to complete the expedition.
Barth traveled in the central and western Sudan, and when his contacts with Britain were severed, he was presumed to be dead or lost. But Barth had become fascinated with African life and was carrying on a systematic study of the Sudan.
In the field of geography, Barth's maps and writings gave more complete information on the Sahara and Sudan than had previously been available. In history he discovered fragments of the Tarikh es Sudan (History of the Sudan) and the Diwan (History of the Kingdom of Bornu) and wrote about the decline of the Fulani empire. In unknown areas he carefully recorded local languages, histories, and trading patterns and described the social and administrative structure of African kingdoms.
Barth's trip to Timbuktu confirmed the reports of the French explorer Rene Caillie, and Barth's exploration on the upper Benue confirmed that the Benue empties into the Niger and that the Shari empties into Lake Chad. He did extensive work in linguistics, including the compiling of vocabularies for 40 African languages in the Lake Chad area. In 1855 he crossed the Sahara to Tripoli and returned to England in September.
Barth published a five-volume account (1857-1858) of his years in the Sudan, which was of immense value and interest to serious students of Africa but considered dull by most of the reading public. He died in Berlin on Nov. 25, 1865.
View the full website biography of Heinrich Barth.