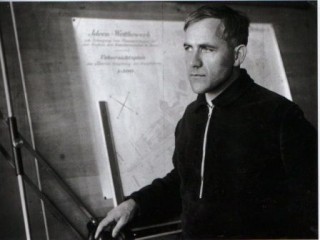 Hannes Meyer
Date of birth : 1889-11-18
Date of death : 1954-07-19
Birthplace : Basel,Switzerland
Nationality : Swiss
Category : Arhitecture and Engineering
Last modified : 2012-01-18
Hans Emil "Hannes" Meyer (November 18, 1889–July 19, 1954) was a Swiss architect and second director of the Bauhaus in Dessau from 1928 to 1930.

The controversial Swiss architect Hannes Meyer studied in Basel and then Berlin before returning to Switzerland to open his own practice in 1919.

From the outset, in projects such as the Freidorf housing development, Meyer expressed an interest in a specific aspect of architecture: urban planning. The European economy was in ruins following the First World War and Meyer believed that architecture was a means of improving people's living standards. The primary task facing the architect was not, therefore, a matter of design in any aesthetic sense but rather a matter of organisation according to function.

In Meyer's view modern design practices, including the use of new building materials and techniques, could make construction more efficient. His projects called for strict systematisation of all facets of the building process, including the use of pre-fabricated parts to be assembled on site. This approach went hand-in-hand with Meyer's political ideas, in the sense that standardisation was central to communal living and an expression of an egalitarian society.

In 1928 Meyer was appointed director of the Bauhaus after the departure of Walter Gropius. He had formalised his functionalist concept of building in print and could now apply these ideas in practice. Encouraging partnerships with industry, he steered the Bauhaus towards the ideal of affordable design for mass production.

In 1930, after a controversy in which he was accused of advocating Communism, Meyer was overthrown by the faculty (with the help of Dessau's mayor). He left for the Russia and worked on urban planning commissions until 1936. After a short period in Switzerland, he became director of the Institute of Urbanism and Planning in Mexico City in 1939. After ten years in this post, he returned to Switzerland where he died in 1954.
View the full website biography of Hannes Meyer.