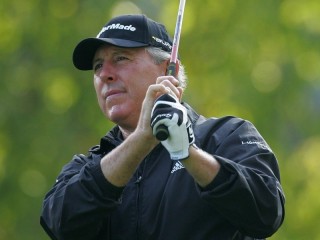 Hale Irwin
Date of birth : 1945-01-03
Date of death : -
Birthplace : Joplin, Missouri, U.S.A
Nationality : American
Category : Sports
Last modified : 2011-09-29
Hale S. Irwin is an American professional golfer. He is one of the few players in history to have won three U.S. Opens and was one of the world's leading golfers for much of the 1970s and 1980s. He has also developed a career as a golf course architect.

Hale Irwin is by no means the most gifted athlete to play on the professional golf circuit. Other players drive the ball longer than he does; they putt better than him, too. Irwin's talent lies in playing nice, clean golf. He drives the ball toward the hole with exceptional accuracy, never having to make up for lost ground. Because of his steadfast consistency, Irwin has remained a force on the pro tour for more than three decades. In this time, he amassed three U.S. Open wins (1974, 1979, and 1990) as well as 17 other Professional Golfers' Association (PGA) Tour victories. Irwin joined the senior golfers' Champions Tour in 1995 and became its most successful player, having won 40 tournaments as of the end of the 2004 season. Golf star Jack Nicklaus summed up Irwin's career this way for Jaime Diaz of the New York Times: "Hale is not exceptional in any part of the game, but very good in all parts."
Hale S. Irwin (the "S" does not stand for anything) was born on June 3, 1945, in Joplin, Missouri, to Hale and Mabel Irwin, though he was raised mostly in Kansas and Colorado. Irwin's father was an excavation contractor who spent his weekends on the golf course. As a youngster, Irwin learned the game from him and never took a formal golf lesson. Irwin's first clubs were adult ones cut down to his size and fitted with electrical tape grips. By the age of seven, Irwin could play a nine-hole course.

As a child, one of Irwin's chores was to cut the grass around the family's home. He did this with an old-fashioned scythe, a tool that has a handle like a golf club that is attached to a single-edged blade at the end. While whacking away at the grass with the scythe, Irwin inadvertently mastered the motion of the golf swing.
In the book Play Better Golf with Hale Irwin, Irwin explained that using the scythe was good preparation for a golf career. "It was such a long, difficult tool to use that you had to take up a well-balanced footing and move it very easily and rhythmically with a backswing and through swing. Because the golf club is so light and easy to move by comparison, there is so often a tendency to rush the swing.... In no way was that possible with a scythe. I have always carried that image in my mind ... and have added to it over the years because not only is golf a game of smooth rhythm, but also an action of continuous acceleration."
Irwin played football at Boulder High School in Colorado, then enrolled at the University of Colorado-also in Boulder-and was starting quarterback his sophomore year. Though Irwin stood only six feet tall and weighed 175 pounds, he switched to defensive back. Irwin told Golf Magazine' s Curt Sampson that he preferred defense because he liked to be "on top of the pile looking like a hero" instead of "on the bottom of the pile getting the hell kicked out of me."
Irwin was voted All-Big Eight free safety in both his junior and senior years. He also excelled at golf, winning the 1967 National Collegiate Athletic Association (NCAA) individual golf championship. The demands of both sports required intense dedication. Most days, Irwin left football practice and headed to the tee to hit a few hundred balls. After graduating with a marketing degree in 1968, Irwin decided he was too small to continue with football.
Irwin joined the PGA Tour in 1968 and soon made his mark. In 1971, he won the Heritage Classic. He repeated that win in 1973 and in 1974 shot his way to his first of three U.S. Open wins. Irwin continued to dominate tournaments through 1985, then stepped back from the game a bit to spend more time with his family. He had married Sally Jean Stahlhuth in 1968 and they had two children, both born in the 1970s. Besides spending time with family, Irwin dedicated himself to his St. Louis-based golf course design business. Nearly five years passed without a tournament win. By 1990, sports commentators were saying that Irwin's career was over. The rumors rejuvenated his interest in golf.
Irwin committed himself to a comeback and in 1990 won the U.S. Open-a tournament he had not won in eleven years. Irwin was usually calm and collected after his victories, but this time, he celebrated with a high-five lap around the green. At 45, he was the oldest player to win a U.S. Open. Two days later, he arrived at the Buick Classic and won again. Irwin considers these victories some of his sweetest.
"I think my winning brought people pleasure and some identification with my age group and maybe me," he told Diaz in the New York Times shortly after the wins. "People said, 'Maybe I can do something like that. Maybe I can extend myself.' I could feel it from people. Those two weeks were easily the most emotional of my career."
Irwin turned 50 in 1995 and joined the Senior Tour, now called the Champions Tour. By 1997, he was on fire. That year, Irwin entered 23 events and ended up with 18 top-ten finishes, including nine victories. He also became the first Champions Tour player to top $2 million in one season. In 1998, he won seven times and earned nearly $3 million. Those two years, Irwin won more money than anyone else in golf. This was a phenomenal accomplishment considering the rewards are higher on the PGA Tour. Irwin was named Champions Tour Player of the Year in 1997, 1998, and 2002.

Irwin said the key to his success has been rest and relaxation. He does not practice much during the off-season so that he can return to the sport with renewed vigor. "I start by analyzing my swing," he told Jerry Potter of USA Today. "Then I break it down to the basics: grip, grip pressure, stance." About ten days before the first game, he starts hitting balls, then plays himself back into shape during the competitions. This technique works. In 2004, Irwin became the winningest player in Champions Tour history when he captured his 40th tournament title. Most players do not last long on the Champions Tour, which they can enter at 50. Before Irwin, most golfers saw their skills diminish by the time they reached 55 or 56 and quit being serious contenders. Irwin, however, has shown that for some, the game can go on.
View the full website biography of Hale Irwin.