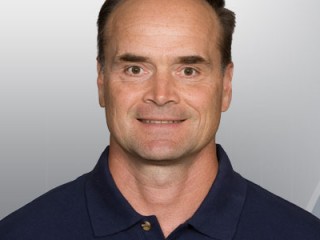 Hal Hunter
Date of birth : 1959-07-08
Date of death : -
Birthplace : Canonsburg, Pennsylvania
Nationality : American
Category : Sports
Last modified : 2010-09-21
Harold T. Hunter (born July 8, 1959 in Canonsburg, Pennsylvania) is the current offensive line coach of the San Diego Chargers of the NFL. He has held positions at the University of North Carolina, Indiana University, and LSU. In 1999, he served as the head coach of LSU's football team for one game, a 35–10 win over rival Arkansas, after Gerry DiNardo was fired. He was replaced when LSU hired Nick Saban.

Hal Hunter performed one of the finest coaching jobs of his career in 2009. His unit was racked by injuries with key starters Nick Hardwick and Jeromey Clary missing significant time. In addition, rookie Louis Vasquez started at right guard and the relatively inexperienced Scott Mruczkowski and Brandyn Dombrowski were called upon to fill in for Hardwick and Clary, and both did so admirably. Despite constnt shuffling in the lineup, the unit played its best down the stretch, allowing just 11 sacks during the team's 11-game win streak to close out the year. And as the season wound down, Kris Dielman earned a third-straight Pro Bowl bid and Marcus McNeill was named a third-alternate.

A long-time college assistant before making the jump to the NFL, Hunter spent two years at Indiana University, coordinating one of the country's most talented offenses. His quarterback, Antwaan Randle El, was the Big Ten Player of the Year and a first-team All-America who went on to become a second-round pick of the Pittsburgh Steelers. In his first season at Indiana, the Hoosiers ranked 12th in the nation in total offense and in his second year they ranked 19th.

Hunter also coached at LSU and was elevated to assistant head coach in 1999, his final season in Baton Rouge. At the end of that '99 season, he was named interim head coach for one game after Gerry DiNardo was fired by the school, and Hunter led the Tigers to a 35-10 win over rival Arkansas. One of his star pupils at LSU was offensive lineman Alan Faneca, who also went on to be drafted by the Steelers, going to Pittsburgh in the first round in 1998.

Hunter was born in Canonsburg, Pennsylvania, and he was a standout football player and wrestler at Belle Vernon (Pa.) High School. He was a Dean's List student at Northwestern, graduating with a 3.6 GPA and a degree in communications. He also played linebacker for the Wildcats, but a neck injury in 1978 ended his career prematurely. Following the injury, he remained with the team however, working with the defensive line and serving as a strength coach.

Hunter and his wife, Tracy, have two sons: Hal IV and Andrew. Hal is a junior outside linebacker at the U.S. Naval Academy, and Andrew is a senior and plays on the football team at Cathedral Catholic High School.
View the full website biography of Hal Hunter.