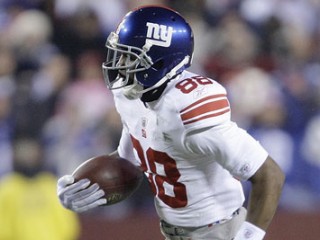 Hakeem Nicks
Date of birth : 1988-01-14
Date of death : -
Birthplace : Charlotte, NC
Nationality : American
Category : Sports
Last modified : 2010-09-24
* Originally a 1st round (29th pick overall) draft choice by the Giants in 2009.


GIANTS NOTES
* Nicks immediately established himself as 1 of the Giants' finest receivers and made the kind of contribution as a rookie all teams would like to get from their 1st-round draft choice.
CAREER NOTES
* As a rookie in 2009, played in 14 games with 6 starts…Inactive at Dallas (9/20) and at Tampa Bay (9/27) with a foot injury…Started for the 1st time at Philadelphia (11/1)…Finished the season with 47 receptions for 790 yards, which were 3rd on the team in both categories…Led the team with a 16.8-yard average…His 6 receiving touchdowns were 2nd on the team to Steve Smith (7)…His 68-yard touchdown reception vs. Philadelphia (12/13) was the longest by a Giants wide receiver in 2009.
* The 47 catches and 790 yards were both the 3rd-highest total in history by a Giants rookie. Jeremy Shockey had 74 catches for 894 yards in 2002 and Bobby Johnson had 48 for 795 in 1984…Nicks' 6 touchdown receptions were the most by a Giants rookie since Johnson had 7. Bill Swiacki holds the Giants rookie record with 10 in 1948….Nicks' 790 yards tied for first among all NFL rookies with Minnesota's Percy Harvin…From Oct. 18 through Dec. 21, Nicks had a catch longer than 20 yards in 9 straight games to become the 1st rookie to accomplish that feat since Miami's Nat Moore in 1974…Nicks had two 100-yards games: 114 at New Orleans (10/18) and 110 vs. Philadelphia (12/13). Against the Saints, he became the first Giants rookie receiver with at least 100 yards in a game since Jamaar Taylor had 102 yards (on just 2 catches) on Nov. 28, 2004 vs. Philadelphia.
* Nicks caught a touchdown pass in 4 consecutive games from Oct. 4 through Oct. 25, the first Giant to do so since Plaxico Burress scored in each of the first 6 games of the 2007 season. He was the first Giants rookie to score touchdowns in 4 consecutive games since Bob Gaiters scored in 5 straight games in 1961. Nicks was the 1st Giants rookie with a touchdown reception in 4 consecutive games since Swiacki in '48. In addition, Nicks was the 1st NFL rookie with a touchdown catch in 4 straight games since Buffalo's Lee Evans in 2004.
* Nicks was named the NFL's Offensive Rookie of the Month for October. In 4 games, he caught 14 passes for 297 yards (a 21.2-yard average) and 4 touchdowns, 1 in each game. He was the 1st Giant to win a Rookie of the Month award since October 2004, when safety Gibril Wilson received the defensive honor. The last Giant to be named Offensive Rookie of the Month was Jeremy Shockey in November 2002.
* Returned 1 kickoff for 16 yards vs. Washington (9/13).
COLLEGE
* Nicks started all 36 games he played for North Carolina and led the team in receptions in each of his 3 seasons…Was the 1st UNC underclassman to declare for the NFL Draft since defensive end Julius Peppers in 2001…Set 14 school records, including catches, receiving yards and touchdown catches…His 181 receptions topped the old record of 177 by Jarwarski Pollock (2001-05) and rank 13th in Atlantic Coast Conference history…Nicks' 2,840 yards receiving broke the previous UNC mark of 2,447 yards by Corey Holliday (1989-93) and placed Nicks 11th on the ACC career-record chart…His 21 touchdown receptions bettered the former record of 19 by Octavus Barnes (1994-97)…Nicks set another school record with 74 receptions in 2007, topping the previous record of 71 by Pollock in 2003…In 2008, he became the 1st player in school history to gain over 1,000 yards receiving in a season with 1,222 yards (on 68 catches), topping the former record of 990 yards by Sam Aiken in 2003…His 12 touchdown catches in 2008 broke the old record of 9 by Marcus Wall in 1994…Had 10 games with at least 100 receiving yards…Nicks' 217 yards vs. West Virginia in the 2009 Meineke Car Care Bowl were the 2nd most by a Tar Heel, and he became just the 3rd player in school history to post a 200-yard receiving game. Nicks joined Randy Marriott (247 vs. Georgia Tech in 1987) and Octavus Barnes (211 vs. Ohio in 1995).
OFF FIELD ACTIVITY
* Participated in the Giants Foundation 2009 Golf Outing.
* Joined Coach Coughlin to host local children fighting cancer and blood disorders for the Jay Fund Ice Cream Social at the Timex Performance Center.
* Joined Eli Manning to attend The Baby Ball benefitting the Eli and Abby Manning Birthing Center at St. Vincent's Medical Center.
* Participated in Justin Tuck's R.U.S.H. for Literacy fundraiser pool tournament.
* Attended the "Champions for Children" fundraiser gala benefitting the Tom Coughlin Jay Fund Foundation.
* Hosted Giants fans and season ticket holders during the team's Draft Day Party at New Meadowlands Stadium.
* Attended the Giants Kickoff Luncheon benefitting St. Vincent's Medical Center.
PERSONAL
* Nicks was a Super Prep and EA Sports 1st-team All-America at Independence High School in Charlotte, where he was ranked the 8th-best player in North Carolina and the 22nd-best wide receiver in the country by Super Prep as a senior. He was named MVP of the Class 4-AA state championship game after leading Independence (15-0) to a 38-19 win over New Bern with 8 catches for 205 yards and touchdowns of 11 and 80 yards in Independence's 92nd-straight victory. He never lost a game in his high school career… North Carolina AP All-State and Charlotte Observer Offensive Player of the Year choice. Rivals.com rated him the state's 4th-best prospect…Played on North Carolina's Shrine Bowl team, where a 37-yard touchdown was among his 3 catches for 42 yards. In his final season, he led the state with 93 receptions for 1,819 yards and 20 touchdowns, including 10 in the playoffs. That year, he had 3 straight games with 10 or more catches…General Studies major…Son of Lisa Mason and Robert Nicks…Stepmother is Vernice Simpson…Born Jan. 14, 1988.
View the full website biography of Hakeem Nicks.