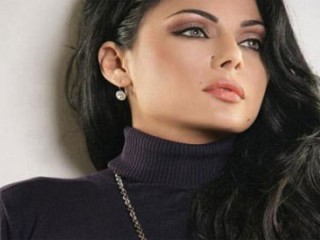 Haifa Wehbe
Date of birth : 1976-03-10
Date of death : -
Birthplace : Mahrouna, Lebanon
Nationality : Lebanese
Category : Arts and Entertainment
Last modified : 2011-04-14

Haifa Wehbe is a Lebanese model, actress, and singer born to a Lebanese father and Egyptian mother who rose to fame in the Arab world as runner up for Miss Lebanon and later through the release of her debut album Houwa El-Zaman

Haifa Wehbe first met success as model when she was named Miss Lebanon in 1995. One year later, Haifa Wehbe was seen on the most prestigious Arab magazines and on People Magazine's 50 most beautiful people list.

The same year, Haifa released her first single "Agoul Ahwak'' included in her debut album, ''Huwa az-Zaman''. Haifa's second album was ''Baddi I'ich'' which met big success due to its lead single "Ya Hayat Albi."

After the hit "Ana Haifa", Haifa Wehbe released in 2006 "Bus al-Wawa" another big hit.
Wehbe performed in many events in Lebanon and all over the world. Her shows always reach huge audiences.

Haifa Whebe have a daughter Zeinab Zaza from her first union and never seen her child since getting divorced.




Studio albums
Houwa El-Zaman (2002)
Baddi Eesh (2005)
Habibi Ana (2008)
Baby Haifa (2010)

Soundtracks
2008: Sea of Stars

Singles
" 80 Million Ehsas"
"Enta Tany"
"Yama Layali"
"El Sot Da Gai Mnein"


View the full website biography of Haifa Wehbe.