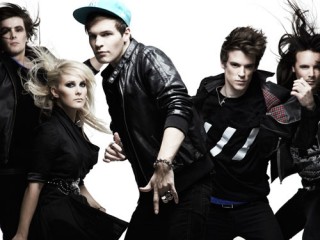 Hadouken!
Date of birth : -
Date of death : -
Birthplace :
Nationality : English
Category : Arts and Entertainment
Last modified : 2012-03-23
Hadouken! are a indie/electro band formed in 2006 at the University of Leeds, United Kingdom by vocalist James Smith (born 1985) and guitarist Daniel "Pilau" Rice (born 1986).

After forming their own record label, Surface Noise Records, in February 2006 Smith began writing and demoing the first Hadouken! tracks. The band was formed in October 2006 with Daniel Rice's brother, drummer Nick Rice (born 1988) and James Smith's girlfriend Alice Spooner who plays synths. In December 2006 they added bassist Chris Purcell (born 1986) to their lineup. Nick Rice's brother Steve Rice was originally the band's drummer, though pulled out after two weeks.

In February 2007 the band released their first record, a two song vinyl with the song "That Boy That Girl", which gained mainstream popularity after the video, directed by friend Bob Harlow, made it onto MTV2. Shortly after the video, the band added bassist Chris Purcell. After releasing their 12-track mixtape "Not Here To Please You" on November 12, 2007 featuring originals and remixes, the band returned to the studio to complete their debut album Music for an Accelerated Culture. This featured nine new songs as well as the single "Liquid Lives" and was released on May 5th 2008. It achieved reasonable success reaching 12th in the UK album charts.

In mid-2009, the band recorded their second studio album, For The Masses, in Holland with drum and bass producers Noisia. The band described the new album as being different, both lyrically and musically. The album was released on February 25th 2010 and did not have the same success as their debut album, receiving generally poor reviews from critics and reaching 19th in the UK album charts.

Hadouken! revealed on 30 May 2010, via Twitter, that work has been started on their third album, and on 31 May, they revealed demos of new tracks had been written. A new single, "Mecha Love", was released on the 17 October.Following the radio debut of "Mecha Love", James Smith confirmed that a second single had been recorded and was ready for release. "The Oxygen EP", "Oxygen", was released digitally on the 7 November.

In 2011, the band played at London's O2 Arena, for the Transformation Trust Rock Assembly.On 18 April 2011 Hadouken! signed to independent label Ministry of Sound with whom they will release their forthcoming third album.James confirmed on Tumblr, the next single, "Parasite" will be released in April 2012.

The band's name is a reference to a special move called "the Hadouken" (surge fist) from the Street Fighter video game franchise where the player throws a fireball at their opponent. The video game references extend into their music which includes sound effects from Nintendo Game Boy titles.
View the full website biography of Hadouken!.