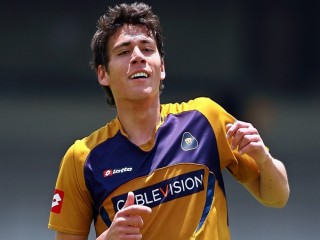 Héctor Moreno
Date of birth : 1988-01-17
Date of death : -
Birthplace : Culiacán, Sinaloa, Mexico
Nationality : Mexican
Category : Sports
Last modified : 2010-06-12
Héctor Alfredo Moreno Herrera (born January 17, 1988 in Culiacán, Sinaloa) is a Mexican football player that currently plays as defender for Dutch Eredivisie club AZ Alkmaar. Moreno was a member of the Mexican National U-17 team that won the 2005 U-17 World Cup held in Peru.

This outstanding young centre-back emerged from the Mexican world-title winning youth team of 2005. He faces intense competition for a spot in the starting line-up from Marquez, Osorio, Rodriguez and Magallon, but his time in the sun surely will come.

A graduate of the UNAM Pumas academy system, he was lured to Holland in 2007 to play for AZ and soon was earning Eredivisie rave reviews. Last season he was excellent from gun to tape as AZ claimed the Dutch title.

He attributes much of his success in Europe to the discipline instilled in him by former AZ boss Louis van Gaal and there have been several rumours linking Moreno with a move to England or Spain.

Universidad Nacional

Moreno's first 1st division team was UNAM Pumas, a México City based team commonly known as Pumas. He joined the Pumas youth system at the age of 15, and then broke into the first team after winning the U-17 FIFA World Cup. Moreno quickly secured a position as a regular starter. During the first game of the Mexican national team against Gambia in the FIFA U-20 World Cup 2007, he played as a defensive midfielder and scored the second goal for his team during the second half. Mexico won the match 3–0, with other goals respectively by Giovani Dos Santos and Javier Hernández.

AZ

On December 12, 2007, it was announced that Moreno was transferred to the Dutch club AZ Alkmaar for 4 and a half years. Moreno became the 5th Mexican defender to currently play in one of Europe's top leagues along Rafael Márquez, Carlos Salcido, Francisco Rodriguez, and Ricardo Osorio . In only 8 appearances for the Dutch Club, Hector has already scored his first goal in Europe, an amazing feature for a young defender, and is already seen as a big future for AZ and Mexico. In April 2009 he was crowned, along with his team, as the league champion. He also signed a contract extension around the same time that would keep him with the club until 2014. On February 7, 2010 Moreno gave AZ Alkmaar a 2–1 victory by scoring a goal in 87th minute. Moreno scored his 3rd goal of the season in a 6–2 victory for AZ Alkmaar on March 13, 2010. Moreno scored his 4th goal of the season in a 3–0 victory for AZ Alkmaar on April 18, 2010.


View the full website biography of Héctor Moreno.