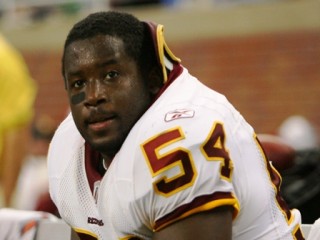 H.B. Blades
Date of birth : 1984-09-30
Date of death : -
Birthplace : Plantation, Florida
Nationality : American
Category : Sports
Last modified : 2010-10-21
H.B. Blades continues to develop into a potential starter and reliable special teams player at linebacker. He has played in all 48 games of his three-year NFL career, with six starts. He has totaled 83 career tackles and 60 special teams tackles. At Pittsburgh, he was named the Big East Defensive Player of the Year and first team All-Big East in his senior season. Blades became only the fifth player ever at Pitt to record more than 400 career tackles. He is the son of former NFL player Bennie Blades and has two uncles, Brian and Al, who played in the league.

Highlights
PRO
* Has appeared in 48 career regular season games with six starts.
* Recorded 83 career tackles and added 60 special teams stops.

2009 (Redskins)
* Saw action in all 16 regular season games, making one start.
* Led the team with a career-high 31 special teams tackles.
* Recorded 19 tackles (14 solo).
* Had a season-high five tackles (four solo) vs. Dallas (12/27).
* Started in the season finale at San Diego (1/3) and registered four tackles (three solo).

2008 Season (WAS):
* Played in all 16 regular season games, with five starts
* Recorded 50 tackles (35 solo) and 12 special teams tackles
* Earned his first NFL start vs. New Orleans (9/14) in place of injured Marcus Washington (knee) and recorded six tackles and one pass defended
* Posted a career-high eight tackles at Baltimore (12/7) and tied the mark the following week with eight tackles at Cincinnati (12/14)

2007 Season (WAS):
* Played in all 16 regular season games his rookie season
* Posted 16 tackles and 13 special teams stops

College

* Became only the fifth player ever at Pittsburgh to record over 400 career tackles
* Started and played in 12 games during his senior season at Pittsburgh
* First team All-American by the Football Writers Association of America and SportsIllustrated.com; was named Big East Defensive Player of the Year and first team All-Big East for the third time
* Recorded a career-high 147 tackles (86 solo), 10.5 tackles for a loss, one sack, two fumble recoveries, two interceptions and two blocked field goals as a senior

Personal

* Attended Plantation High School in Plantation, Florida where he set school records for tackles in a career (409), season (154), and game (21)
* Was an administration of justice major at Pittsburgh
* Was the son of Bennie Blades who played safety for the Detroit Lions from 1988-96 and the Seattle Seahawks in 1997
* Was the nephew of former Seahawks wide receiver Brian Blades 1988-1998 and the late Al Blades who played on San Francisco's practice squad in 2001
* Was briefly a roommate of Baltimore Ravens quarterback Joe Flacco during college at Pittsburgh
* Full name is Horatio Benedict Blades.

View the full website biography of H.B. Blades.