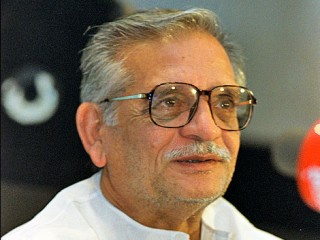 Gulzar
Date of birth : 1936-08-18
Date of death : -
Birthplace : Dina, Jhelum District, Punjab, British India
Nationality : Hindi
Category : Famous Figures
Last modified : 2010-10-21
Gulzar was born Sampooran Singh at Deena in Pakistan in the year 1936. After partition in 1947, he came to Delhi. Gulzar started his career as an assistant to celebrated director Bimal Roy and Hrishikesh Mukherjee. He started his career as a lyricist with Bimal Roy's 'Bandini'. Although His first film to be released was Kabuli Wala, but Bandini is considered to be his first venture. Films like Sannata, Biwi aur Makan, Do Dooni Chaar and most notable of all Khamoshi, followed them.

After getting recognition as a sensitive lyricist, he started writing scripts and stories for films. Then with Mere Apne in 1971, He turned Director. In a career spanning 40 years Gulzar has written stories for around 60 films and directed 17 movies, each one a masterpiece. During 1980's he did one of the most outstanding jobs for the small screen, the serial called Mirza Ghalib, a tribute to the legendary poet. Mirza Ghalib will remain one of the most memorable TV productions for its music, direction, dialogues and portrayal of Ghalib by GulzarNaseeruddin Shah. 1996 saw Gulzar back in action, behind the camera for the making of Maachis, a candor document on terrorism in Punjab. The success of Maachis got Gulzar back to the film industry.

In his long career, Gulzar has never sighed away from experiment. Some of the notable experiments include Kharaashein - a play by Salim Arif on Gulzar's short stories, Udaas Paani - an experimental music album by Abhishek Ray and, Gulzar's Poetry on Canvas by a young Painter Ajay Kumar Samir. Kharaashein has now been published in the form of a book on Radhakrishna Prakashan. Gulzar has won 5 National Awards and 17 Filmfare Trophies. He has been awarded the Sahitya Academy Award for his collection of short stories "Dhuaan". Noted celluloid magazine FILMFARE has honored him with a Lifetime Achievement Award for his contribution to Hindi Cinema.

View the full website biography of Gulzar.