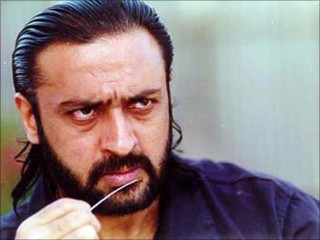 Gulshan Grover
Date of birth : 1955-09-21
Date of death : -
Birthplace : Rampura Jorbagh, New Delhi, India
Nationality : Indian
Category : Arts and Entertainment
Last modified : 2011-07-15
Gulshan Grover is an Indian actor, who has appeared in several Hindi and Punjabi language films. He was born in Rampura Jorbagh in Delhi. Some sources say that his birthday is on 21st September 2010, but in an interview with a national daily Gulshan Grover has said that he does not celebrate his birthday as he does not know when he was born. He said that he was from a family where they were always short of money and the only one in the family without a horoscope.

Gulshan Grover's father Bishambar Nath Grover owned a cloth shop in Trinagar and he was also a poet and a part-time actor. Apart from doing well in studies at the government school in Trinagar, he took part in dramatics and debates. He supplemented the family income by selling washing powder and phenyl door-to-door.

With good marks, Gulshan Grover passed school and got admission in B.Com (Honours) at Shri Ram College of Commerce (SRCC) in Delhi. He was selected the cultural secretary in the second year of college and he acted in plays in other colleges too. he was awarded the Madan Mohan Award for doing well in extra-curricular activities.

Career:
Gulshan Grover went to Mumbai to try his luck in acting. He stayed in Mumbai for 6 months but nothing materialized. His family forbade him from going back but he was determined and joined Roshan Taneja's acting classes. Here, he met Sanjay Dutt, Anil Kapoor and Mazhar Khan. After concentrating in acting for a year, he worked in Roshan Taneja's institute for a while.

Sanjay Dutt liked Gulshan Grover's dedication and this got him a role in Sanjay Dutt's debut film ROCKY (1981) directed by Sunil Dutt. But before that released a few other films he acted in. LAAKHAN (1979) directed by Dinesh Ramnesh and Hanif Chippa had Gulshan Grover in the film along with Aditya Pancholi, Jahnavee, Sohni, Vikram Gokhale and Naveen Nischol. Anil Kapoor's father Surinder Kapoor saw him in a play at the acting school and offered him a role in HUM PAANCH (1980). The film based on the epic Mahabharata was directed by Bapu and also starred Mithun Chakraborty, Raj Babbar, Deepti Naval, Aruna Irani, Sanjeev Kumar, Shabana Azmi, Naseeruddin Shah, Anil Kapoor, Amrish Puri and A K Hangal. He was seen a couple of films like BULANDI (1981) directed by Esmayeel Shroff which starred Raj Kumar, Asha Parekh, Kim, Raj Kiran and Helen. He did a small role in Irshad's SANSANI: THE SENSATION which starred Bindiya Goswami, Prem Chopra, Jagdeep and Jayshree Gadkar.

Gulshan Grover acted in Basu Bhattacharya's MADHU MALTI (1982) starring Sachin Pilgaonkar, Sarika, Nadira and Prema Narayan. He did a role in Mahesh Bhatt's ARTH starring Shabana Azmi, Kulbhushan Kharbanda, Smita Patil, Rohini Hattangadi, Siddharth Kak, Raj Kiran and Dina Pathak.
Shabana Azmi liked his performance in this film and got him a role in Mohan Kumar's AVTAAR (1983) in which he played the role of Rajesh Khanna and Shabana Azmi's son. He was seen in a brief negative role in Balu Mahendra's SADMA (1983) starring Kamal Haasan and Sridevi. Through Surinder Kapoor, he got a role in Rajiv Mehra's EK JAAN HAI HUM (1983) starring Shammi Kapoor, Rajiv Kapoor, Pran, Divya Rana, Tanuja and Rakesh Bedi.

Gulshan Grover was seen in Govind Moonis's SASURAL (1984) starring Arun Govil, Sadhna Singh, Bharat Bhushan and Dina Pathak. In Yash Chopra's MASHAAL (1984) he starred along with Dilip Kumar, Anil Kapoor, Rati Agnihotri, Waheeda Rehman, Saeed Jaffrey and Amrish Puri. He acted in YEH DESH (1984) directed by T Rama Rao starring Jeetendra, Zeenat Aman, Shakti Kapoor, Kamal Haasan and Amrish Puri. According to Gulshan Grover in an interview, his big break as a villain came with Umesh Mehra's SOHNI MAHIWAL (1984) in which he played the role of the heroine's fiance. After this movie, there was no looking for him. He acted in Sudarshan Nag's INSAAF KAUN KAREGA (1984) starring Dharmendra, Rajnikanth, Jayapradha, Amrish Puri and Pran.

Gulshan Grover acted in B R Mishra's SAUTELA PATI (1985) starring Raj Kiran, Khushboo, Naveen Nischol and Madan Puri. In Sohanlal Kanwar's PAISA YEH PAISA (1985), he was seen along with Jackie Shroff, Meenakshi Seshadri, Nutan, Bindu and Amrish Puri.He also acted in Prithviraj Chatterjee's AURAT PAIR KI JUTI NAHIN HAI (1985) starring Marc Zuber, Deepti Naval, Satyan Kappu and Sachin Pilgaonkar. He was seen in Veerendra's TULSI (1985) starring Sachin Pilgaonkar, Sadhana Singh and Inder Thakur. He acted in Raja Bharathi's MERA JAWAB (1985) starring Jackie Shroff, Meenakshi Seshadri, Shakti Kapoor, Kader Khan and Parikshit Sahni. In Raj N Sippy's SHIVA KA INSAAF (1985), he acted along with Jackie Shroff, Poonam Dhillon, Mazhar Khan and Shakti Kapoor. MAHA GURU (1985) directed by S S Ravichandra starred Gulshan Grover, Rajnikanth, Meenakshi Seshadri, Rakesh Roshan, Jeetendra and Kader Khan. Ajay Kashyap's JAAN KI BAAZI (1985) starred Gulshan Grover, Sanjay Dutt, Anita Raj, Swaroop Sampat and Anuradha Patel. He acted in a Ramsay horror film starring Rajan Sippy, Aarti Guha, Puneet Issar, Jagdeep, Asha Sachdev and Prem Chopra. The film was called SAAMRI (1985) and was co-directed by Shyam Ramsay and Tulsi Ramsay. In Ashok Tyagi's SURKHIYAAN (1985), he was seen with Arun Bakshi, Brahm Bhardwaj, Krishan Dhawan, A K Hangal, Padmini Kapila and Suresh Oberoi.

View the full website biography of Gulshan Grover.