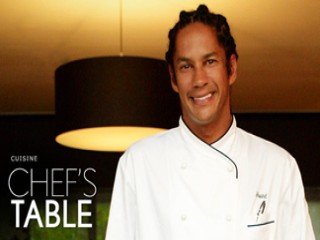 Govind Armstrong
Date of birth : -
Date of death : -
Birthplace : California, United States
Nationality : American
Category : Famous Figures
Last modified : 2011-11-03
Govind Armstrong is an American chef, born 1969, specialized in California Cuisine. He has appeared on the Bravo series Top Chef as a guest judge as well as the Food Network series Iron Chef America as a contestant.

Armstrong spent three summers working in Spago's legendary kitchen under the tutelage of Wolfgang Puck. His career continued to accelerate when he assisted celebrity chefs Mary Sue Miliken and Susan Feniger in opening City Restaurant, the cutting-edge le Brea Avenue eatery that would have a long-lasting influence on the local dining scene. Three years later, he left to become tournant at the Hotel Bel-Air before moving to San Francisco to attend college. While in college, he supported himself by working as a sous chef at Postrio, the fashionable Wolfgang Puck restaurant near Union Square.

Armstrong made several journeys to Europe over the years to hone his skills in some of the most highly respected kitchens, including Excelsior at Hotel de l'Europe, d'Theeboom and The American Hotel in Amsterdam. In addition to turning out haute cuisine, Armstrong traveled around Italy, Spain and France enhancing his appreciation for diversity in food and wine. In San Sebastian, he was mentored by Pedro Subijana, the renowned chef of Restaurant Akeláre. Armstrong also learned innovative techniques from chef/ owner Juan Mari Arzak at his preeminent restaurant Arzak.

When Armstrong returned home, he had a brief stint at Mark Peel and Nancy Silverton's Campanile. There, he worked alongside future business partner Ben Ford. Armstrong soon left Campanile for his first chef position at Jackson's, where he received rave reviews for his innovative dishes. Soon after, Joachim Splichal nabbed him to run the kitchen at Pinot Hollywood, where he coordinated many celebrity-filled parties for movie premiers, the Oscars and Grammys.

In 2000, he and Ben Ford opened Chadwick in Beverly Hills. For this ambitious project, the two co-chefs collaborated on a refined, contemporary cuisine that emphasized organic local ingredients. Since his first job at Spago when he was only 13, Armstrong has been unwavering in his philosophy that the foundation for great cooking is to use only the highest quality seasonal ingredients.

Today, at age 34, Armstrong is living his dream by putting his talents and personal style to work at his own restaurant, Table 8 - the ideal platform for presenting his inventive California cuisine.

View the full website biography of Govind Armstrong.