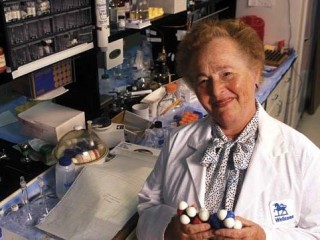 Gertrude B. Elion
Date of birth : 1918-01-23
Date of death : 1999-02-21
Birthplace : New York City,U.S.
Nationality : American
Category : Science and Technology
Last modified : 2011-12-21
Gertrude Belle Elion (January 23, 1918 – February 21, 1999) was an American biochemist and pharmacologist, and a 1988 recipient of the Nobel Prize in Physiology or Medicine. Working alone as well as with George H. Hitchings, Elion developed a multitude of new drugs, using innovative research methods that would later lead to the development of the AIDS drug AZT.

Gertrude B. Elion graduated summa cum laude from a tuition-free college when she was only 19, then worked as a substitute schoolteacher to earn tuition for graduate school and, in her first lab work, tested pickles and berries for quality at the Quaker Maid Company. She later worked at Burroughs-Wellcome (now GlaxoSmithKline), while attending night school for her doctorate degree. When the university informed her she would be required to attend full-time, she dropped out instead, deciding she did not want to leave her day job at the lab.

In several decades at her day job, Elion helped develop the first drugs to combat leukemia, herpes, and AIDS, and pioneered new research methods to design drugs that could target specific pathogens. The medicines she developed include acyclovir (for herpes), allopurinol (for gout), azathioprine (which limits rejection in organ transplants), purinethol (for leukemia), pyrimethamine (for malaria), and trimethoprim (for meningitis and bacterial infections).

In 1967 she was became the head of the company's Department of Experimental Therapy. Elion officially retired in 1983 but continued working almost full time at the lab, and oversaw the adaptation of azidothymidine (AZT), which became the first drug used for treatment of AIDS. She won the Nobel Prize for Medicine in 1988, sharing the honor with George H. Hitchings, her long-time boss and collaborator at Burroughs-Wellcome, and with Sir James W. Black.

"People ask me often", she said, "[was] the Nobel Prize the thing you were aiming for all your life? And I say that would be crazy. Nobody would aim for a Nobel Prize because, if you didn't get it, your whole life would be wasted. What we were aiming at was getting people well, and the satisfaction of that is much greater than any prize you can get."

Elion's inventions include:
- 6-mercaptopurine (Purinethol), the first treatment for leukemia.
-Azathioprine (Imuran), the first immuno-suppressive agent, used for organ transplants.
-Allopurinol (Zyloprim), for gout.
-Pyrimethamine (Daraprim), for malaria.
-Trimethoprim (Septra), for meningitis, septicemia, and bacterial infections of the urinary and respiratory tracts.
-Acyclovir (Zovirax), for viral herpes.

View the full website biography of Gertrude B. Elion.