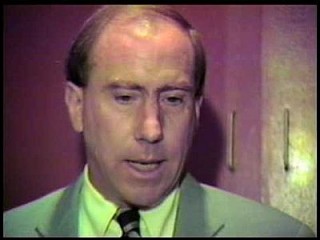 Gerry E. Studds
Date of birth : 1937-05-12
Date of death : 2006-10-14
Birthplace : Mineola, New York, U.S.
Nationality : American
Category : Politics
Last modified : 2010-08-27
Congressman Gerry Studds, who announced his retirement in October 1995, served 12 terms in the United States House of Representatives, representing southeastern Massachusetts in the Congress since 1973. The first openly gay member of Congress, he has been a leader in the area of HIV and women's health, civil rights, and the environment.

Gerry E. Studds was born on 12 May 1937 in Mineola, New York, the son of a Long Island architect. He spent most of his youth in Cohasset, Massachusetts. He graduated from Yale University in 1959 and earned his master's degree in teaching two years later. Studds held a number of Washington jobs in the early 1960s, including working as a foreign service officer with the U.S. Department of State in 1961. He served on President Kennedy's White House staff for the Domestic Peace Corps, acting as congressional liaison for the Domestic Peace Corps Task Force, chaired by Attorney General Robert F. Kennedy. Studds turned eventually to teaching, holding a position at a boarding school in New Hampshire. His opposition to the war in Vietnam prompted him to return to politics in 1967, when he enlisted in Eugene J. McCarthy's presidential campaign. He launched his first campaign for Congress in 1970.

Congressional Censure

Perhaps Studds' most remarkable achievement is his political resiliency, even in the face of scandal. In 1983, the House censured Studds for sexual misconduct stemming from a sexual relationship he had with a 17-year-old male congressional page in the 1970s. The charge originated from a 16-month investigation of alleged sexual misconduct and drug use by the Committee on Standards of Official Conduct. It was the first time a House member had been censured for sexual misconduct. Studds responded to the charges, and in a statement on the House floor publicly acknowledged his homosexuality. In a prepared statement he said, "I do not believe that a relationship which was mutual and voluntary; without coercion; without any preferential treatment express or implied; without harassment of any kind; which was private; and which occurred 10 years ago constitutes `improper conduct' within the meaning of House Resolution 518...."

Studds admitted to "an error in judgment," and stated at the height of the controversy that his sexual preference had nothing to do with his ability to do his job.

Although there was some initial fallout from the censure--it briefly cost Studds his base of legislative power, the chairmanship of the Coast Guard and Navigation Subcommittee on Merchant Marine--he emerged from the scandal relatively unscathed.

Rather than go into retreat following the censure, Studds returned home and embarked on a round of town meetings. He waited until early 1984, after the controversy had subsided, to announce he would run again for office.

Studds' disclosure of his homosexuality gained him a new constituency in the gay community, allowing him to play a more active role in gay issues. Studds was returned to his seat by a solid majority and restored to his committee assignments.

A 1985 profile in the Boston Globe characterized Studds as a bit of a renegade, occasionally aloof, and an often caustic critic of Congress. Studds seemed somewhat wistful when he recalled his first term in Congress, a time when there seemed to be weightier and more provocative issues to address such as Vietnam and civil rights, and bemoaned the gutless and undisciplined Congress of the 1980s, with its infusion of "humorless ideologues."

Fishing and maritime policy have always been top priority for Studds, and the Merchant Marine and Fisheries Committee, abolished by Republicans in 1995, was the place where Studds' leadership was most keenly felt. It allowed him to play an active role in the passage of a number of major pieces of environmental legislation, including the Marine Mammal Protection Act and the establishment of the International 200-mile fisheries conservation zone, his most noteworthy achievement.

As a member of the Subcommittee on Health and Environment, Studds has been a strong advocate of health care reform, and has pressed forcefully for expanded federal funding for HIV/AIDS research, prevention and care. In 1987, he became the first member of Congress to send a copy of Surgeon General Koop's "Report on AIDS" to every household in his district--a step which ultimately helped convince the Reagan administration to allow a nationwide mailing. Studds authored a 1992 law to ensure the availability of Taxol, a drug which is used to treat breast and ovarian cancer, and was an early leader in the fight to lift the ban on lesbians and gay men in the military. In 1994 he joined Senator Edward Kennedy in introducing the Employment Non-Discrimination Act, which would prohibit sexual orientation discrimination in the workplace.

Studds drew some press again in 1993 when he objected to the scheduled appearance of Gary Bauer, former policy advisor in the Reagan White House, at a U.S. Coast Guard prayer breakfast. Bauer, a conservative who had spoken out against lifting the ban on homosexuals in the military, was also believed by Studds to have dragged his feet when it came to taking action on AIDS. Studds felt that Bauer's appearance at the prayer breakfast was inappropriate, but his aversion may have gone back as far as the 1983 censure, when Bauer suggested Studds should resign. Bauer's invitation to speak was retracted and the breakfast eventually canceled.

A Chapter Closes

Studds had been considering leaving congress since the summer of 1992 when his district was redrawn, but decided to stay through President Clinton's first term. The Republican takeover of congress in 1995 may have been the last straw. He was one of a number of Democrats who decided to leave the House in 1996, and he is quoted as saying that the Republican program left him "somewhere between incredulous and nauseous" (Washington Post, 29 October 1995). In personal statements he has stressed, however, that his decision was not related to recent political developments.

On 28 October 1995, in an open meeting on Martha's Vineyard, Studds announced his resignation in typically eloquent fashion: "Since embarking on this improbable journey, I have been very conscious that each of us is allotted only so many hours and so many days on this earth. Together, we have worked our hearts out; together, we have overcome odds and obstacles that would have discouraged most others; and together, you and I have strived to make many things better than we found them.... Never has an elected representative been so blessed by the beauty of his District and by the decency and common sense of his constituents."
View the full website biography of Gerry E. Studds.