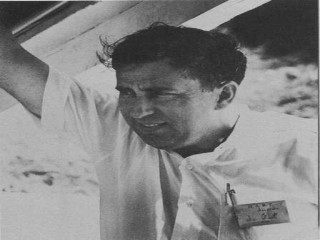 Gerald Bull
Date of birth : 1928-03-08
Date of death : 1990-03-22
Birthplace : North Bay, Ontario, Canada
Nationality : Canadian
Category : Arhitecture and Engineering
Last modified : 2011-09-28
Gerald Vincent Bull was a Canadian engineer who developed long-range artillery. He moved from project to project in his quest to economically launch a satellite using a huge artillery piece, to which end he designed the Project Babylon "supergun" for the Iraqi government. Bull was assassinated outside his apartment in Brussels, Belgium.

Bull was born in North Bay, Ontario, to George and Gertrude Isabelle LaBrosse Bull. George Bull was from a family from the Trenton area and had moved to North Bay in 1903 to start a law firm. As a Catholic, LaBrosse would normally be forbidden from marrying Bull, as he was Anglican. Bull converted to Catholicism on 20 February 1909, and the two married three days later. Over the next few years the couple had 11 children: Bernice Gwendolyn Florence, Henry, Philis, Charles Esmond, Clyde, Vivian, Ronald, Frank, Gerald, and Gordon.

View the full website biography of Gerald Bull.