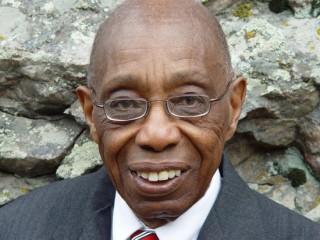 George Walker
Date of birth : 1922-06-27
Date of death : -
Birthplace : Washington D.C., U.S.
Nationality : American
Category : Arts and Entertainment
Last modified : 2012-03-07
George Theophilus Walker is an African-American composer, the first to win the Pulitzer Prize for Music. He received the Pulitzer for his work Lilacs in 1996.

An accomplished and prolific classical music composer, George Walker has achieved many "firsts" in his career, mostly related to his race. He was the first African American to perform at New York City's Town Hall and with the Philadelphia Orchestra, the first African American instrumentalist to be signed by a major management company, the first African American graduate of the Curtis Institute of Music, and the first African American composer to receive the Pulitzer Prize in Music. "I believe that music is above race," Walker is quoted as saying in his American Classical Music Hall of Fame biography. "I am steeped in the universal tradition of my art. It is important to stress one's individuality beyond race, but I must do it as a black person who is aspiring to be a product of a civilized society."

Walker's published catalog exceeds 80 works and includes instrumental and vocal solos, chamber music, orchestral works, and choral music. Many of his compositions were commissioned by the New York Philharmonic, Cleveland Orchestra, Eastman School of Music, Fromm Foundation, Kennedy Center for the Performing Arts, National Endowment for the Arts, and the Boys Choir of Harlem. Nearly every major orchestra in the United States has performed his work, as well as several orchestras in Europe. Over the years, his pieces have been recorded on several record labels, including Columbia, CRI, Desto, Mercury, Orion, Summit, and Albany Records.

Several fellowship programs recognized Walker's talent. He received a Fulbright, MacDowell Colony, two Guggenheim, and two Rockefeller Foundation Fellowships. He also earned several National Endowment for the Arts grants and two Koussevitzky Awards. Walker has been awarded a number of honorary doctorate degrees, including those from Lafayette College in 1982, Oberlin College in 1983, Bloomfield College in 1996, Curtis Institute of Music in 1996, and Montclair State University in 1996.

Walker developed his interest in music from a young age. It helped that he was born into a musical family. He learned a strong sense of dedication to his goals from his father, George Walker, who taught himself to play the piano. The elder Walker was an immigrant from Jamaica who moved to the United States with $35 and a desire to become a physician. He put himself through medical school at Temple University. At the time, the American Medical Association (AMA) did not accept African American doctors as members, so the elder Walker formed his own medical associations to create dialogue and shared research among colleagues. Walker's mother, Rosa King Walker, played the piano and gave her son his first lessons when he was five years old. Walker's sister, Francis, eventually became the professor emerita for pianoforte at the Oberlin Conservatory of Music. "We had nothing but classical music growing up," Walker recalled to Mavis Clark in the Oberlin Alumni Magazine (OAM).

When Walker was just 14 years old, he played in his first public recital at Howard University's Andrew Rankin Memorial Chapel. Soon after, he graduated from Dunbar High School and received a four-year scholarship to Oberlin College. While at Oberlin, Walker studied piano with David Moyer and organ with Arthur Poister. In 1939, Walker became the organist for the Graduate School of Theology of Oberlin College. Two years later at the age of 18, he earned his Bachelor of Music degree with the highest honors.

From there, Walker attended the Curtis Institute of Music where he studied piano with Rudolph Serkin, composition with Rosario Scalero, and chamber music with William Primrose and Gregor Piatigorsky. In 1945, he received his Artist Diplomas in Piano and Composition and was the first African American graduate of the Curtis Institute. Later that year, Walker performed his debut recital at the Town Hall in New York City, the first African American instrumentalist to perform there. A New York Times reviewer, as quoted in Walker's American Classical Music Hall of Fame biography, described the composer as "an authentic talent of marked individuality and fine musical insight ... a rare combination of elegance and sincerity, an understanding, a technical competence, and a sensitiveness rarely heard at debut recitals."

Just two weeks after his debut recital, Walker won the Philadelphia Youth Auditions. He performed with Eugene Ormandy and the Philadelphia Orchestra in a performance of the Rachmaninoff Third Piano Concerto. His performances as a pianist continued from there. He played Brahms' Second Piano Concerto with the Baltimore Symphony under the direction of Reginald Stewart. In 1946, Walker composed Lyric for Strings, which became one of his most well-known and frequently performed early works. He dedicated the piece to his grandmother.

In 1947, Walker earned an Artist's Diploma at the American Academy in Fontainbleau, France, where he had studied with Robert Casadesus. He continued to perform in solo recitals and with leading symphony orchestras and signed with the National Concert Artists management company in 1950. Four years later, he toured seven European countries, including Sweden, Denmark, Holland, Germany, Switzerland, Italy, and England.

While on tour, Walker suffered several ulcer attacks which contributed to a change in his creative direction. "I became ill in the course of my first European tour ... and I came back to the United States, realizing that I would be severely handicapped in attempting to pursue to appear when I wasn't physically at my best," Walker told Jim Lehrer on the Public Broadcasting System's (PBS) NewsHour television program. In addition to his health concerns, Walker's performances were not frequent enough to further his career. So, his father suggested that he consider supplementing his music career by teaching. "I never got the opportunities that would have allowed me to concertize like a white pianist," Walker told Ralph Blumenthal in the New York Times. "I never felt bitter. I strongly felt if I continued to press for what I hoped to achieve, I would achieve it."

Walker taught music at Dillard University for one year before enrolling at the Eastman School of Music where he studied with José Echániz. In 1956, he received an Artist Diploma in Piano and a Doctor of Musical Arts degree at the Eastman School of Music. He was the first African American student to receive that degree from the school. In another first, Walker was the first composer to receive the John Hay Whitney Fellowship in 1957. He also received a Fulbright Fellowship around the same time. He spent the next two years in Paris, France, where he studied with Nadia Boulanger. Then, he embarked on another, less extensive tour of Europe which included performances in France, Holland, and Italy. When he returned to the United States, Walker received a faculty appointment to the Dalcroze School of Music, The New School for Social Research, where he introduced a course in aesthetics. The following year, he joined the faculty at Smith College, where he taught until 1968. After leaving Smith College, Walker taught for a year at the University of Colorado as a visiting professor.

Although he had taken his father's advice about teaching, Walker continued to pursue his own musical career at the same time. In 1963, after a performance at Wigmore Hall in London, Walker received an honorary membership in London's Frederic Chopin Society. However, he had received few commissions and his works were not performed frequently. In 1968, Walker participated in a symposium in Atlanta, Georgia, on African American composers. "It was the first time that black composers had ever gotten together and the first time to hear our music performed well, to have discussions about common problems, and to simply meet each other," Walker told Ebony. The symposium inspired Walker even more, and he began to infuse his own work with references to African American music and the African American experience, particularly with old spirituals and folk songs.

The following year, Walker took the position of chairman of the Music Department at Rutgers University, which he held until his retirement in 1992. In addition to that position, he was on the faculty at the Peabody Institute of Johns Hopkins University from 1975-78 and was the recipient of the first Minority Chair established by the University of Delaware from 1975-76.

In the 1980s, Walker began to receive more exposure and commissions in the classical music community. In 1981, In Praise of Folly was premiered by the New York Philharmonic. The performance was televised throughout the United States on PBS' Great Performances program. Four Spirituals for Orchestra (previously titled Folksongs) was premiered in May of 1992 by the Baltimore Symphony Orchestra under the direction of David Zinman. In April of the following year, the Detroit Symphony Orchestra premiered Walker's Sinfonia No. 2 under the direction of Neeme Jaervi. The Serge Koussevitzky Music Foundation at the Library of Congress commissioned the piece.

In 1995, the Boston Symphony Orchestra commissioned Walker to compose a tribute to renowned African American tenor Roland Hayes. For the text, Walker used four stanzas of Walt Whitman's poem "When Lilacs Last in the Dooryard Bloom'd," which was a reflection on the assassination of President Abraham Lincoln. On February 1, 1996, the Boston Symphony premiered Lilacs under the direction of maestro Seiji Ozawa. Faye Robinson performed with the orchestra as the soprano soloist.

Two months later, Walker earned the Pulitzer Prize in Music for Lilacs. Walker's son Ian had submitted the piece to the Pulitzer Prize Committee for consideration. Walker was the first African American composer to receive the honor. "It's always nice to be known as the first doing anything," Walker told USA Today, as quoted in Jet magazine, "but what's more important is the recognition that this work has quality."

After receiving the Pulitzer Prize, Walker continued to receive more awards and recognition. In 1998, he earned the Composers Award from the Lancaster Symphony and the Letter of Distinction from the American Music Center. In May of 1999, he was inducted into membership in the Academy of Arts and Letters in New York City. The following year, he was inducted into the American Classical Music Hall of Fame and received the Dorothy Maynor Outstanding Arts Citizen Award for 2000 from the Harlem School of Arts.

Walker also continued to receive commissions for more compositions. In October of 1997, the New Jersey Symphony Orchestra premiered Walker's 1987 composition Pageant and Proclamation, which it had commissioned for its seventy-fifth anniversary in celebration of the orchestra's move into the New Jersey Performing Arts Center. The Columbus Pro Musica commissioned Tangents for Chamber Orchestra, which premiered in January of 2000. In the late 1990s and into 2000, Walker's work and performances were also released on several CDs, including Recital, Portrait, Chamber Music, and Lilacs.

Despite his occasional commissions and performances, Walker announced his retirement in the 1990s and enjoyed it from his home in Montclair, New Jersey. Though not fully recognized until later in his life, his extensive body of work and influence on American classical music reverberated into the twenty-first century.

View the full website biography of George Walker.