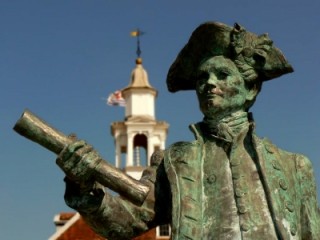 George Vancouver
Date of birth : 1757-06-22
Date of death : 1798-05-10
Birthplace : King's Lynn, Norfolk, England
Nationality : English
Category : Arhitecture and Engineering
Last modified : 2011-05-16
George Vancouver was an English explorer and navigator. His most famous undertaking was his exploration of the North Pacific coast of North America.
George Vancouver was born in England and at the age of 13 began his naval career as an able seaman under Capt. James Cook on the Resolution. He was a midshipman on Cook's famous third voyage in the Discovery. In 1780 Vancouver was promoted to lieutenant and served several years in the West Indies.
In 1790 Vancouver attained the rank of commander and the following year was given command of a new Discovery. His first assignment was to take over the Nootka Sound territory from the Spanish after an incident there had threatened war between England and Spain. After making new exploration around Australia and New Zealand and passing by Tahiti and Hawaii, Vancouver remained in the North Pacific, carrying out extensive exploratory trips from San Francisco northward, largely devoted to ascertaining the possibility of the elusive Northwest Passage. He was the first to chart accurately the large island which bears his name.
Vancouver was a rigid disciplinarian and a demanding officer. He neither sought nor received the affection of his men, but he was respected. He was equally intolerant of the often bizarre theories of European geographers. His meticulous observations and stern logic largely substantiated the claims of Cook and blasted the hopes for a passage through North America anywhere to the south of Arctic waters.
Vancouver returned to England in 1795 by way of Cape Horn and began the preparation of his journals. He had corrected all but a few pages when he died at Petersham on May 10, 1798. The work was completed by his brother and published a few months after George Vancouver's death.
View the full website biography of George Vancouver.