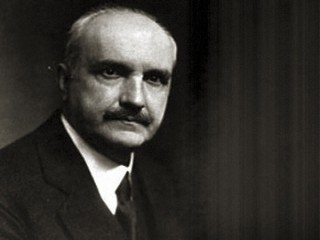 George Santayana
Date of birth : 1863-12-16
Date of death : 1952-09-26
Birthplace : Madrid, Spain
Nationality : Spanish
Category : Science and Technology
Last modified : 2011-05-11
George Santayana, Spanish and American philosopher, developed a personal form of critical realism that was skeptical, materialistic, and humanistic.
George Santayana was unique among American and European philosophers during his long lifetime. While others strove to make philosophy "scientific" and to apply philosophy and science to society, Santayana proclaimed, "My philosophy neither is nor wishes to be scientific." He rejected the inherited genteel tradition in American thought as well as his contemporaries' pragmatism, idealism, and positivism. He openly disliked the liberal and democratic drift of Western civilization. In his philosophy he strove to combine philosophical materialism and a deep concern for spiritual values. A prolific writer with a graceful style, he also published several volumes of poetry, and his most popular book was a novel, The Last Puritan (1936). He is singular among American philosophers for the special flavor of his thought and for his treatment of religion and art.
As a girl Santayana's mother was taken to the Philippines, where she met and married George Sturgis, a Bostonian. Santayana later observed that this "set the background for my whole life." After being widowed, she tried to settle in Boston with her children but soon returned to Spain and remarried. The only child of this marriage was born in Madrid on Dec. 16, 1863, and christened Jorge Agustin de Santayana. He lived until the age of 9 in a vila with his father, a lawyer and student of painting, then joined his mother, who was raising the children of her first marriage in Boston. Although he visited his father in a vila and traveled in Europe frequently, Santayana lived and wrote in America for the next 40 years. As a boy he was quiet, studious, and lonely.
In spite of his connection to the Boston Sturgises and his American education, Santayana never felt fully at home in the United States. Indeed, he never felt fully at home anywhere. Dark-eyed, gentle, unobtrusive, witty, and very detached, he described himself as "a stranger at heart." His philosophy is clearly marked by a sense of detachment. "I have been involuntarily uprooted," he explained without regret. "I accept the intellectual advantages of that position, with its social and moral disqualifications."
Santayana's years at Harvard College, which he attended after Boston Latin School, were generally happy and satisfying. After graduating from Harvard in 1886, he studied philosophy in Germany. He returned to America in 1888 and completed the work for his doctorate in philosophy under the direction of Josiah Royce at Harvard. In 1889 Santayana joined Harvard's department of philosophy, with the apparent intention of retiring as soon as it was financially possible. When he inherited a modest legacy, he resigned his professorship in 1912.
Santayana lived the remainder of his life in Europe, traveling extensively and eventually settling in Italy. He spent his final years in Calvary Hospital, Rome, under the care of the Sisters of the Little Company of Mary. He died on Sept. 26, 1952.
View the full website biography of George Santayana.