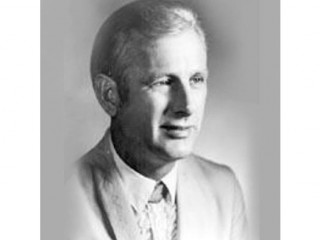 George Morgan
Date of birth : 1924-06-28
Date of death : 1975-07-07
Birthplace : Waverly, Tennessee
Nationality : American
Category : Arts and Entertainment
Last modified : 2011-02-28
The Candy Kid -- as George Morgan was known after his first hit, Candy Kisses, spent three weeks at the top of the country chart -- was a grand country crooner in the tradition of Eddy Arnold, whom he replaced on the Grand Old Opry in 1948. Born in Waverly, TN, on June 28, 1924, Morgan and his family moved to Ohio not long after. He grew up listening to the Opry and formed his first band in the mid-'40s. Occasional spots on local radio did little for Morgan's career, but after he wrote Candy Kisses, WWVA-Wheeling (WV) hired him for the Wheelin Jamboree. The Grand Old Opry called soon after, and Columbia Records contracted Morgan in 1948.

Candy Kisses was finally released early the following year and it hit number one in April; though it proved George Morgan's only chart-topper, he placed six of his next seven singles in the Country Top Ten. "Please Don't Let Me Love You," the B-side of "Candy Kisses," reached the Top Five soon after, and another double-sided hit, "Rainbow in My Heart"/"All I Need Is Some More Lovin'" continued the success. Three Top Ten singles (plus the near-miss "All I Need") in the span of a month was simply astonishing for a debut artist, and Morgan proved he was no fluke by closing out 1949 with three more Top Five hits: "Room Full of Roses," "Cry-Baby Heart," and "I Love Everything About You."

Candy Roses :


It was almost inevitable that Morgan's chart success would taper somewhat, though the three-year gap between hits from late 1949 to 1952 was surprising. "Almost" reached number two in April 1952, however, and Morgan's performances on the Grand Old Opry sustained his reputation. He left the show in 1956 to host a TV program in Nashville, but returned to the Opry three years later. He christened his return in 1959 with "I'm in Love Again," which hit number three. Early the following year, "You're the Only Good Thing (That's Happened to Me)" hit number four, but it was Morgan's last Top 20 entry.

From 1965 to 1975, George Morgan remained with the Opry and recorded frequently, hitting the nether reaches of the country charts consistently. Morgan witnessed his daughter Lorrie's debut on the Opry, but didn't live to see her musical success in the late '80s: he passed away in July 1975 after a heart attack. His posthumous father-daughter duet, "I'm Completely Satisfied with You," hit the charts in 1979.


View the full website biography of George Morgan.