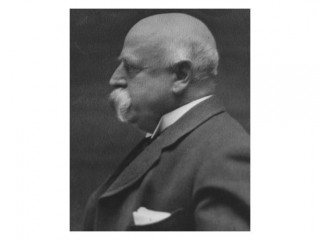 George B. Post
Date of birth : 1837-12-15
Date of death : 1913-11-28
Birthplace : New York City, U.S.
Nationality : American
Category : Arhitecture and Engineering
Last modified : 2012-01-23
George Browne Post was an American architect trained in the Beaux-Arts tradition.

Post was a student of Richard Morris Hunt (1858–60), but unlike many architects of his generation, he had previously received a degree in civil engineering (Scientific School, New York University, 1858). In 1860 he formed a partnership with a fellow-student in Hunt's office, Charles D. Gambrill, with a brief hiatus for service in the Civil War.

Many of his most characteristic projects were for commercial buildings where new requirements pushed the traditional boundaries of design. Many of them have also been demolished, since their central locations in New York and other cities made them vulnerable to rebuilding in the twentieth century. Some of his lost buildings were landmarks of their era, nevertheless. His eight-story Equitable Life Assurance Society (1868–70), was the first office building designed to use elevators; Post himself leased the upper floors when contemporaries predicted they could not be rented.His Western Union Telegraph Building (1872–75) at Dey Street in Lower Manhattan, was the first office building to rise as high as ten stories, a forerunner of skyscrapers to come. When it was erected in "Newspaper Row" facing City Hall Park, Post's twenty-story New York World Building (1889–90) was the tallest building in New York City.

His vast New York Produce Exchange (1881–84) at 2 Broadway faced Bowling Green. Its grand skylighted hall, based on French retail structures, cast daylight into the lower floors.
At the World's Columbian Exposition, Chicago, 1893, Post was named to the architectural staff by Burnham and Root and assigned the Manufactures and Liberal Arts Building, which exceeded by a few feet the clear span of the Machinery Building at the Paris Exposition of 1889. Post's on-site engineer E.C. Shankland of Chicago, has been over-credited in its design, Winston Weisman noted in 1973.

He also designed more staid public and semi-public structures: the New York Stock Exchange Building and the Wisconsin State Capitol. Among the prominent private houses by Post were the French chateau for Cornelius Vanderbilt II (1879–82) that once stood at Fifth Avenue and 57th Street (that was photographed by Albert Levy while being built), and the palazzo that faced it across the street, for Collis P. Huntington (1889–94). In Newport, Rhode Island he built for the president of the Louisville and Nashville Railroad, C.C. Baldwin, "Chateau-Nooga" or the Baldwin Cottage (1879–80), a polychromatic exercise in the "Quaint Style" with bargeboards and half-timbering; John La Farge provided stained glass panels.

A true member of the American Renaissance, Post employed noted artists and artisans to produce decorative sculpture and murals. Among those who worked with him were the sculptor Karl Bitter and the painter Elihu Vedder. he was a founding member of the National Arts Club and served as its president from 1898 to 1905. In 1905 his two sons were taken into the partnership. The firm carried on under Post's grandson Edward Everett Post (1904–2006) until the late twentieth century.
Post served as the sixth president of the American Institute of Architects, 1896-99.

His extensive archives are at the New-York Historical Society. Sarah Bradford Landau, George B. Post, Architect: Picturesque Designer and Determined Realist (1998) inspired the retrospective exhibition at the Society, 1998–99 that reassessed Post's work.
View the full website biography of George B. Post.