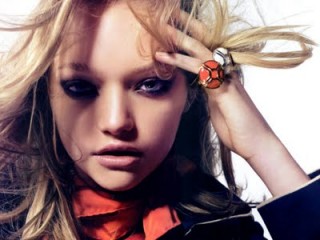 Gemma Ward
Date of birth : 1987-11-03
Date of death : -
Birthplace : Perth, Australia
Nationality : Australian
Category : Famous Figures
Last modified : 2010-11-02
Gemma Ward was born on 3rd of November 1987 in Perth, Australia. She's been a supermodel since 2002 and has achieved in that career a lot, despite still being so young.

She was accepted into modelling career completely by accident, where she was invited into one of the future model competition programs. Though she didn't win, she still was noticed by many fashion designers.

Despite being a model, Gemma Ward really loves acting and so started acting career not long ago in films The Black Baloon and The Strangers, though her debut role was in Pink Pyjamas in 2001.

In the summer of 2011 Ward will be playing the part in Pirates of the Caribbean: On Stranger Tides, as Tamara, Queen of the Mermaids, and meet Jack Sparrow during his search for the illusive Fountain of Youth.

With distinctive, China doll-like features that gave her a thoroughly unique countenance, Australian model-cum-actress Gemma Ward carved out a niche for herself as one of the world's most unique and successful supermodels. A native of Perth (on Australia's western seaboard), Ward grew up in the obscurity of an average Aussie family, as the "tomboy" daughter of a physician and nurse, and only harbored dreams of movie stardom. At the age of 15, however, friends coaxed her into entering a local modeling competition (allegedly forging her mother's signature); though she didn't win the initial contest, an agent from Manhattan-based IMG spotted her, whisked her off to New York, and turned her into a global sensation on fashion runways and in magazine glossies.


View the full website biography of Gemma Ward.