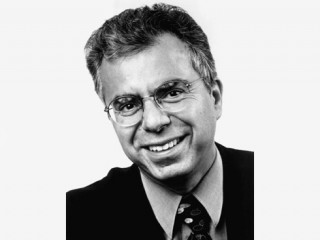 Gary Soto
Date of birth : 1952-04-12
Date of death : -
Birthplace : Fresno, Californis, United States
Nationality : American
Category : Famous Figures
Last modified : 2010-09-13
Gary Soto is an American author, 1977-; University of California at Berkeley, lecturer in Chicano studies, 1977-81, assistant professor of English and Chicano studies, 1981-85, associate professor of English and Chicano studies, 1985-95.

Selected: American Academy of Poets prize, 1975; U.S. International Poetry Forum award, for The Elements of San Joaquin, 1977; Guggenheim fellowship, 1980; National Endowment for the Arts fellowship, 1981; Levinson award, Poetry magazine, 1984; Literature Award, Hispanic Heritage Foundation, 1999; Author-Illustrator Civil Rights Award, National Educational Association; PEN Center West Book Award, 1999.


Early Life
Born on April 12, 1952, in Fresno, CA; son of Manuel Soto and Angie Oftedal Soto; married Carolyn Sadako Oda, May 24, 1975; children: Mariko Heidi Education: Fresno City College, two year degree; California State University at Fresno, BA, English, 1974; University of California at Irvine, MFA, 1976.
Hailed as one of the top Mexican-American writers in the United States, Gary Soto is also one of the most versatile. Winning awards and acclaim for his poetry in the years after he completed his education, Soto has also written short stories and autobiographical sketches. Almost single-handedly, he has striven to create a literature for young Mexican-American readers; as he turned to writing full time in the 1990s, he devoted his energies increasingly often to poetry, stories, and picture books for children and intermediate students. Much of Soto's writing is drawn on his recollections of growing up poor in California's agricultural Central Valley; many of his readers have the impression that he has an almost unbroken photographic memory of his entire childhood.
Soto is an extremely prolific writer, having created well over 60 books, plus numerous contributions to periodicals and several films, by the early 2000s. But literature was not even present in his childhood home. Soto was born on April 12, 1952, and grew up in Fresno, California, next to a junkyard and across the street from a pickle factory. His parents were Mexican-American laborers, and his father was killed in an industrial accident when Soto was five. His father's death had a long-lasting emotional impact on Soto, who in an interview with NEA Today attributed the detail of his childhood memories to his years of brooding over the accident. "I kept going over those events in my mind until I was in my 30s--thinking if we'd done this instead of that, everything would have been different."
Weak Student in High School
The impact was also economic, forcing Soto along with the rest of his family into whatever jobs they could get. Sometimes this meant migrant farm labor and its hazardous exposure to toxic chemicals. Soto was an indifferent student in high school, with a D grade average and a preference for spending his time as a novio--a lover boy--on the school playground. His family had little interaction with the world of education. "We had our own culture which was more like the culture of poverty," Soto said in an interview with the Dictionary of Literary Biography.
"I was a marginal kid," he told NEA Today. "I could have gone from the playground to prison or to college." One reason he enrolled in Fresno City College was that he was worried about being drafted and sent to fight in the Vietnam War; another was that he had begun to enjoy reading after coming across To Sir with Love, a British story of an inspiring inner-city teacher who earns the devotion of troubled students. Soto moved on from community college to California State University at Fresno, intending at first to study geography but switching to creative writing after he read a poem about alienation called "Unwanted," by Edward Field.
Soto also encountered the works of California's stream-of-consciousness "Beat" poets such as Allen Ginsberg in college, but his most important influence was his teacher Philip Levine, a native of Detroit known for his poetry about working-class Americans. After receiving his bachelor's degree with high honors, Soto went on for a master of fine arts degree at the University of California's Irvine campus. He married Carolyn Oda, a Japanese American, in 1975 (the couple has one daughter), and finished his degree a year later. Soto taught at San Diego State University and in 1977 was hired as an assistant professor at the University of California's flagship campus in Berkeley, where he remained until 1993.
Depicted Central Valley in Poems
While still a student, Soto had begun publishing poetry in magazines and journals, and he started winning literary prizes as early as 1975. From the beginning, although he grew up in a Spanish-speaking household, he wrote mostly in English. Soto's first book of poetry,
The Elements of San Joaquin
, was published in 1977 and immediately attracted critical attention and praise; it differed in several respects from the bulk of Chicano poetry that had appeared up to that point. Soto presented poems depicting scenes and figures from the Central Valley of his youth. Although he did not shy away from representing the life of Mexican Americans as hard and hostile--his description of "men whose arms were bracelets of burns" was widely quoted--Soto avoided an explicitly political tone. His poetry was both personal and universal; some reviewers compared his imagery of the dusty, bleak Central Valley to the feeling conveyed by a classic poem of modern alienation, T. S. Eliot's "The Waste Land."
By 1985 Soto had published four books of poetry and contributed to several other volumes, and he ascended to the rank of associate professor in Berkeley's English and Chicano Studies departments that year. His poetry had always had a strong storytelling quality, and in the mid-1980s, he began writing prose stories and autobiographical vignettes. Two books of autobiographical writings, 1983's
Small Faces
and 1988's
Lesser Evils
, were collected in the 2000 volume The Effects of Knut Hamsun on a Fresno Boy, along with new material. Soto wrote evocatively about such painful incidents of childhood as schoolyard ridicule over an article of clothing, and from these recollections it was a short step to writing material for readers in the child and young adult age groups.
Soto, according to Booklist, hoped "to start Chicanos reading," and indeed when he started out, the selection of books set among Mexican Americans and aimed at young readers was very sparse. One of his first efforts was Baseball in April and Other Stories, set among teenagers in neighborhoods much like those where Soto himself had grown up. "His stories are moving, yet humorous and entertaining," noted the New York Times. "The best are also quite subtle. Unsentimental yet bittersweet, they chronicle the responses of young people to the difficulties they encounter."
Wrote Picture Books for Children
Over the course of the 1990s and early 2000s, Soto added to his body of literature for children, writing books of poetry, novels, and picture books in addition to short stories. One of his most popular picture books,
Too Many Tamales
, was the story of a girl named Maria who loses her mother's ring while helping to cook a family meal at Christmas time and tries to keep eating tamales until she finds it; others dealt with a cat named Chato. Though his material for young people was naturally lighter in tone than his writing for adults, it often touched on the sadness that comes with poverty. Soto continued to write poetry and prose for adults as well; his literary production, already high, only accelerated after he gave up teaching to write full time in the mid-1990s.
Far from relying on what he was already familiar with, Soto branched out into new forms and media. He wrote a biography of a California union organizer, Jessie de la Cruz: Profile of a United Farm Worker, scripted several short films, and wrote the libretto for an opera, Nerd-landia, that was staged by the Los Angeles Opera company. Numerous honors came Soto's way; his volume of New and Selected Poems, was named a finalist for both the National Book Award and the Los Angeles Times book award, and he became one of the youngest poets included in the prestigious Norton Anthology of Modern Poetry.
Soto did not slow down in the early 2000s, releasing the picture book
If the Shoe Fits
in 2002 as well as several other books. An inspiration to younger Mexican-American writers through the sheer quantity and range of his work, Soto held writers' meetings at his home in the Berkeley hills and often appeared at school assemblies. His young readers often asked him where he got the ideas for his stories. "I always tell them, 'From you,'" Soto told NEA Today. "You tell me a story, and I'll make it bigger." The Mexican-American experience, indeed, loomed larger in American literature as a result of his efforts.
View the full website biography of Gary Soto.