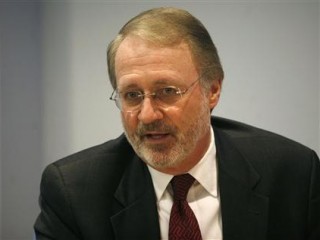 Gary Parsons
Date of birth : -
Date of death : -
Birthplace : Columbia, Maryland, U.S.
Nationality : American
Category : Arts and Entertainment
Last modified : 2011-08-31
Gary Parsons (born 1950) is the former chairman of the board for Sirius XM Radio. Mr. Parsons was also formerly on the board of WorldSpace.

A middle child, Parsons was born and raised in Columbia, South Carolina. His mother was a homemaker and his father was an executive with a fishing rod company. As a teenager, Parsons began working in radio. During high school he covered the 6 p.m. to midnight shift at the Newberry, South Carolina-based WKDK-AM. He had his own show, called "Gary Parsons' Night Flight," which focused on contemporary music. This early work in radio sparked a lifelong passion for music and technology, which he later fused into a career.

After earning an engineering degree from Clemson University, Parsons spent a few years at BellSouth Corp., then entered the MBA program at the University of South Carolina, graduating in 1978. In 1984, Parsons joined Telecom*USA, a long-distance startup later acquired by MCI. He stayed on at MCI and worked his way up to executive vice president of MCI Communications and chief executive officer of MCI subsidiary MCImetro Inc. He was courted by American Mobile Satellite Corp. and joined the company in 1996 as chairman and CEO.
At the time American Mobile, a data-services provider, was developing wireless communications via satellite technology for truckers, the Red Cross, and government entities. While working there, Parsons came to believe that satellite telecommunications technology could have broader applications beyond the customer base American Mobile targeted. Inspired by his wife, Kathy, who had established her own ad agency years before, Parsons founded XM Satellite Radio in 1997 and within a year, had procured an FCC license.

Getting the license, however, was the easy part. Establishing a satellite radio company is highly capital intensive and requires mass infrastructure. Parsons' initial efforts involved attracting investors. Before even going on the air, XM spent more than $1.2 billion to launch its two satellites, turn an abandoned factory into a headquarters with 80 recording studios, and erect nearly 1,000 earth-based repeaters to rebroadcast the signals. XM's satellites are named "Rock" and "Roll." Parsons' people skills and passion for the business helped him round up enough investors to get the company rolling. In 1999, General Motors invested $100 million. Hugh Panero, XM's CEO since 1998, is amazed by Parsons' negotiating skills and ability to get others on board with his ideas. "He lets nothing faze him," Panero told Theda Wrede of the Carolinian. "He's a financial wizard, but no one ever leaves the table feeling as though he has lost something. He's a man who thrives on challenge."

Parsons stayed on at American Mobile, which in 2000 changed its name to Motient Corp.; he left in 2002. Meanwhile, XM launched its service in September of 2001 and initially, the future looked promising. By 2003, XM had 600,000 subscribers and eventually secured its first one million customers at a faster rate than any other new entertainment technology ever did, including CDs, the Internet, and videos. But after the initial enthusiasm, growth slowed. XM has several competitors, including New York-based Sirius Satellite Radio, which launched a few months after XM. In addition, XM faces competition from traditional land-based radio stations, which are free to listeners but are frequently interrupted by commercial breaks. Parsons believes this is XM's greatest strength its music channels are commercial free, although a few other channels carry limited advertising.
Another advantage to XM Satellite Radio is that it will not fade away subscribers can drive from Seattle to New York and never lose their favorite station. XM offers another benefit for music fans in that when a song plays, the title and artist are displayed on the receiver's output screen ensuring listeners will never be left to wonder about the name of a catchy new song they hear.

Since its inception, XM has suffered from cash-flow problems and has operated in the red, making Wall Street investors and stockholders leery. Also, some venture capitalists have been slow to get onboard, remembering the dot.com bust. Parsons has done a lot of financial wrangling to keep the company afloat, but the ride has been rocky. In 2000, XM's stock stood at about $46 a share, but plunged to less than $2 in 2003 when it looked as if XM might run out of money.

In order to turn a profit, XM needs to increase its subscriber base to improve monthly cash flow. XM had five million customers in the fall of 2005 and was projected to hit the 8.2 million mark in 2006. Merrill Lynch analyst Laraine Mancini sees a positive future for XM. She predicted that 2006 sales would rise 64 percent. "Satellite radio is a viable-model business," Mancini told Leon Lazaroff in the Chicago Tribune. "Compared to the rest of the industry, it's one of the few growth stories in broadcasting."
XM is expecting the market to take off. As of 2006, General Motors, Honda, Toyota, Hyundai, and Nissan offered the satellite systems in their cars; it comes standard on some models. In addition, the price of the palm-sized receivers has dropped. Customers can buy them at retailers such as Circuit City for about $50 to $300, depending on features. Many units are portable and can be used in the car or the home.
Parsons believes XM will have 20 million customers by the end of the decade. Looking toward the future, he envisions XM entering the worldwide market and in 2005 steered XM to buy a stake of World-Space, which provides satellite radio in Asia and Europe.

Awards:
Washington Business Journal 's Entrepreneur of the Year—Technology (shared with Hugh Panero), 2003.
View the full website biography of Gary Parsons.