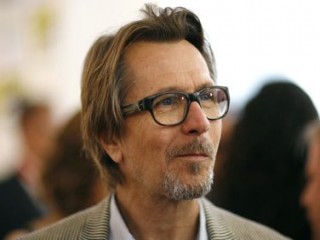 Gary Oldman
Date of birth : 1958-03-21
Date of death : -
Birthplace : New Cross, London, England, UK
Nationality : British
Category : Arts and Entertainment
Last modified : 2011-07-14
Gary Leonard Oldman is an English actor, filmmaker and musician. His perceptions of life were skewed at an early age when his father, an alcoholic welder, left home one day when Oldman was only seven years old never to return again. His childhood memories are of a drab working class area of South London called New Cross that he called home and a brutal boys' school where he was sent to learn his ABCs.

Oldman was going nowhere fast, supporting himself as a sales clerk in a sporting goods shop when he was accepted into the Greenwich Young People's Theatre, which led to a scholarship to study acting at the Rose Buford College of Speech and Drama.

Gary Oldman began his career in 1979 working extensively in the London theatre. Between 1985 and 1989 he worked exclusively at London's Royal Court theatre. In 1985 he was awarded Best Newcomer by London's Time Out Magazine for his performance in The Pope's Wedding. In the same year he shared the London Critic's Circle Best Actor Award with Sir Anthony Hopkins.

He has since gone on to become one of the most respected and talented film actors working today with credits including Ridley Scott's Hannibal, Oliver Stone's JFK, Tony Scott's True Romance, Luc Besson's The Professional, Francis Ford Coppola's Bram Stoker's Dracula and the starring role of Beethoven in Immortal Beloved. Oldman is also now known to millions of children worldwide as "Sirius Black", the godfather of Harry Potter.

In 1997 and 1998 Oldman starred in The Fifth Element, Air Force One, and Lost in Space. These films, and Coppola's Dracula, place him in the rarified league of actors who have five movies which opened in the number one position at the box office.

In 1995 Oldman and manager/producing partner Douglas Urbanski formed the production company the SE8 Group which produced Oldman's directorial debut Nil By Mouth (which he also wrote). The film was invited to open the 1997 50th Cannes Film Festival in the main competition and Kathy Burke won Best Actress for her role. The film won Oldman the prestigious Channel 4 director's prize in the 1997 Edinburgh Film Festival.

In 1998 Nil By Mouth won Oldman two British Academy Awards for Best British Film and Best Screenplay with further nominations for Best Actor and Best Actress.

Oldman's other major film credits include: Sid and Nancy, Stephen Frear's Prick up your Ears, Tom Stoppard's Rosencrantz and Guildenstern are Dead; Nic Roeg and Dennis Potter's Track 29, Criminal Law, Chattahoochee, Murder in the First, and State of Grace. And in 1999 Oldman executive produced and starred in the SE8 Group/Douglas Urbanski film The Contender which received three Academy Award nominations.

Fans of the television series Friends will also remember Oldman for his guest appearance as an alcoholic actor, a role which garnered him an Emmy nomination. Other television performances include Mike Leigh's Meantime and The Firm directed by the late Alan Clark.

More recently, he's been recognized for his acting in the feature film The Contender (2000), earning a Screen Actors Guild nomination, and sharing an Alan J. Pakula Award from the Broadcast Film Critics Association with the rest of the cast. His guest appearance on the sitcom Friends earned him his first Emmy nomination in 2001. In Harry Potter and the Prisoner of Azkaban (2004), Oldman took on the key role of Sirius Black, reprising his role as Harry's godfather in Harry Potter and the Goblet of Fire (2005) and Harry Potter and the Order of the Phoenix (2007).

Often plagued by personal problems off stage, he says, "Talent is very attractive....I think it's the biggest aphrodisiac going." It was also very alluring to Uma Thurman whom Oldman married in 1990 while Thurman was still a teenager but the two have long since gone their separate ways. Since then, Oldman has married (in 1997) and divorced (in 2001) Donya Fiorentino, with whom he shares two children. He also has a child with his first wife, Lesley Manville. On New Year's Eve 2008, he wed his fourth wife, jazz singer Alexandra Edenborough.
View the full website biography of Gary Oldman.