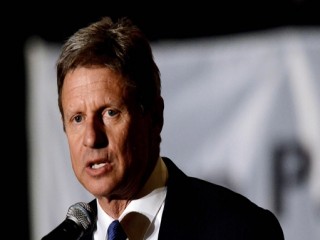 Gary Johnson
Date of birth : 1953-01-01
Date of death : -
Birthplace : Minot, North Dakota,U.S.
Nationality : American
Category : Politics
Last modified : 2011-10-12
Gary Earl Johnson is an American businessman, former Governor of New Mexico, and candidate for the Republican nomination for President of the United States in the 2012 election. He served as the 29th Governor of New Mexico from 1995 to 2003, and is known for his low-tax libertarian views and his regular participation in triathlons.

Founder of one of New Mexico's largest construction companies, Johnson entered politics for the first time by running for Governor of New Mexico in 1994 on a conservative, low-tax, anti-crime platform. He beat incumbent Democratic governor Bruce King by 50% to 40%. He cut the 10% annual growth in the budget by using his gubernatorial veto on half of bills in the first six months. His use of the veto over his two terms gained him the nickname "Governor Veto".

He sought re-election in 1998, winning by 55% to 45%. In his second term, he concentrated on the issue of school voucher reforms, as well as campaigning for marijuana decriminalization. During his tenure as governor, he adhered strictly to an anti-tax, anti-bureaucracy program, and set state and national records for his use of veto powers: more than the other 49 contemporary governors put together.Term-limited, Johnson could not run for reelection at the end of his second term.

A fitness enthusiast, Johnson has taken part in several Ironman Triathlons, and he climbed Mount Everest in May 2003. He announced his candidacy for President on April 21, 2011.
In an interview in Reason magazine in January 2001, Johnson's accomplishments in office were described as follows: "no tax increases in six years, a major road building program, shifting Medicaid to managed care, constructing two new private prisons, canning 1,200 state employees, and vetoing a record number of bills."

Andrew Sullivan quoted a claim that Johnson "is highly regarded in the state for his outstanding leadership during two terms as governor. He slashed the size of state government during his term and left the state with a large budget surplus."
Johnson was term limited and could not run for a third consecutive term as governor in 2002. In the 2008 presidential election campaign, Johnson endorsed Ron Paul for the Republican nomination.

Johnson serves on the Advisory Council of Students for Sensible Drug Policy, a student nonprofit organization that believes that the war on drugs needs to be reevaluated. As of April 2011, he serves on the board of directors of Students For Liberty, a college-age national political organization.
On April 21, 2011 Johnson announced via Twitter, "I am running for president." He followed this announcement with a speech at the New Hampshire State House in Concord, New Hampshire. He was the first of an eventually large field to announce his candidacy for the Republican presidential nomination.
Johnson was married to Dee Johnson née Simms (1952–2006) from 1977 to 2005. As First Lady, she engaged in campaigns against smoking and breast cancer, and oversaw the enlargement of the Governor's Mansion. He initiated a separation in May 2005, and announced they were getting divorced four months later. Dee Johnson died unexpectedly on December 22, 2006, at the age of 54. It was established in February 2007 that her death was caused by hypertensive heart disease.Syndicated columnist John Dendahl expressed shock upon her death, as she had been "very vivacious" only two weeks previously. After her death, Johnson said, "People couldn't have gotten a better number one volunteer, because that's what she was. Whatever [the issue] was, she had a caring approach."
Johnson and his late wife have two grown children: a daughter, Seah (born 1979), and a son, Erik (born 1982).

He is engaged to Santa Fe real estate agent Kate Prusack, whom he began dating in 2008 after meeting on a bike ride. Johnson proposed in 2009 on the chair lift at Taos Ski Valley Resort in New Mexico. He lives with Prusack in Taos, New Mexico, in a home that he built himself.
Johnson is an avid triathlete who bikes extensively and abstains from all recreational drug use, caffeine, alcohol, and some sugar products.On May 30, 2003, he reached the summit of Mount Everest "despite toes blackened with frostbite."He has also climbed three more of the Seven Summits: Mount Elbrus, Mount McKinley, and Mount Kilimanjaro—the tallest peaks in Europe, North America, and Africa respectively.

On October 12, 2005, Johnson was involved in a near fatal paragliding accident when his wing got caught in a tree and he fell approximately fifty feet to the ground. Johnson suffered multiple bone fractures, including a burst fracture to his T12 vertebrae, a broken rib, and a broken knee. He used marijuana for pain control from 2005 to 2008.

View the full website biography of Gary Johnson.