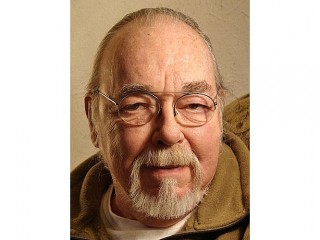 Gary Gygax
Date of birth : 1938-07-27
Date of death : 2008-03-04
Birthplace : Chicago, Illinois
Nationality : American
Category : Science and Technology
Last modified : 2011-10-03

Game creator and fantasy author Gary Gygax began playing games when he was about five years old - checkers, chess, poker, etc - and eventually became intrigued by the speculative fiction of Ray Bradbury, Robert E. Howard, and Jack Vance. He dropped out of high school, and by his late teens he began playing a Civil War-based board game called Gettysburg. From that point, he was always an avid gamer.

During the years before his fame and success, Gygax supported himself by selling insurance, running a mail order shoe repair business from his home, and doing low-paid work for small gamemaking companies. In 1966 he co-founded the International Federation of Wargamers, which held its first meeting in his basement, an event which has since evolved into Gen Con, an annual gathering of gamers.

In 1970, collaborating with game store owner Jeff Perren, he wrote the rules for Chainmail, and in 1973, in partnership with his childhood friend Don Kaye, he founded Tactical Studies Rules (later called TSR Hobbies). With help from Dave Arneson (1947-2009) in 1973 and '74, Gygax created a pen, pencil, and dice roleplaying adventure they first called The Fantasy Game. It was released by TSR in 1974 under its now-familiar name, Dungeons & Dragons, with a first edition press run of 1,000 copies, but with players adopting characters and using polyhedral dice to determine the sprawling storyline, D&D soon became the first role-playing game to become popular beyond hard-core gaming hobbyists and science fiction geeks. And of course, in the grand tradition of things that are new and fun, controversies raged over such absurdities as the game's perceived "demonic" influence, the partial nudity of game characters as illustrated in the rule book, and its purported negative influence on youth.

By 1975, Gygax was able to quit his non-gaming work to assume the title of President at TSR Hobbies. In 1983, he left TSR to head a spinoff enterprise, TSR Entertainment (later Dungeons & Dragons Entertainment), which sold TSR's games to Hollywood, and produced the cartoon series Dungeons & Dragons, which ran for three seasons. Gygax designed numerous other games including Boot Hill (1975), Little Big Horn (1976), Dragon Chess (1985), Dangerous Journeys (1992) and Lejendary [sic] Adventures (1999), and wrote several popular fantasy novels and short stories, sometimes using the pen name Garrison Ernst.

D&D, of course, eventually evolved into a series of video games, and with or without formal credit the spirit of Dungeons & Dragons has clearly inspired countless video games that center on sorcery and swordplay. Gygax's company, TSR, was purchased in 1997 by Wizards of the Coast, a subsidiary of Hasbro. Despite fading health, the original Dungeon Master continued hosting weekly game nights at his home in Wisconsin until about two months before his death in 2008, at the age of 69.

Awards and honors:

He was inducted into the Academy of Adventure Gaming Arts & Design Origins Award Hall of Fame in 1980.
Sync magazine named Gygax number one on the list of "The 50 Biggest Nerds of All Time".
SFX magazine listed him as number 37 on the list of the "50 Greatest SF Pioneers".
In 1999 Pyramid magazine named Gygax as one of "The Millennium's Most Influential Persons" "in the realm of adventure gaming."
Gygax was tied with J. R. R. Tolkien for number 18 on GameSpy's "30 Most Influential People in Gaming".
Numerous names in Dungeons & Dragons, such as Zagyg, Ring of Gaxx, and Gryrax, are anagrams or alterations of Gygax's name.
A strain of bacteria was named in honor of Gygax, "Arthronema gygaxiana sp nov UTCC393".
View the full website biography of Gary Gygax.