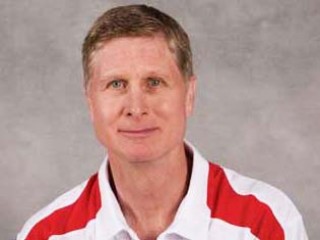 Garu Gibbs
Date of birth : 1952-08-13
Date of death : -
Birthplace : Beaumont, Texas
Nationality : American
Category : Sports
Last modified : 2010-09-15
Gary Gibbs (born August 13, 1952 in Beaumont, Texas) is currently an assistant coach of the Kansas City Chiefs and an American football player turned coach most notable for coaching the University of Oklahoma Sooners for six years following the resignation of Barry Switzer.

Gary Gibbs enters his second season as the Chiefs linebackers coach in 2010. He joined Kansas City after spending three years as the defensive coordinator in New Orleans (2006-08).

Respected in both the NFL and college football ranks, Gibbs enters his ninth season in the pro game after a 22-year career on the collegiate level that featured six seasons as the head coach at the University of Oklahoma ('89-94).

Kansas City's defense ranked eighth in the NFL in three-and-out percentage (24.4%) in 2009, while the club registered 19 takeaways over the final eight games of the 2009 season. LB Tamba Hali made the successful transition from a 4-3 defensive end to a 3-4 linebacker under Gibbs' tutelage, establishing career highs with 66 tackles and 8.5 sacks.

Gibbs' arrival in New Orleans in 2006 paid immediate dividends as the franchise reached the NFC Championship Game for the first time in team history. The Saints ranked 11th in total defense, allowing 307.3 ypg that season. After ranking 28th in the league in scoring defense in 2005, the Saints ranked 13th in that category under Gibbs in 2006, allowing 20.1 ppg.

During Gibbs' three-year tenure, New Orleans held 17 opponents to 17 points or less, posting a 15-2 record. He joined the Saints after spending four seasons as linebackers coach in Dallas (2002-05). During the 2004-05 seasons he was a member of Bill Parcells' staff that also included Chiefs Head Coach Todd Haley. Under Gibbs' direction, Cowboys LB Dexter Coakley registered 173 tackles in 2005, the second-highest single-season total in team history.

Gibbs entered the NFL coaching fraternity after one-year stints as the defensive coordinator at LSU (2001) and Georgia (2000). During his lone season in Baton Rouge, Gibbs' defensive unit led the Southeastern Conference with 18 INTs.

During his stay at Georgia, Gibbs tutored a defense that allowed a paltry 18.0 ppg and ranked ninth nationally in total defense. He coached a pair of first-round draft picks and future Pro Bowlers in DE Richard Seymour and DT Marcus Stroud.

Gibbs began his football career at Oklahoma, spending 23 years at the school as either a player or a coach. Over that span, the Sooners appeared in 16 bowl games and won three national championships ('74, '75 and '85). In his six seasons as head coach, Gibbs guided the Sooners to three bowl games: '90 Gator Bowl, '93 John Hancock Bowl and '94 Copper Bowl. In total, he posted a 44-23-2 overall record and posted a winning record in Big 8 Conference play each season.

Gibbs was largely successful in cleaning up a program that was placed on probation by the NCAA in '88. Gibbs produced 25 NFL draftees during his head coaching stint despite probation stipulations that severely limited the school's scholarship allotment. His defense averaged 4.09 sacks per game during the '89 campaign, a mark that remains the highest single-season average in school annals.

Gibbs began his coaching career at Oklahoma as a graduate assistant in '75 before being promoted to linebackers coach in '78. He guided the Sooners linebackers for three seasons before taking over the club's defensive coordinator duties in '81.

Gibbs' eight-year tenure as Oklahoma's defensive coordinator produced some of the finest performances in the school's illustrious history. Oklahoma captured the '85 National Championship and led the nation in total defense for three consecutive years ('85-87).

A linebacker at Oklahoma from '72-74, Gibbs helped the Sooners post a 32-1-1 overall mark during his playing tenure, including a national title in '74. Gibbs attended training camp with the New England Patriots as a rookie free agent in '75. He lettered in both football and baseball at Spring Branch High School in Houston, Texas.

Education: Oklahoma (B.B.A. '74; M.B.A. '76). Born: Beaumont, Texas. Family: Wife - Jeanne; Children - Whitley and Jordan.
View the full website biography of Garu Gibbs.