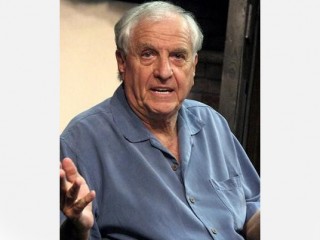 Garry Marshall
Date of birth : 1934-11-13
Date of death : -
Birthplace : New York City, New York, U.S.
Nationality : American
Category : Arts and Entertainment
Last modified : 2010-09-06
Garry Marshall, born November 13, 1934 in New York, New York is an American actor.


"Sidelights"
Formerly a writer for stand-up comedians and television programs, Garry is best known as the creator of some of the highest-rated situation comedies of the 1970's and 1980's. Intended to be primarily entertaining, not didactic, 's sitcoms uphold all-American values and the premise that the good guy always wins.
's brainchild
"Happy Days"
is a nostalgic trip back to life in the 1950's. In its early seasons the show focused on Richie Cunningham, a rosy-cheeked teen in middle-class Milwaukee. His biggest problems seemed to be how to get a date, when and if to kiss her, and what to do with his chewing gum when he did. Inevitably Richie (played by Ron Howard), at last in a romantic situation, would lean against a doorbell, awakening the girl's grumbling father, or hook his date's sweater on his cufflink, or let his car slip out of gear and into the lake beneath "Inspiration Point." As Richie grew up in the series his awkwardness with girls eased, and he confronted other conflicts, usually centered around his academic endeavors. But in all situations his innocence prevailed.
A minor character at the show's inception was Arthur Fonzarelli (actor Henry Winkler). "The Fonz" or "Fonzie," as he was called, ultimately became the star of "Happy Days." The show's audience loved the tough, yet tender, high school dropout who made all the other guys squirm with fear and all the girls squeal with delight. Most of all he gave Richie and his friends lessons in being "cool," Fonzie's forte. Fonzie taught them that it's cool to express one's feelings, cool to be loyal to one's friends and oneself. In the meantime he decided it was uncool to be uneducated and returned to night school so he could receive his diploma with Richie and the other boys. "The humaneness of the Fonz," wrote David A. England in English Journal, "is one of the most unfortunate oversights in many of our students' viewing weeks. . . . Lost amid the music, the sometimes admittedly silly plots, and Fonzie's overt mannerisms, is a positive role model who consistently demonstrates that it is possible to be `cool' and be good." John J. O'Connor, writing in the New York Times, described Fonzie as "a garage mechanic with a tough swagger and the required heart of gold" whose "bad boy candor seems to have seduced the hearts and minds of middle-class suburban youth." In fact, the character of Fonzie became so much an element of Americana that his leather biker's jacket was enshrined in the Smithsonian Institution.
In one episode of "Happy Days" Fonzie attempted to broaden Richie's horizons by introducing him to two wise and worldly women, Laverne De Fazio and Shirley Feeney. These girls, bottle-cappers in Shotz Brewery, turned up in 's "Laverne and Shirley," another hit sitcom. Laverne (characterized by 's sister, Penny ) was the feisty and hotblooded, but nevertheless soft-hearted and innocent, roommate of terminally cute and pert Shirley (Cindy Williams). Both had high hopes of finding, if not rich doctors for husbands, at least dates for Saturday night. Often compared to the slapstick characters played by Lucille Ball and Vivian Vance in "I Love Lucy," Laverne and Shirley frequently found themselves in precarious situations--as guinea pigs in scientific experiments, swimming in a vat of beer, or wrestling with a robot gone berserk in a toy store, for instance, "Masterpiece Theatre this is not," Richard Corliss remarked in Film Comment. "It is, however, a small masterpiece of physical comedy--which is all that interests Garry , and which is enough to be grateful for."
Another of 's productions, "Mork and Mindy," was inspired by a "Happy Days" episode in which , at the urging of his ten-year-old daughter, introduced an alien from another planet. Mork from Ork (played by Robin Williams) visited Milwaukee and tried to kidnap Richie. Though unsuccessful in that attempt, Mork did succeed in capturing the hearts of the "Happy Days" audience. Set in Denver, the series was based on Mork's cultural assimilation and his discoveries of earth customs. Mork was befriended by Mindy McConnell (Pam Dawber), and he moved in with the perky music store clerk. They eventually married and had a son played by Jonathan Winters. (Orkans are born as adults and get younger as years go by.) The show was extremely well received in its first season, primarily due to Williams's fresh ad-libs and zany antics. In a New Leader article, Marvin Kitman deemed "Mork and Mindy" "one of the few shows intelligent people are not ashamed to admit they watch. . . . This is a very original premise." The series' success waned, however, in subsequent seasons and was cancelled, although its reruns have since been syndicated.
Has also had a few misses among his hits, of course, but his achievement cannot be denied. Commenting on one of his less successful shows, "Who's Watching the Children?," a People reporter wrote: "Maybe parents objected to the question in that show's title, but they have no choice but to live with the answer to whom U.S. kids are watching. It's Garry Marshall."
PERSONAL INFORMATION
Born November 13, 1934, in New York, NY; son of Anthony W. (a television producer) and Marjorie Irene; married; children: three. Education: Received B.S. from Northwestern University.
CAREER
Television, stage, and motion picture producer, director, and writer. Comedy writer for "The Jack Paar Show," "The Joey Bishop Show," "The Danny Thomas Show," and "The Dick Van Dyke Show"; creator, director, and executive producer of television programs, including "Hey Landlord," National Broadcasting Co. (NBC-TV), 1966-67; "The Odd Couple," American Broadcasting Co. (ABC-TV), 1970-75; "The Little People" (later named "The Brian Keith Show"), NBC-TV, 1972- 74; "Happy Days," ABC-TV, 1974--; "Laverne and Shirley," ABC-TV, 1976-83; "Blansky's Beauties," ABC-TV, 1977; "Mork and Mindy," ABC-TV, beginning in 1978; "Who's Watching the Kids?," NBC-TV, 1978; "Angie," NBC-TV, 1979-80; "Joannie Loves Chachi," ABC-TV, 1982-83. Producer and director of motion pictures, including Young Doctors in Love, Twentieth Century-Fox, 1982; and Valentine's Day, New Line Cinema, 2010.
WRITINGS
* (With Lori ) Wake Me When It's Funny: How to Break Into Show Business and Stay There, Adams (Holbrook, MA), 1995.
Screenplays:
* (Written and produced with Jerry Belson) " How Sweet It Is!," National General, 1968.
* (Written and produced with Belson) " The Grasshopper," National General, 1970.
* " Evil Roy Slade" (made-for-television movie), MCA-TV, 1971.
Stage plays:
* (With Belson) " The Roast" (two-act), first produced on Broadway at Winter Garden Theatre, May 8, 1980.
* (Adapter) Lawrence Schwab, G. G. De Sylva, and Frank Mandel, Good News (libretto; words and music by Lew Brown, De Sylva, and Ray Henderson), Tams Witmark Music Library, 1978.
Author of scripts for numerous television shows, including all those he produces and directs.
View the full website biography of Garry Marshall.