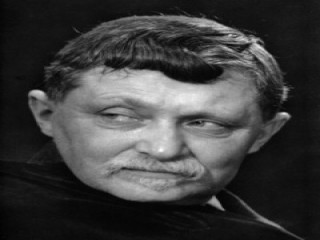 Gabriel Marcel
Date of birth : 1889-12-07
Date of death : 1973-10-08
Birthplace : Paris, France
Nationality : French
Category : Famous Figures
Last modified : 2011-05-19
French philosopher Gabriel Marcel described man's place in the world in terms of such fundamental human experiences as relationships, love, fidelity, hope, and faith. His brand of existentialism was said to be largely unknown in the English-speaking world, where it was mistakenly associated with that of Jean-Paul Sartre. Marcel's view of the human condition was that "beings" are beset by tension, contradiction and ambiguity. He was also interested in life's religious dimension and was considered the first French existentialist philosopher.
Gabriel Honore Marcel was born in Paris on Dec. 7, 1889, the only child of a distinguished diplomat. His mother died when he was 4, and he was raised by an aunt whom his father married. Although he had little visual memory of his mother, Marcel described her continued "spiritual presence" during his youth as an important influence on his thoughts—giving rise to an awareness of the "hidden polarity between the seen and the unseen." At the age of 8 he began writing plays, and as an adult he would achieve a reputation as a playwright as well as a philosopher. Marcel's plays, which flesh out the basic issues of his philosophy, were performed in the early 1920s. Starting in his youth he also displayed a keen ability to play music—an avocation which would also influence his thinking.
Marcel received his degree in philosophy from the Sorbonne in 1910 and married professor Jacqueline Boegner in 1919. Together they adopted a son, Jean. Marcel lived and taught for a time in Switzerland, where he began writing his Metaphysical Journal (1927). The journal reflects a movement away from traditional academic philosophy and was influenced by Soren Kirkegaard, in whom Marcel was deeply interested. In some ways, the book is overlooked in serious examinations of Marcel. Another publication from Marcel's diaries was Being and Having (1935).
During World War I Marcel was a Red Cross official whose job was obtaining news of wounded and missing soldiers and contacting their relatives. These intensely demanding encounters with people were a living source of Marcel's highly concrete and personalistic philosophy, and of his lifelong suspicion of what he called the "spirit of abstraction."
During the war Marcel wrote his thorough study of the American philosopher Josiah Royce, Royce's Metaphysics (1956), and taught at the Lycée Condorcet in Paris. He taught philosophy at the University of Sens (1919-1923) and then returned to Paris, where he continued his philosophy research, wrote plays, and contributed to leading periodicals as both a philosopher and a theater critic.
Marcel's philosophy was always preoccupied with the religious dimension of life, but his upbringing had been religiously agnostic (uncertain as to whether one can really know that God exists), and he was not formally a believer. In 1929, however, an open letter from the distinguished French Catholic writer Francois Mauriac challenged Marcel to admit that his views suggested a belief in God. His subsequent conversion to Catholicism gave a new dimension to certain aspects of his philosophy. But he remained a strikingly independent thinker whose ideas were formed before his conversion—and as such could be regarded as important indicators of certain Godly aspects of the human experience. Marcel became a leader in French Catholic intellectual circles, and his Paris home was the locale for stimulating discussion among leading European intellectuals of all persuasions.
During World War II Marcel lived in Lyons. After the war he lectured in France and other countries. Following the war his "Christian existentialism" aroused sharp contrasts between his work and the atheistic existentialism of Jean-Paul Sartre. Marcel was fond of improvising at the piano throughout his adult life, but it wasn't until 1945 that—with his wife's encouragement—he undertook to write formal compositions. His wife died in 1947. Marcel continued his creative endeavors, however, as well as teaching and traveling.
Late in life Marcel became associated with Moral Re-Armament, which he discussed in Fresh Hope for the World: Moral Re-Armament in Action (1960). Among his chief philosophical works are The Mystery of Being (1951); the Gifford Lectures for 1949-1950 at the University of Aberdeen; Homo Viator (1951); Man Against Mass Society (1951); Being and Having (1957); The Existential Background of Human Dignity (1963); and the William James Lectures at Harvard for 1961-1962.
At the Frankfort Book Fair in 1964, Marcel received major international recognition in the form of the German Peace Prize. He died in Paris on Oct. 8, 1973.
Author of books:
Journal Métaphysique (Metaphysical Journal) (1927)
Le Soleil invisible (The Invisible Sun) (1931)
Ętre et Avoir (Being and Having) (1935)
Homo Viator (1945)
Le Mystère de L'être (The Mystery of Being) (1950, two volumes)
Les Hommes contre L'humain (Man against Mass Society) (1951)
Le Déclin de la Sagesse (The Decline of Wisdom) (1954)
Royce's Metaphysics (1956)
Présence et Immortalité (Presence and Immortality) (1959)
Fresh Hope for the World: Moral Re-Armament in Action (1960)
The Existential Background of Human Dignity (1963)
Philosophical Fragments (1965)
The Funeral Pyre (1965)
Searchings (1967)
Problematic Man (1967)
Tragic Wisdom and Beyond (1973)
The Participant Perspective: A Gabriel Marcel Reader (1987, posthumous)
Wrote plays:
A Just One (1918)
The Unfathomable (1919)
The Votive Candle (1925)
The Rebellious Heart (1920)
A Man of God (1922)
The Yoke or the Noose (1926)
The Broken World (1932)
The Lantern (1935)
Ariadne (1935)
Dot the I (1936)
Colombyre or the Torch of Peace (1937)
The Double Expertise (1937)
Rome n'est plus dans Rome (1951)
View the full website biography of Gabriel Marcel.