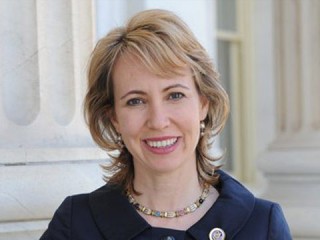 Gabby Giffords
Date of birth : 1970-06-08
Date of death : -
Birthplace : Tucson, Arizona, U.S.
Nationality : American
Category : Politics
Last modified : 2011-01-12
Gabrielle "Gabby" Giffords is a Democratic politician from Tucson, Arizona. She is congresswoman for Arizona's 8th congressional district. Giffords is the youngest woman ever to be elected to the Arizona Senate, where she served from 2003 to 2005. She is the only member of the U.S. Congress who is a spouse of an active duty member of the US military.

Arizona State Senator and Representative

Giffords was elected to the Arizona House of Representatives and served from 2001 to 2003. She was elected to the Arizona Senate in the fall of 2002, and at the time was the youngest woman elected to that body. She took office in January 2003 and was re-elected in 2004. She resigned from the Arizona Senate on December 1, 2005, in preparation for her congressional campaign.

In early 2005, Giffords observed that "the 2004 election took its toll on our bipartisan coalition" and that as a result "a number of significant problems will receive far less attention than they deserve". She highlighted among these, the lack of high-paying jobs or necessary infrastructure, rapid growth and inward migration that threatened the environment and "strain[ed]... education, health care and transportation", and unresolved problems such as Students First, Arnold v. Sarn, repayments due under Ladewig v. Arizona, the No Child Left Behind mandate, low educational achievement, health care costs, and the demands of the Arizona Health Care Cost Containment System. She noted that Arizona was not alone in facing such challenges.

Expanding health care access was an issue of interest for Giffords when she served in the legislature. She also pushed for bills related to mental health and was named by the Mental Health Association of Arizona as the 2004 Legislator of the Year. Giffords also earned the Sierra Club's Most Valuable Player award.

In the legislature, Giffords worked on the bipartisan Children's Caucus, which sought to improve education and health care for Arizona's children. Critics of this plan argued that it amounted to taxpayer funded daycare. She worked with Arizona Governor Janet Napolitano to promote all-day kindergarten. Giffords supported raising more money for schools "through sponsorship of supplemental state aid through bonds and tax credits that could be used for school supplies." She was awarded Arizona Family Literacy's Outstanding Legislator for 2003.

Following the September 2006 election, Giffords was sworn in as a congresswoman on January 3, 2007. She was the third woman in Arizona's history to be elected to serve in the U.S. Congress. In her inaugural speech on the floor of the House of Representatives, Giffords advocated a comprehensive immigration reform package, including modern technology to secure the border, more border patrol agents, tough employer sanctions for businesses that knowingly hire illegal immigrants, and a guest-worker program. In her first month in office, Giffords voted in favor of increased federal funding for embryonic stem-cell research, raising the minimum wage, endorsing the 9/11 Commission recommendations, new rules for the House of Representatives targeting ethical issues, and the repeal of $14 billion of subsidies to big oil companies, in favor of renewable energy subsidies and the founding of the Strategic Renewable Energy Reserve.

During the 2007 session of Congress, Giffords introduced a bill (H.R. 1441) that forbids the sale of F-14 aircraft parts on the open market. She also voted for the contentious May 2007 Iraq Emergency Supplemental Spending bill, saying, "I cannot, in good conscience, allow the military to run out of money while American servicemen and women are being attacked every day".

Giffords is a member of the Blue Dog Coalition and the New Democrat Coalition. She is a co-founder of the Congressional Motorcycle Safety Caucus. She is the only member of the U.S. Congress whose spouse, astronaut Mark E. Kelly, is an active duty member of the U.S. military. She is also known as a strong proponent of solar energy as well as for her work to secure the U.S.-Mexico border.

In 2008 Giffords was elected to a second term. Republican Tim Bee, a childhood classmate and former colleague in the Arizona State Senate, ran against her. Bee was then the Arizona State Senate President and was considered a strong challenger in this race. Despite the presence of McCain atop the ticket as the Republican presidential candidate, Giffords was reelected with 56.20 percent of the vote to Bee's 41.45 percent.

On November 5, 2010, the Associated Press declared Giffords the victor after a close race against Republican Jesse Kelly. Kelly, an Iraq War veteran (and not related to her husband), was listed as a top ten Tea Party candidate to watch by Politico, and described by azcentral.com as highly conservative even compared to Sarah Palin. Giffords was targeted for defeat by Sarah Palin's political action committee, SarahPAC.

Giffords participated in the reading of the United States Constitution led by House Speaker John Boehner on the floor of the House of Representatives on January 6, 2011. She read the First Amendment.


View the full website biography of Gabby Giffords.