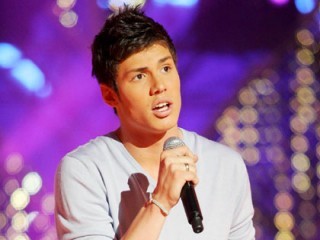 Gaël Faure
Date of birth : 1987-07-07
Date of death : -
Birthplace : Valence, France
Nationality : Française
Category : Arts and Entertainment
Last modified : 2010-08-19
Gaël Faure est un chanteur français né le 7 juillet 1987 à Valence.
Depuis tout petit, il aime la musique et se met à la guitare à 14 ans. Une amie l'inscrit à un casting et il est retenu pour faire partie de l'aventure Nouvelle Star 2006. C'est à ce moment là que le public français le découvre, lui, son joli minois et son talent.
Il pensait ne pas rester longtemps en course, or il finit troisième juste derrière Dominique et Christophe Willem. Cela lui permet de partir en tournée avec les six finalistes et de rencontrer son public, devenu de plus en plus conséquent au fil des primes.

Contacté après l'émission pour de nombreux projets de singles ou de comédies musicales, Gaël ne trouve rien qui lui correspond et refuse tout.
Guitare en main, il travaille pendant près de deux ans sur son album. Il se produit dans plusieurs salles en 2007 que ce soit en province ou dans la capitale même. L'année suivante, il enregistre ses chansons en s'entourant de grands noms du milieu tels que les guitariste, bassiste et pianiste de Jamiroquaï ou encore le batteur de Phil Collins.

Son premier single, Nos blessures d'hier, est le générique de la série de M6, Pas de secrets entre nous, diffusée dès juillet 2008.
View the full website biography of Gaël Faure.