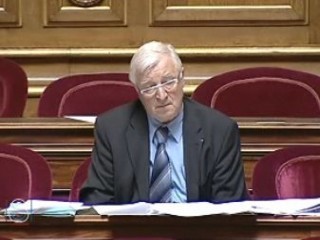 Gérard Bailly
Date of birth : 1940-01-28
Date of death : -
Birthplace : France
Nationality : Française
Category : Politics
Last modified : 2011-10-07
Gérard Bailly, né le 28 janvier 1940, est un homme politique français, membre de l'UMP.

Issu du militantisme syndical agricole, il a été secrétaire général de la Fédération départementale des syndicats d'exploitants agricoles (FDSEA) de 1970 à 1972, président de la chambre d'agriculture du Jura de 1976 à 1989 et président de la chambre régionale d'agriculture de Franche-Comté de 1983 à 1995.

Elu conseiller général en 1985, il présidera l'assemblé départementale de 1994 à 2008. En 2008, il a décidé de ne pas briguer la présidence. Il a été élu sénateur du Jura en 2001.

View the full website biography of Gérard Bailly.