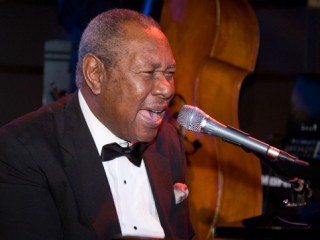 Freddy Cole
Date of birth : 1931-10-15
Date of death : -
Birthplace : Chicago, Illinois,U.S.
Nationality : American
Category : Arts and Entertainment
Last modified : 2011-11-04
As the younger brother of the legendary Nat "King" Cole and the uncle of award-winning singer Natalie Cole, Freddy Cole possesses an immediately recognizable name. And his jazzy piano style and emotion-filled voice, though increasingly rougher over the years and bearing a somewhat wider range, sound not unlike that of Nat Cole. However, such likenesses carry obvious professional disadvantages. Because of family ties, as one might expect, the pianist and vocalist remained largely in the shadows of his elder brother throughout much of his career. Cole himself never felt deterred from pursuing music, though, and eventually carved out his own identity in the jazz world. Despite penning songs entitled "I'm Not My Brother, I'm Me" and "He Was the King," he usually plays down comparisons. "I don't particularly worry about it," Cole commented in a Washington Post interview with Adam Bernstein. "I leave it to somebody else to worry about. The audience just wants me to be me."

Lionel Frederick Coles was the youngest in a family of five children. The eldest, Nat "King" Cole, born in 1917, would go on to become one of the most popular pianists and singers of all time. By the time of his death from lung cancer in 1965, the entertainer had sold more than 50 million records. Brothers Ike Cole, a singer and pianist who died on April 22, 2001, in Sun Lake, Arizona, after a battle with cancer, and Eddie, a bassist who died in 1970, also became successful musicians. Cole's sister, Evelyn, who passed away in 1995, played piano as well, but never pursued a professional career.

Upon the urging of his mother, who played piano and directed the choir at his father's church, Cole was enlisted to sing and began taking piano lessons at age five. However, Cole, who moved with his family to nearby Waukegan, Illinois, in the fourth grade, found his greatest musical inspiration not in church, but in the talents of his older siblings and other well-known musicians. During the post-war years of 1946 and 1947, Nat Cole's career was taking shape, and quite often, musical guests would drop by the family home with Cole's elder brother, among them Count Basie, Duke Ellington, and Lionel Hampton.

Like his siblings, Cole--who by age 15 was already playing some professional gigs in the Chicago area--displayed a natural gift for music, but he was also drawn to sports. In fact, his primary goal was to become a professional athlete rather than follow in the footsteps of his famous brother. "I saw my future in football," Cole told Down Beat contributor John McDonough. "That was what I wanted to do. I was All-State football and basketball and had about 19 scholarships. Nat would come home and be real excited about my sports reputation." However, things did not work out the way Cole had planned. During a high school football game, he seriously injured his hand, and an infection spread to his bone. As a result, he underwent several surgeries, spending nearly two years in the hospital after his senior year.

Although he could no longer make a fist with his injured hand after recovering, Cole amazingly still had enough movement to play the piano. Therefore, he refocused his energy toward music, studying at Roosevelt University in Chicago and at the Juilliard School in New York in the early 1950s before earning a master's degree from the New England Conservatory of Music in 1956. By now, he had also released two singles: "The Joke's on Me" in 1952 and "Whispering Grass" in 1953.

Subsequently, Cole immersed himself in the New York jazz scene, taking whatever work he could find and learning the ropes from mentors such as drummer Sonny Greer, who came to prominence playing with Duke Ellington. "He helped me on the path of the straight and narrow there in New York," said Cole to Bernstein. "I used to get carried away. I owe a lot to Sonny Greer about being professional." Cole also looked up to singer Billy Eckstine. "I loved 'B,'" he recalled to Bill Kohlhaase in the Los Angeles Times. "I really can't remember the first time I met him, but musically, he was a great influence on me. I liked his demeanor. I liked his approach to music."

In terms of technique, Cole, known for his sparse, swinging style on the piano, greatly admired Teddy Wilson, with whom he studied briefly at Juilliard, as well as Roland Hanna. "But John Lewis was my favorite," he told McDonough. "I just loved his touch and his feel.... He was the man I most imitated because he was playing at a level that I could reach. It's not how fast or how many notes you can play. And John had a clear voice. This is how young people learn. You literally copy someone. When you master what someone else can do, then you add to it, subtract from it, and play with it."

Following his stint in New York, Cole in 1972 moved to Atlanta, Georgia, where he continues to reside, and led a series of trios and quartets. His latest group includes guitarist Jerry Byrd, bassist Herman Burney, and drummer Curtis Boyd. He remained relatively unknown in the United States, but in the mid-1970s, Cole attained some fame overseas, especially in Great Britain, with a series of European releases. And in Brazil, where his 1978 album One More Love Song went gold, he became extremely popular.

Back in Atlanta, Cole continued to struggle on the club circuit throughout the 1980s and started his own record label without much success. Finally, during the early 1990s, Cole's perseverance paid off when producer Todd Barkan attended one of his shows. From that moment, Barkan decided to take on the mission of introducing Cole to a wider audience, and the two initiated a partnership that led to several successful recordings of both standard and original material. In 1991 Cole released I'm Not My Brother, I'm Me, followed by Live at Birdland West in 1992.

In 1995, Cole released the album Always, which in addition to jazz-inspired material, included reworkings of Stevie Wonder's "Isn't She Lovely" and Bette Middler's "The Rose." He followed this set with the 1997 critical favorite To the Ends of the Earth, a collection of jazz standards recorded with Cyrus Chestnut on piano, Joe Locke on vibes, and Steve Berrios on drums. Love Makes the Changes, released in 1998, likewise received favorable reviews, as did his debut in 2000 for the Telarc label titled Merry Go Round, which earned Cole a Grammy Award nomination for Best Jazz Vocal Album.

Subsequent to the success of Merry Go Round, Cole returned to the studio to record Rio de Janeiro Blue. Released in 2001, the album is a mix of both American and Brazilian songs. Now approaching his 70s, Cole continues to perform all over the world and feels fortunate that he remains able to do what he loves most--to tell stories and reach people through songs.
Cole was inducted into the Georgia Music Hall of Fame in 2007. In July 2009, he released a recording featuring his own quartet (guitarist Randy Napoleon, drummer Curtis Boyd, and bassist Elias Bailey), along with alto saxophonist Jerry Weldon and pianist John DiMartino, playing live at Dizzy's jazz club in Lincoln Center. His 2010 album, Freddy Cole Sings Mr. B, was nominated for the Grammy in the category Best Vocal Jazz Album. The album features tenor Houston Person, pianist John DiMartino, guitarist/arranger Randy Napoleon, drummer Curtis Boyd, and bassist Elias Bailey.

Selected discography:
-One More Love Song , Decca, 1978.
-I'm Not My Brother, I'm Me , Sunnyside, 1991.
-Live at Birdland West , LaserLight, 1992.
-Always , Fantasy, 1994.
-A Circle of Love , Fantasy, 1996.
-To the Ends of the Earth , Fantasy, 1997.
-Love Makes the Changes , Fantasy, 1998.
-Le Grand Freddy , Fantasy, 1999.
-Merry Go Round , Telarc, 2000.
-Rio de Janeiro Blue , Telarc, 2001.



View the full website biography of Freddy Cole.