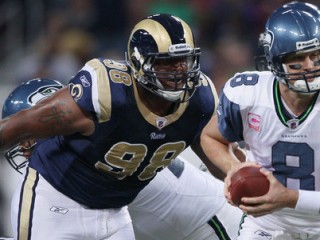 Fred Robbins
Date of birth : 1977-03-25
Date of death : -
Birthplace : Pensacola, Florida
Nationality : American
Category : Sports
Last modified : 2010-12-28
Fred Robbins is an American football defensive tackle for the St. Louis Rams of the National Football League.

Pro Highlights:
TRANSACTIONS: Signed with the Rams as a free agent (3/8/10)…signed by the Giants as an unrestricted free agent (3/8/04)…originally a second round (55th pick overall) draft choice by the Minnesota Vikings in 2000.

PRO:
Eleven-year veteran joined the Rams after spending six seasons with the New York Giants and spending the first four years with the Vikings…played in 149 regular season games with 116 starts…career stats include 356 tackles (209 solo), 28.5 sacks, 3 interceptions, 19 passes defensed, 2 forced fumbles and 5 fumble recoveries…named a Pro Bowl alternate in 2008…won Super Bowl XLII as a member of the Giants.

2009 SEASON: Competed in 16 games, started 12…posted 28 tackles (16 solo), tallied 2.0 sacks and logged a career-high five passes defensed…Week 4 at San Francisco (10/4): Saw his first NFL action on defense and special teams…recorded one assisted tackle and a quarterback hit…Week 14 at Tennessee (12/13): Saw action on defense and special teams…tallied two solo tackles for losses.

2008 SEASON: Started in all 14 regular season games in which he played and also started the NFC Divisional Playoff Game…missed games at Washington (11/30) and at Dallas (12/14) with a shoulder injury…voted First team All-Pro by Sports Illustrated…recorded 36 tackles (24 solo), 5.5 sacks and three passes defensed marked the third consecutive season he finished with 5.5 sacks, his career high voted one of the Giants' team captains with Eli Manning, Amani Toomer, Antonio Pierce and Jeff Feagles…at St. Louis (9/14): Compiled a season-high five tackles (four solo), 2.0 sacks and one quarterback hurry…twice sacked Marc Bulger for 7 yard losses in the second quarter…vs. Cincinnati (9/21): Had 2.0 sacks back-to back weeks...sacked Carson Palmer for a 6-yard loss on the Bengals' first play from scrimmage and for a 10-yard loss in the third quarter…also had a solo sack vs. San Francisco (10/19) and half-sack vs. Dallas (11/2)…NFC Divisional Playoff Game vs. Philadelphia (1/11): Intercepted a Donovan McNabb pass that was tipped by Chase Blackburn.

2007 SEASON: Played in 16 regular season games with 15 starts and started all four postseason contests…did not start vs. the Jets (10/7) because the Giants opened in a sub defense…finished with 42 tackles (21 solo), 5.5 sacks, 26 quarterback hurries, 10 quarterback hits and one pass defensed… at Atlanta (10/15): Picked up his first sack of the season when he took down QB Joey Harrington for a 4-yard loss…at Chicago (12/2): Contributed four tackles (one solo), 1.0 sack, five quarterback hurries and one quarterback hit…dropped QB Rex Grossman for a 2-yard loss…Super Bowl XLII: Logged three tackles (two solo) in the Giants' victory over New England.

2006 SEASON: Started all 16 regular season games and the NFC Wild Card Game finished with career-high totals of 62 tackles (39 solo), 5.5 sacks, two interceptions and 34 quarterback hurries…vs. Indianapolis (9/10): Posted five tackles (three solo) and 1.0 sack…dropped QB Peyton Manning with a 4-yard sack at Tennessee (11/26): Finished with six tackles (five solo), 1.0 sack, one quarterback hurry, one quarterback hit and a fumble recovery…increased his sack total to 5.5 when he dropped Vince Young for a 9-yard loss.

2005 SEASON: Played in all 16 regular season games with six starts at defensive tackle…did not play in the NFC Wild Card Game vs. Carolina (1/8) because of a hamstring injury…finished the season with 23 tackles (14 solo), 1.5 sacks, one pass defensed and one fumble recovery.

2004 SEASON: In his first season with the Giants in 2004, started all 15 games in which he played – 12 at right tackle and one a piece at left tackle, left end and right end…was inactive due to shoulder injury vs. Detroit (10/24)…recorded 40 tackles (31 solo), 5.0 sacks, one interception, two passes defensed and two forced fumbles…vs. Chicago (11/7): Recorded six tackles (five solo) and 2.0 sacks…sacked QB Craig Kenzel for a 7-yard loss and a 4-yard loss…vs. Washington (9/19): Finished with three solo tackles, 2.0 sacks, a forced fumble and his first career interception…sacked QB Mark Brunell for a 4-yard loss and forced a fumble…tipped, then intercepted a screen pass from Brunell intended for RB Clinton Portis.

2003 SEASON: Played in all 16 games with 12 starts for the Vikings and finished with 30 tackles, five tackles for loss, and five quarterback hurries…at Oakland (11/16): Collected the first fumble recovery of his career and added two tackles.

2002 SEASON: Played in 16 games with 15 starts for the Vikings...recorded 41 tackles (23 solo)…led the team with seven tackles for loss and posted a then career-high four passes defensed.

2001 SEASON: Played in 16 games with 12 starts...totalled 45 tackles (16 solo) and 2.0 sacks…vs. Carolina (9/9): Made his first NFL start in the season opener...finished with five tackles, 1.0 sack, a tackle-for-loss and two quarterback hurries.

2000 SEASON: Played in eight games in his rookie campaign…saw action as a reserve and had five tackles…at Tampa Bay (10/29): Picked up his first career sack when he tackled QB Shaun King .

College Highlights:
Three-year starter at defensive tackle…finished career with 15.0 sacks and 44 tackles-for-loss…All-ACC second-team choice as a senior…helped Demon Deacons' defense improve from ninth to second in the ACC in 1999…majored in sociology.

Personal :
All-City and All-Northwest Florida selection his senior season at Gonzalez (Pensacola, Fla.) High…lettered three times in football…father played basketball at Florida A&M.


View the full website biography of Fred Robbins.