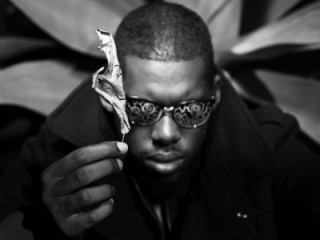 Flying Lotus
Date of birth : 1983-10-07
Date of death : -
Birthplace : Winnetka, Los Angeles, California, U.S.
Nationality : American
Category : Arts and Entertainment
Last modified : 0000-00-00
Flying Lotus, on his real name Steven Ellison, is an American music producer of electronic music and hip-hop beats. He is also known by the fans as FlyLo and also as the founder and leader of the Brainfeeder collective, which includes such artists as SAMIYAM, Teebs and Daedelus.

Flying Lotus is the great-nephew of Alice Coltrane, John Coltrane's wife. Ellison says about his musical heritage: "My greatest influences are my family, I'm lucky to have been around so many accomplished musicians." When discussing the sources of his imagination and inspiration, he explains that : "I see these tracks as little short films that play in my head… I have this beautiful lemon tree in my backyard, and on a sunny day the light shines through. Little things like that inspire me."
Beside them his grandmother was songwriter Marilyn McLeod and he is also the cousin of musician Ravi Coltrane.

His debut album, 1983, was released on Plug Research Records in 2006. He is most famous (yet also uncredited) for much of the bumper music on Cartoon Network's Adult Swim programming block and he has also contributed remixes for fellow Plug Research artists, including Mia Doi Todd. He is referred to as FlyLo by fans and critics. He is the nephew of the late Alice Coltrane and John Coltrane.

In 2007, he announced that he signed with Warp Records. Following his Warp debut—the six-track Reset EP and became one of the label's cornerstone artists—he released his second album, titled Los Angeles, on June 10, 2008. His third album, Cosmogramma, was released on May 3, 2010, in the UK and May 4, 2010, in the US.

Recently, Flying Lotus collaborated with the Ann Arbor Film Festival in the performance of a live scoring of the 1962 avant-garde film Heaven and Earth Magic. In a post-viewing interview with the audience, Flying Lotus said he was unsure whether or not a recording of the performance (or a recreation of it) would be publicly released, but he would be enthusiastic toward similar projects in the future.

In August 2011, Flying Lotus announced a multimedia project with filmmaker Miwa Matreyek, which is to be titled The Mapping of Countries Yet to Come. It is currently rumored that Flying Lotus plans to remix one of Radiohead's songs from The King of Limbs.
View the full website biography of Flying Lotus.