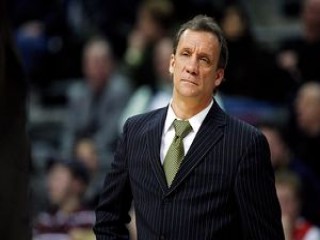 Flip Saunders
Date of birth : 1955-02-23
Date of death : 2015-10-25
Birthplace : Cleveland, Ohio, U.S.
Nationality : American
Category : Sports
Last modified : 2022-02-23
Flip Saunders was an American basketball head coach of the Washington Wizards. He previously coached the Detroit Pistons and the Minnesota Timberwolves.

Phillip Saunders was named the Wizards 22nd head coach in franchise history on April 22, 2009. In two decades of coaching at the professional level, including 13 seasons in the NBA, Saunders has cemented his reputation as one of the finest coaches in the game of basketball.

With a record of 587-396 entering the 2009-10 season, his .597 winning percentage (seventh among active coaches) is topped only by Phil Jackson (.746), Pat Riley (.722), Don Nelson (.611) and Jerry Sloan (.600) among all-time NBA coaches in their first 13 seasons, and ranks seventh-best all-time among coaches with at least 900 games at the helm. Saunders has seven 50-win seasons to his credit as an NBA head coach, and with four Conference Finals appearances in 11 postseason appearances, he defines what it means to be playoff-tested.

Saunders joined the Wizards after leading the Detroit Pistons to a 176-70 (.715) record from 2005-08, the highest winning percentage of any coach in their franchise history. In 2007-08, the third of Saunders' three seasons with the Pistons, he guided Detroit to their third consecutive Central Division crown with a 59-23 regular season record (the second-best record in the Eastern Conference). Saunders recorded his 500th win as an NBA head coach during the 2006-07 campaign, becoming just the 26th coach in NBA history at the time to reach that mark. Saunders' first season in Detroit in 2005- 06 included a record of 24-3 after 27 games, making him just the second coach in NBA history to start a season 24-3 in his first year as head coach of a new team (Bill Sharman led the Lakers to a 39-3 start in 1971-72). He became the only coach in NBA history to win Eastern Conference Coach of the Month honors for three consecutive months (November '05, December '05, January '06), and he helmed the Eastern Conference All-Star team in Houston in 2006 (as one of only six coaches in NBA history to be named head coach of the All-Star team in both the Eastern and Western Conferences). During that season, Detroit tied a franchise record for most home victories (37), and set a franchise record for road wins (27). In three seasons in Detroit, Saunders' Pistons finished with the best record in the Eastern Conference twice (2005-06, 2006-07), and ranked in the top three of the NBA in points per game allowed each season (including a first place finish in 2007-08), showing that Saunders is equally adept at defensive scheming as he is on the offensive end.

Prior to joining Detroit, Saunders spent nine-plus years with the Minnesota Timberwolves (1995- 2005), where he guided the club to eight consecutive playoff appearances and a Western Conferencebest and franchise-best 58-24 record in 2003-04 -- a season that culminated in a berth in the Western Conference Finals. During his tenure in Minnesota, he won NBA Western Conference Coach of the Month honors four times (April '04, February '03, January '01, January '00) and coached the Western Conference during the 2004 NBA All-Star Game in Los Angeles. Saunders' time with Timberwolves represented the best years in the franchise's history, and placed him as the organization's all-time winningest coach. He posted a winning record in six of his nine full seasons as head coach, compiling an overall record of 411-326 (.558).

Saunders' impressive coaching resume also includes seven consecutive seasons of 30 or more victories in the CBA, two CBA Championships ('90, '92), a pair of CBA Coach of the Year honors ('90, '92) and 23 CBA-to-NBA player promotions. He ranks third all-time in the CBA with 253 career victories (253-137, .649) during stops with the Rapid City Thrillers (1988-89), La Crosse Catbirds (1989-94) and Sioux Falls Skyforce (1994-95). In September 2001, Saunders guided the United States men's basketball team to a perfect 5-0 record and a gold medal at the Goodwill Games in Brisbane, Australia.

The Cleveland, Ohio, native began his successful coaching career at Golden Valley Lutheran College, where he compiled a 92-13 record (including a perfect 56-0 mark at home) in four seasons. In 1981, he joined the coaching staff at his alma matter, the University of Minnesota, as an assistant coach where he helped the Golden Gophers to the 1982 Big Ten Championship. After five seasons at Minnesota, Saunders moved to an assistant coach position at the University of Tulsa, where he worked for two seasons before heading to the pro ranks.

Saunders, 54, was an All-America basketball player at Cuyahoga Heights High School in Cleveland. During his senior season in 1973, he was named Ohio's Class A High School Basketball Player of the Year after averaging a state-high 32.0 points per game. He continued his basketball career at Minnesota, where he teamed with Kevin McHale and started in 101 of his 103 career games.


Flip Saunder's career history as coach includes:

1977–1981 : Golden Valley Lutheran
1981–1986 : Minnesota (assistant)
1986–1988 : Tulsa (assistant)
1988–1989 : Rapid City Thrillers
1989–1994 : La Crosse Catbirds
1994–1995 : Sioux Falls Skyforce
1995–2005 : Minnesota Timberwolves
2005–2008 : Detroit Pistons
2009–2012 : Washington Wizards
2014–2015 : Minnesota Timberwolves


Saunders and his wife Debbie had four children. Their son, Ryan, is a former guard for the University of Minnesota, Flip's alma mater, and later became an NBA assistant coach for the Wizards and Wolves, and the head coach of the Wolves. His daughter, Mindy also attended the University of Minnesota and was a member of the dance team. Flip's twin daughters, Kim and Rachel, also attended the University of Minnesota. Together, they danced on the University of Minnesota Dance Team for 4 years - winning 8 national championships and a World Championship.

On August 11, 2015, Saunders announced he had been diagnosed with Hodgkin's lymphoma, for which he was undergoing treatment. Saunders planned to remain the Timberwolves' head coach and president. However, after Saunders was hospitalized for more than a month following complications in September, team owner Glen Taylor announced that Saunders would miss the next season. Saunders died on October 25, 2015 at the age of 60. On February 15, 2018, the Timberwolves held a "Flip Saunders Night" during which a permanent banner was unveiled in the Target Center honoring Saunders. A little over three years after his death, Flip's son Ryan Saunders took over as the Timberwolves' head coach following the firing of Tom Thibodeau.

View the full website biography of Flip Saunders.