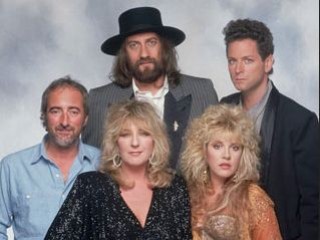 Fleetwood Mac
Date of birth : -
Date of death : -
Birthplace : London, England
Nationality : British
Category : Arts and Entertainment
Last modified : 2012-06-29

Fleetwood Mac is a British and American rock band formed in 1967. From the band's inception through the end of 1974, no incarnation of Fleetwood Mac lasted as long as two years, but all featured core members Mick Fleetwood and John McVie.

The two most successful periods for the band were during the late 1960s British blues boom, when they were led by guitarist Peter Green; and from 1975-87, with more pop-orientation, featuring Christine McVie, Lindsey Buckingham and Stevie Nicks. The band enjoyed more modest success in the intervening period between 1971 and 1974, with the line-up that included Bob Welch, and also during the 1990s which saw more personnel changes before the return of Nicks and Buckingham in 1997, and more recently, the departure of Christine McVie.


The only member present in the band from the very beginning is its namesake drummer Mick Fleetwood. Bassist John McVie, despite his giving part of his name to the band, did not play on their first single nor at their first concerts. Keyboardist Christine McVie has, to date, appeared on all but two albums, either as a member or as a session musician. She also supplied the artwork for the album Kiln House.


The band was started in London in 1967 by guitarist Peter Green, who recruited the rhythm section of John Mayall's Bluesbreakers: drummer Mick Fleetwood and bass guitarist John McVie.

Fleetwood Mac's musical course took a financial upswing in 1975 when Welch left to form the band Paris and was replaced by the songwriting/performing team of Lindsey Buckingham and Stevie Nicks (who were, at the time, romantically involved). "When I joined [the band was] still hovering on the edge," Welch told Rolling Stone. "When I left, they'd done a complete switcharound to a slick, sophisticated, production kind of band." He later told Guitar World, "I agreed with the philosophy but I said, 'Naah, I don't really want to stay for another go-round.' Much to my dismay." While searching for a studio to record the band, Fleetwood overheard the duo's LP, Buckingham/Nicks, at Sound City Studios in Van Nuys, California. Nicks had previously sung with Buckingham in the band Fritz and their addition to Fleetwood Mac brought the group a new melodic sound that catapulted them to superstar status nearly overnight with the LP Fleetwood Mac in 1975.

With its folksy, lush vocals, the album "finally realized the apotheosis of that early-Sixties blues crusade to get back to the roots," wrote John Swenson in Rolling Stone. In concert, Nicks took on the persona of the mythological Welsh witch Rhiannon, swirling about on stage in a black cape and adding a new sexual element to the band's presence. Tunes like "Say You Love Me," "Over My Head," and "Monday Morning" pushed Fleetwood Mac to platinum status and became Warner Bros.' best-selling LP ever at the time (previous Mac albums sold around 200,000 copies each). Released in July of 1975, the LP reached the top 20 and then sank to the top 40 just before peaking at number three right before Christmas. Of their success, Buckingham told Guitar World, "It wasn't a supergroup. They were selling no albums at all. They were broke for all practical purposes.... I'm not saying it was our doing, but it was all of our doing. It was the right chemistry." The album earned five-times platinum sales by 1986.

Musically, the band members meshed perfectly, but their personal relationships were not as smooth. During the next eleven months they worked on their follow-up LP, Rumours, while trying to cope with the breakups of the McVies and Nicks and Buckingham. "Go Your Own Way" was typical of the album's tone and, as the band struggled with their relationship problems, their record flew up the charts to the number one spot. "What makes the difference this time is knowing that, for all the problems we've encountered, we've got a huge album," Fleetwood told Rolling Stone during the recording of the LP. "It makes any bad things that happen seem not nearly as bad as if the last album had stifled."

The high recording expense paid off as Rumours had sold 19 million copies in the United States--more than 40 million worldwide--as of fall 2003. With Fleetwood Mac and Rumours, the band had made pop history and defined the decade's musical characteristics. "Catchy but emotionally affecting pop rock for the late Seventies," was how John Rockwell described their music in The Rolling Stone Illustrated History of Rock and Roll. "The music was unabashedly pop, yet it touched on serious themes without being weighed down by them."

Buckingham took control on their next effort, the double-LP Tusk, from 1979. More folk than rock, nine of the tunes were penned by the guitarist. "Another series of saccharine-soaked melodies, guaranteed to stick to your cassette deck like a layer of crazy glue," stated Keith Sharp in Rock Express. "[Buckingham] recognizes the powerful Yuppie, Middle America market and he's orchestrated an album that will fill a huge void in the lazy summer months ahead.... Functional ... but no longer fun. And with Lindsey Buckingham holding the reins, I'm surprised he hasn't renamed the band Buckingham Mac."

Other critics were not as harsh and some even compared Tusk to the finest work of the Beatles. No one could have possibly expected it to sell like their previous two LPs, and it didn't, but Buckingham told Rolling Stone about the pressures of trying to create Rumours Two. "Suddenly the phenomenon was the sales and not the work. And that's dangerous ground as far as I'm concerned."

During the 1980s, Fleetwood Mac released a live LP and two more studio albums while Nicks worked on a solo career for the Modern label and Buckingham recorded the exceptionally fine Law and Order on his own. After their Mirage LP in 1982, Mick Fleetwood declared bankruptcy and in 1987 called on Buckingham to take a break from his solo career to help out on the band's Tango in the Night. Fleetwood Mac was back in the spotlight thanks to the hit single "Seven Wonders" as Buckingham returned to his solo work while being replaced by two guitarists, Billy Burnette and Rick Vito, and during his absence from the group during the mid-1990s by Dave Mason.

In 1990 the band released their Behind the Mask LP and were, amazingly, still going strong after 23 years and eleven different lineups. "No rock band has had more excuses to break up. Or fewer inclinations to do so," wrote Edna Gundersen in the Lansing State Journal. "Fleetwood Mac has weathered soured romances, commercial slumps, drug addiction, alcoholism, bankruptcy and abrupt membership shuffles; any might have splintered a less resilient menage."

Though it took some convincing, Buckingham reunited with Fleetwood Mac in 1997 after releasing his third solo album, Out of the Cradle, four years earlier. The group had played at President Bill Clinton's inauguration in 1993 ("Don't Stop" became a campaign anthem), but soon split. It was at this time that Nicks officially left the group and was replaced by Bekka Bramlett. With Nicks now on board, the group formally rejoined, signing with Reprise and releasing a CD and DVD recorded for an MTV special called The Dance, which included Fleetwood Mac classics and some new material. A highly successful tour followed, which grossed $36 million in ticket sales, likely powered by the popularity of the Rumours lineup of the band. "We can all go our separate ways for periods of time, but we always seem to come back to each other," Nick told Billboard about the resilient group in 1997. "There's a connection between each of us that has nothing to do with business." The Grammy Award-nominated album went five-times platinum in 2000.

What was originally intended to be Buckingham's fourth solo album morphed into another opportunity for the group to come together, though this time without Christine McVie, who had opted out because she didn't want to tour. The result was 2003's Say You Will, which featured the Nicks-penned songs "Say You Will," "Destiny Rules," "Silver Girl," and the September 11th-inspired "Illume." Notable Buckingham tracks include "Red Rover," the uncharacteristically sexual "Come," and "Murrow Turning Over in His Grave," about legendary newsperson Edward R. Murrow. The group once again embarked on a tour.

Though Buckingham's solo career stalled in the 1990s, Nicks continued to release albums, including Street Angel in 1994 and Trouble in Shangri-La in 2001. Fleetwood Mac has also been the subject of odes from fellow musicians, most notably on the album Legacy: A Tribute to Fleetwood Mac's Rumors in 1998, and covers of "Landslide" by the Smashing Pumpkins and the Dixie Chicks. The group was inducted into the Rock and Roll Hall of Fame and received a BRIT Award for Outstanding Contribution to the British Music Industry in 1998.

In October 2009, the band began a tour of Europe which carried on into early November, followed by a tour of Australia and New Zealand in December.

Also in October The Very Best of Fleetwood Mac was re-released in an extended two-disc format (this format having been released in the US in 2002), premiering at number six on the UK Albums Chart.

On 1 November 2009, a new one-hour documentary, Fleetwood Mac: Don't Stop, was broadcast in the UK on BBC One, which featured recent interviews with all four current band members.[citation needed] During the documentary, Nicks gave a candid summary of the current state of her relationship with Buckingham, stating "Maybe when we're 75 and Fleetwood Mac is a distant memory, we might be friends...". It also included outtakes from the Tusk recording sessions, not seen for many years since their availability on VHS cassette in 1981.

On 6 November 2009 Fleetwood Mac played the last show of the European leg of their Unleashed tour at London's Wembley Arena. Christine McVie was present in the audience, so Stevie Nicks paid a tribute from the stage to a standing ovation from the audience, stating that she thought about her former bandmate "every day", and went on to dedicate that night's performance of "Landslide" to McVie.[citation needed]

On 19 December 2009, Fleetwood Mac played the second to last act of their Unleashed tour to a sell-out crowd at what was originally intended to be a one-off event at the TSB Bowl of Brooklands, New Plymouth, New Zealand. Tickets, after pre-sales, sold out within twelve minutes of public release, and another date (Sunday 20 December), which also sold out, was added.[citation needed]

On 19 October 2010, Fleetwood Mac played a private show at the Phoenician Hotel in Scottsdale, Arizona for TPG (Texas Pacific Group).

On 3 May 2011, the Fox Network broadcast an episode of Glee (Season 2, Episode 19) entitled "Rumours" that featured six songs from the band's 1977 album. The show sparked renewed interest in the band and its most commercially successful album, and Rumours reentered the Billboard 200 chart at #11, the same week that Stevie Nicks' new solo album In Your Dreams debuted at #6. (Nicks was quoted by Billboard saying that her new album was "my own little Rumours.") The two recordings sold about 30,000 and 52,000 units, respectively. Music downloads accounted for ninety-one percent of the Rumours sales. The spike in sales for Rumours represented an uptick of 1,951%. It was the highest chart entry by a previously issued album since The Rolling Stones's reissue of Exile On Main St. reentered the chart at #2 on 5 June 2010.

On 13 May 2011 Stevie Nicks announced that Fleetwood Mac would go out on tour again in 2012 (not mentioning the scale) and talked of a possible new album.

In an April 2012 interview with Playboy magazine, drummer Mick Fleetwood expressed doubt at Fleetwood Mac ever reuniting for a tour, blaming Stevie Nicks and Lindsey Buckingham for years of delays due to commitments to solo projects. "I played drums on most of Stevie's album (In Your Dreams), the one she is still out there supporting and the one that is the reason that, for now, she refuses to do a Fleetwood Mac tour," Fleetwood stated.

Original Fleetwood Mac bassist Bob Brunning died on 18 October 2011, at the age of 68. Former guitarist Bob Weston was found dead on 3 January 2012, at the age of 64. Former singer and guitarist Bob Welch was found dead of a self-inflicted gunshot wound on 7 June 2012, at the age of 66.

View the full website biography of Fleetwood Mac.