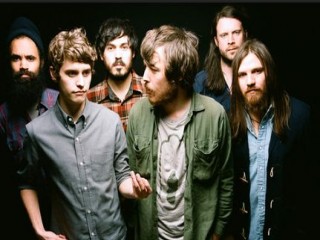 Fleet Foxes (band)
Date of birth : -
Date of death : -
Birthplace : Seattle, Washington
Nationality : American
Category : Arts and Entertainment
Last modified : 2012-07-05

Fleet Foxes are an indie folk band that formed in Seattle, Washington.

Formed in 2006, the band consists of Robin Pecknold (vocals, guitar), Skyler Skjelset (guitar), Christian Wargo (bass, guitar, vocals), Casey Wescott (keyboards, vocals), Morgan Henderson (multiple instruments) and J. Tillman (drums, vocals). They are signed to the labels Sub Pop and Bella Union.

Fleet Foxes released the six-track Fleet Foxes EP in 2006, a five-track EP, Sun Giant on April 8, 2008, and their debut full-length self-titled album, Fleet Foxes on June 3, 2008. It was given 4 stars by Rolling Stone, and compared to the likes of The Beach Boys, Animal Collective, and Crosby, Stills & Nash. On June 6, 2008, they received a 9.0 out of 10 in a review by Pitchfork for their self-titled LP, and on December 19th, the Sun Giant EP and the self titled LP together shared the title of Pitchfork's #1 album(s) of 2008.

The quintet describe their music as "baroque harmonic pop jams." They have played at major venues such as the Bumbershoot Music Festival in Seattle, Washington, South by Southwest music festival in Austin, Texas and Sasquatch! Music Festival at the Gorge Amphitheatre in May 2008. On June 24, 2008, Fleet Foxes went #1 on the CMJ Radio 200 Chart.


Their second studio album, Helplessness Blues was released on May 3, 2011.

View the full website biography of Fleet Foxes (band).