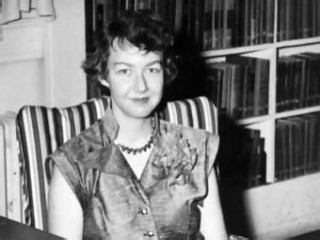 Flannery O'Connor
Date of birth : 1925-03-25
Date of death : 1964-08-03
Birthplace : Savannah, Georgia
Nationality : American
Category : Famous Figures
Last modified : 2011-05-03
Flannery O'Connor was a writer of short stories and novels in which comedy, grotesquerie, and violence were united with a profound moral and theological vision.
Flannery O'Connor was born in Savannah, Georgia, on March 25, 1925, the only child of Regine Cline and Edwin Francis O'Connor. Both her parents came from Catholic families that had lived in the South for generations. In the late 1930s her father developed disseminated lupus, an immunological disorder that causes the body to make antibodies against its own tissues, and the O'Connors moved to Milledgeville, which had been the home of the Cline family since before the Civil War. At that time lupus was untreatable, and O'Connor's father died in 1941.
O'Connor graduated from Georgia State College for Women in Milledgeville with a degree in social science in 1945. A fellowship enabled her to attend the Writers' Workshop at the State University of Iowa, from which she received a Master of Fine Arts degree in 1947. While at Iowa she published her first short story and won a prize for a novel in progress. After leaving Iowa she continued to work on her novel at Yaddo, the writer's colony at Saratoga Springs, New York; in New York City; and in Connecticut, where she lived in the household of the poet and translator Robert Fitzgerald.
In December 1950, on her way home to Milledgeville for Christmas, she became seriously ill on the train and was hospitalized on her arrival in Atlanta; she was diagnosed as having lupus, the same illness that had killed her father nine years earlier. The recent discovery of cortisone made the disease treatable, but it was still considered incurable. After several months, during which time O'Connor was in and out of the hospital, she and her mother moved to "Andalusia," a dairy farm four miles from Milledgeville that Mrs. O'Connor had recently inherited and that she ran with the help of tenants. Dairy farms, the capable and efficient women who run them, and their tenant help figure largely in O'Connor's later stories. O'Connor spent the remaining 14 years of her life at Andalusia, writing and raising various kinds of fowl, including peacocks.
During the first year after the outbreak of her illness O'Connor continued to work on the final revisions of her first novel, Wise Blood, which was published in 1952. Strong, original, drawn with hard outlines and in a peculiarly modern style, at once bizarrely comic and completely serious, it is the story of the ultimately futile attempts of Hazel Motes, the grandson of a Southern fundamentalist preacher, to escape from Jesus.
Following the publication of Wise Blood O'Connor returned to writing short fiction. The stories written between the summer of 1952 and 1955 (collected in A Good Man Is Hard To Find, 1955) make it obvious that she had come into her own as a short story writer. Wickedly funny, realistic, displaying her sharp eye for the comic and the grotesque and her accurate ear for Southern speech, often ending in unexpected and shocking violence, the best of them— "A Good Man Is Hard To Find," "The Life You Save May Be Your Own," "The Artificial Nigger," "The Displaced Person," "Good Country People" —are classics of the short story form.
O'Connor, who took her Catholicism as seriously as she did her writing, called them stories about original sin. She described her work in general as being about the action of grace in the world, about those moments in which grace, usually in the form of violence, descends on her comically complacent characters, sometimes opening their eyes to an appalling realization, sometimes killing them. Many readers find O'Connor's identification of the transcendent with a violent and disruptive force unpalatable and even more shocking than the stories themselves. O'Connor, however, felt that a violent shock was necessary to bring both her characters and her modern secular audience to an awareness of the powerful reality of the realm of transcendent mystery.
Although a softening of the bone in her hip caused her to have to use crutches, O'Connor frequently accepted invitations to speak at colleges and writers' conferences in the latter half of the 1950s and early 1960s. She took advantage of these opportunities not only to give perceptive talks on the nature of fiction but to clarify her own position as a writer "with Christian concerns." Such a writer, she said, was interested both in the everyday reality seen all around (the level of manners) and in making that everyday reality transparent to the underlying level of mystery, the level of the eternal and the absolute. These talks, together with a number of essays on similar subjects, were edited by Sally and Robert Fitzgerald and published after O'Connor's death under the title Mystery and Manners (1969).
O'Connor's second collection of short stories, Everything That Rises Must Converge, continued in much the same vein as the first. It was completed just before her death and published posthumously in 1965. Her second novel, The Violent Bear It Away (1960), has some thematic similarities with Wise Blood, although it is very different in style. As Wise Blood follows the protagonist's attempts to escape from his vocation to be a Christian, The Violent Bear It Away deals with the efforts of a backwoods Southern boy to escape his calling to be a prophet. In both cases, an act of violence plays a role at the turning points at which the characters embrace their painful vocations.
O'Connor had to have abdominal surgery in the spring of 1964. Her lupus reacted to the stress of the surgery and could not be controlled by drugs. In July she suffered kidney failure, and she died in the Milledgeville Hospital on August 3, 1964. In 1972 she was posthumously awarded the National Book Award for her Collected Stories. A collection of her letters, edited by Sally Fitzgerald and titled The Habit of Being, was published in 1979.
View the full website biography of Flannery O'Connor.