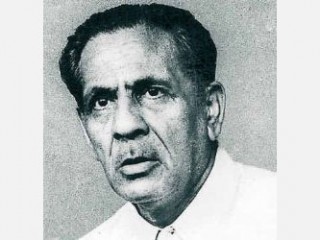 Firaq Gorakhpuri
Date of birth : 1896-08-28
Date of death : 1982-03-03
Birthplace : Gorakhpur, Uttar Pradesh, India
Nationality : Hindi
Category : Famous Figures
Last modified : 2010-10-21
Firaq Gorakhpuri was born Raghupati Sahay in the year 1896 at Gorakhpur District of Eastern Uttar Pradesh. Born to a family of aristocrats, Firaq had a taste of Urdu poetry at very tender age. He started writing poetry in Urdu in teens and developed his own niche in an era that was marked by the likes of Sahir, Iqbal, Faiz and Kaifi. Although a left leaning intellectual, Firaq was never an active member of 'Indian Progressive Writers Association'.

After a brilliant academic career he was selected into the Provincial Civil Service but resigned and joined Allahabad University as a lecturer in English. It was here he wrote most of his Urdu poetry and his masterpiece 'Gul-e-ra'naa' that fetched him the Jnanpith Award. He started adding pen name Firaq Gorakhpuri as traditional of the then poets.

Firaq had been a champion of secularism all his life. He was a chief crusader against the government's effort to brand Urdu as the language of Muslim. He was also instrumental in the allocation of funds for the promotion of the language. Jawahar Lal Nehru nominated him as the member of Rajya Sabha for his efforts in the promotion of literature and communal harmony. In his career spanning more than 50 years, Firaq wrote hundreds of heart wrenching poetries. This great nationalist passed away in 1982 after prolonged illness.

His noted poetry collections include, Rooh-o-Qaayanat, Gul-e-Ra'naa, Nagma-numaa and his magnum opus, Gul-e-Naghma.
View the full website biography of Firaq Gorakhpuri.