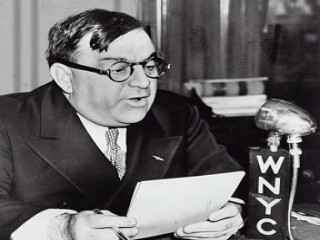 Fiorello Henry La Guardia
Date of birth : 1882-12-11
Date of death : 1947-09-20
Birthplace : New York City, New York, US
Nationality : American
Category : Politics
Last modified : 2011-05-02
An American municipal leader and mayor of New York City, Fiorello Henry La Guardia was one of the most important and dynamic political reformers during the 1930s.
Fiorello La Guardia was born in New York City on Dec. 11, 1882, of Italian parents. La Guardia spent most of his boyhood in the West and attended high school in Prescott, Ariz. Later, in 1904, the family lived in Trieste. Following his father's death La Guardia secured a job in the American consulate in Budapest, Hungary. He returned to New York in 1906 and became an interpreter at Ellis Island. At the same time he attended New York University Law School at night, receiving his degree in 1910.
La Guardia's attention shifted to politics, and he joined the Republican party. Although defeated for election to Congress in 1914, he made an impressive showing and received an appointment the next year as deputy attorney general of New York State. In 1916 he was elected to Congress, and his political career was launched.
La Guardia's congressional career was briefly interrupted by World War I, when he enlisted in the Aviation Section of the Signal Corps. In 1919 he was elected president of New York City's Board of Aldermen. He suffered a major setback in 1921, when he was defeated in a primary race for mayor, but the next year he again secured election to Congress, this time as a candidate of the Socialist and Progressive parties. In 1929 he ran for mayor but was beaten by James J. Walker.
The mayoralty did not remain out of La Guardia's reach for long; he was elected in 1933, running on the Fusion ticket. He went on to serve three consecutive terms, during which he gained a nationwide reputation as a fiery and effective leader. Establishing his independence from the major parties, he attempted to rid the city of graft while improving municipal services and furthering social reform. He introduced slum-clearance projects and secured a new city charter. Fighting bossism, aiding the fire department in putting out fires, and reading comic strips on the radio, he became one of New York City's most popular and colorful mayors; because of his first name, he was sometimes called the "Little Flower." After he retired in 1945, he helped fight world famine as director general of the United Nations Relief and Rehabilitation Administration. On Sept. 20, 1947, he died of cancer.
View the full website biography of Fiorello Henry La Guardia.