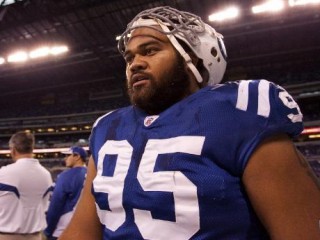 Fili Moala
Date of birth : 1985-06-23
Date of death : -
Birthplace : Buena Park, California
Nationality : American
Category : Sports
Last modified : 2010-12-23
Fili Moala is an American football defensive tackle for the Indianapolis Colts of the National Football League.

CAREER

2010: Started 14 games, 10 at LDT and four at RDT…had five tackles in start at RDT at Houston 9/12…had one tackle and 1t FR vs. NY Giants 9/19…had four tackles at Jacksonville 10/3…had two tackles and one pass defensed in start at RDT at Washington 10/17…had three tackles at Philadelphia 11/7 and vs. Dallas 12/5…had one tackle vs. Cincinnati 11/14 and at New England 11/21…had one tackle and one QB pressure vs. San Diego 11/28…had two tackles at Tennessee 12/9…had one tackle in start at RDT vs. Jacksonville 12/19.

2009: Appeared in 10 games, starting one at RDT…opened at Buffalo 1/3 and was inactive games 1-5 and vs. Houston 11/8…had 17 tackles, 10 solo…had four tackles vs. Tennessee 12/6 and season-high five tackles vs. NYJ 12/27. POST-SEASON: Was inactive vs. Baltimore 1/16 in Divisional Playoffs, vs. NYJ 1/24 in AFC Championship Game and vs. New Orleans 2/7 in Super Bowl XLIV.

COLLEGE

Four-year letterman and three-year starter who opened 38 of 52 career games…started final 33 games…had 90 tackles, 46 solo, 23.5 tackles for losses, 9.5 sacks, two FR, five batted passes and two blocked kicks…started 13 games as senior…had 30 tackles, 10 for losses, 4.5 sacks, one batted pass, one FR and two blocked kicks…tied school, conference and NCAA record with two blocked field goals in same game (both in 3rd quarter) against Arizona State…was First-Team All-America choice by The NFL Draft Report, while earning Second-Team honors from The Sporting News…was First-Team All-Pac 10 Conference choice…helped lead unit that ranked 1st in NCAA in scoring defense (9.0 points per game), 2nd in total defense (221.8 yards per game) and 5th in rush defense (87.4 yards per game)…started 13 games as junior…had 32 tackles, 5.5 for losses, and 2.5 sacks…helped lead unit that ranked 2nd in NCAA in scoring defense (16.0 points per game) and total defense (273.2 yards per game) and 4th in rush defense (84.2 yards per game)…started 10 of 13 games as sophomore…had 20 tackles, 7.0 for losses, 2.5 sacks, four batted passes and one FR…started two of 13 games as freshman…had eight tackles, six solo, and one stop for loss…holds degree in sociology.

PERSONAL

Full name is Fili Toutoupau'u Moala…born in Buena Park, Calif.…attended Western (Anaheim, Calif.) High School…was all-league choice as junior…only played two games as senior due to injury…is cousin of Baltimore Ravens DT-Haloti Ngata…Moala and his wife, Jordan, reside with their son, Litani, in Indianapolis.



View the full website biography of Fili Moala.