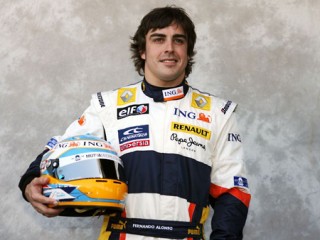 Fernando Alonso
Date of birth : 1981-07-29
Date of death : -
Birthplace : Oviedo, Asturias,Spain
Nationality : Spanish
Category : Sports
Last modified : 2012-01-17
Fernando Alonso Díaz is a Spanish Formula One racing driver and a two-time World Champion, who is currently racing for Ferrari.

On 25 September 2005, he won the Formula One World Driver's Championship title at the age of 24 years and 58 days, at the time making him the youngest Formula One World Drivers' Champion. After retaining the title the following year, Alonso also became the youngest double Champion at the time. Nicknamed El Nano, a typical pseudonym for Fernando in Asturias, his place of birth, Alonso acts as a Goodwill Ambassador for UNICEF.

As a child, Alonso participated in karting competitions around Spain, supported by his father, who also doubled as his mechanic. His family lacked the financial resources needed to develop a career in motorsport, but his victories attracted sponsorship and the required funds. Alonso won four Spanish championships back-to-back in the junior category, between 1993 and 1996 and the Junior World Cup in 1996. He won the Spanish and Italian Inter-A titles in 1997 and in 1998 won the Spanish Inter-A title again as well as finishing second in the European Championship.

Former Minardi F1 driver Adrián Campos gave Alonso his first test in a race car in October 1998. After three days of testing at the Albacete circuit, Alonso had matched the lap times of Campos' previous driver Marc Gené. Campos signed Alonso to race for him in the 1999 Spanish Euro Open MoviStar by Nissan series. In his second race, again at Albacete, Alonso won for the first time. He took the championship by one point from championship rival Manuel Giao by winning and setting fastest lap at the last race of the season. Alonso also tested for the Minardi Formula One team, lapping 1.5 seconds faster than the other drivers at the test.

The following season Alonso moved up to Formula 3000, which was often the final step for drivers before ascending to Formula One. Alonso joined Team Astromega and was the youngest driver in the series that year by eleven months. Alonso did not score a point until the seventh race of the year, but in the final two rounds he took a second place and a victory, enough for him to end the season fourth overall behind Bruno Junqueira, Nicolas Minassian and Mark Webber.

Alonso was the third-youngest driver ever to start a Formula One race when he made his debut with Minardi at the Australian Grand Prix. The team was in its first season under the control of new owner Paul Stoddart and their new car, the PS01, was neither fast nor reliable. However Alonso's qualifying performance was good, outqualifying team-mate Tarso Marques by 2.6 seconds on début. At the fourth round at Imola he outqualified both Benettons, a feat he repeated later in the season.

Alonso became test driver for Renault in 2002 (Renault having taken over the Benetton team) and did 1,642 laps of testing that year. In 2003 Briatore dropped Button and put Alonso in the second seat alongside Jarno Trulli. Briatore was criticised by the British media for the decision, but technical director Mike Gascoyne later insisted to F1 Racing that the decision was correct, since the team had been impressed with Alonso's work rate and talent during his season as test driver.

Alonso remained with Renault for the 2004 season, scoring podiums in Australia, France, Germany and Hungary. At Indianapolis he suffered a high-speed accident while running in third place after a tyre deflated. In France he took pole position and finished second, running Michael Schumacher close for victory. Towards the end of the year teammate Jarno Trulli's performances deteriorated and he dropped Renault boss Flavio Briatore as his manager. Trulli's relationship with the team deteriorated to the extent that he signed for Toyota from 2005 onwards, and he was replaced for the final three races of the season by former world champion Jacques Villeneuve. Alonso ended the year fourth in the championship standings with 59 points.

For the 2005 season, Alonso was joined at Renault by Italian driver Giancarlo Fisichella. At the first race in Australia Alonso started near the back due to rain in qualifying but fought his way to third. He won the next two races in Malaysia and Bahrain from pole position, and took a third win in the San Marino Grand Prix after a 13-lap battle with Michael Schumacher.

Alonso won the first race of the 2006 season in Bahrain, overtaking Michael Schumacher after coming out of the pit lane with 18 laps left, after starting fourth. He qualified seventh at the Malaysian Grand Prix due to a fuelling error but finished second to team mate Giancarlo Fisichella. He won the Australian Grand Prix after overtaking leader Jenson Button's Honda.

On December 19, 2005, Alonso announced that he would be moving to McLaren for 2007. His contract with Renault was set to expire on December 31, 2006. However, on December 15, 2006, Alonso was allowed by Flavio Briatore and the Renault F1 Team to test for one day for McLaren at Jerez, as a result of his successes with Renault. Driving an unbranded MP4-21 and wearing a plain white helmet and overalls, Alonso completed 95 laps. Lewis Hamilton was chosen as his partner for the season. McLaren were reported to be paying Alonso £ 20 million (approx $ 39 million c. 2007) in 2007. Alonso debuted with the new McLaren car on January 15, 2007, in the streets of Valencia.

Alonso was linked with several teams for the 2008 season after his split with McLaren. Renault, Red Bull, Toyota and Honda were all suggested in the media. Renault's Flavio Briatore stated that he would welcome Alonso's return to the French team. On 10 December 2007, Alonso signed a two-year contract to drive for Renault alongside Brazilian driver Nelson Piquet, Jr. for around £25 million.

After much speculation, on 30 September 2009, Alonso was confirmed to be replacing Kimi Räikkönen at the Ferrari team, partnering Felipe Massa, a move known as "the worst-kept secret in F1". His contract covers three seasons (2010–2012), with speculated options until the end of 2014. Though his contract is said to have been signed as early as July 2008, Alonso confirmed only having a Summer-2009 agreement with Ferrari for a 2011 start, which was later changed to 2010. Ferrari and Räikkönen, whom Alonso will replace, had agreed to end their contract one year early. Though it was reported that Alonso's contract was worth €25-million per season, Ferrari released a statement that cast doubts over the salary offered, stating that "the numbers talked about have absolutely nothing to do with reality." Ferrari also cast doubt on "the arrival of technicians" with Alonso.

Alonso started the season with a fourth place in Australia, finishing half a minute behind race-winner Sebastian Vettel. He followed that up with sixth and seventh places in Malaysia and China, being outperformed by team-mate Massa in both races. He took his first podium of the season with third at the Turkish Grand Prix, having run second for a time and was only passed by Mark Webber on lap 51 of 58. Prior to his home race in Spain, he extended his contract with Ferrari for a further four years, until the end of 2016.

Alonsomanía is the fan phenomenon about Alonso. In 2005 his success fuelled an increase in interest in Formula One in Spain. On September 25, 2005, a huge party began in Alonso's home town of Oviedo when he became the country's first Formula One World Champion and the youngest in the sport's history at the time. Alonso's fans are recognized by the light blue and yellow Asturias flags which are coincidentally the same colors used by the Mild Seven Renault team between 2002 and 2006. After his championship win, a widely-visited exhibition of Alonso's racing gear was held in Oviedo.

View the full website biography of Fernando Alonso.