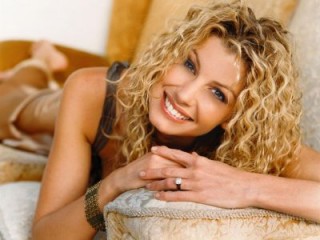 Faith Hill
Date of birth : 1967-09-21
Date of death : -
Birthplace : Jackson, Mississippi
Nationality : American
Category : Arts and Entertainment
Last modified : 2011-02-09
Faith Hill, born Audrey Faith Perry is an American Country singer born in Jackson, Miss.

Adopted at only a week old, she grew up in the small town of Star. She sang in church growing up and moved to Nashville at 19 to pursue a country music career. Hill's first Music City job was selling T-shirts at Fan Fair. She later landed an office job with singer-songwriter Gary Morris' Nashville company. Morris heard her singing along with the radio and asked her to perform on demo tapes. Hill's first professional gig was singing backup for songwriter-musician Gary Burr, who would later become her co-producer. She was discovered by a Warner Bros. executive while singing with Burr at Nashville's famed Bluebird Cafe.

Warner Bros. Nashville released Hill's debut album, Take Me as I Am, in 1993. She made country music history in January 1994 when her debut single "Wild One" held the No. 1 position for four consecutive weeks on Billboard's country singles chart. Hill was the first female country singer to accomplish the feat with a debut single since Connie Smith's "Once a Day" in 1964. The album was eventually certified triple-platinum.

The title track from 1995's album It Matters to Me gave Hill her third chart-topping hit and the album went on to sell 4 million copies. Tim McGraw and Hill married shortly after teaming up for the Spontaneous Combustion tour in 1996. Her first duet with McGraw, "It's Your Love," lodged itself at No. 1 for six weeks and brought Hill's first CMA award, for 1997 vocal event. It remained No. 1 for six weeks.

Hill's 1998 album Faith produced the crossover hit "This Kiss," which went to No. 1 on Billboard's country singles chart and peaked at No. 7 on Billboard's Hot 100 pop chart. The video for "This Kiss" earned a 1998 CMA award. On the strength of additional singles like "Let Me Let Go" and "Just to Hear You Say That You Love Me" (another McGraw duet), Faith sold more than 6 million copies.

Her 1999 album Breathe debuted at No. 1 on Billboard's Top 200 and country albums charts and sold more than 8 million copies. The title track stayed at No. 1 for six weeks and reached the top of the adult contemporary and Top 40 charts as well. The steamy music video, in which she rolls around under a white bed sheet, gained Hill attention outside the world of country.

She earned three Grammy awards in 2000 -- for female country vocal performance, best country album and for country collaboration with vocals, for the McGraw duet, "Let's Make Love." The couple embarked on the co-headlining Soul 2 Soul tour in 2000. The outing raked in $49.6 million, making it the top country tour of the year. Hill was named female vocalist of the year at the CMA Awards in 2000.

Cry, her 2002 album, sold 2 million copies, and she filmed an NBC-TV Thanksgiving special to promote it. The title track won a 2003 Grammy for best female country vocal performance. She landed a supporting role in The Stepford Wives film in 2004 (aside Nicole Kidman and Bette Midler).

Hill released the album Fireflies in 2005, which rejuvenated her career. The first single, "Mississippi Girl," quickly reached No. 1 and she and McGraw launched the Soul2Soul2 Tour in 2006, which sold more than a million tickets. They also scored another hit duet, "Like We Never Loved at All."

Hill has performed at several high-profile events, including Super Bowl XXXIV, the 1996 Summer Olympics, VH1 Divas Live 2000 and the 2000 Academy Awards, where she stepped in at the last minute for an ailing Whitney Houston. Her image has graced the covers of countless national magazines, including People, US Weekly, Glamour, TV Guide, Redbook, Country Music and Country Weekly. She also has landed lucrative endorsements with CoverGirl, Pepsi and ALLTEL.

The Faith Hill Family Literacy Project, designed to help combat illiteracy worldwide, launched in 1996. Hill's concern for family literacy is a result of her own family's firsthand experience with the issue. Her father, one of 14 children, never learned to read after being forced to quit school in order to help support his family. Hill's dream is that "someday every person will be able to read."

Faith Hill "Breathe" :




View the full website biography of Faith Hill.