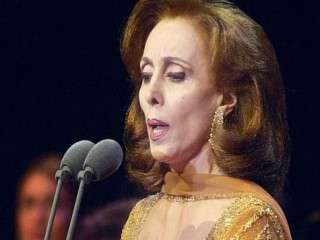 Fairouz
Date of birth : 1935-11-21
Date of death : -
Birthplace : Jabal El Arz, Lebanon
Nationality : Lebanese
Category : Arts and Entertainment
Last modified : 2011-04-13

Fairouz also spelled Fairuz, born Nouhad Haddad in Jabal El Arz is a Lebanese singer who is widely considered to be the most famous living singer in the Arab world and one of the best known of all time. Her songs are constantly heard throughout the region, and still spark Lebanese national pride.

Fayrouz began singing in 1947 when she joined Mohamed Fleifel choir. Later on, she met Rahbani brothers who encouraged her to try something new. In 1954, Fairouz married Assi Rahbani who knew her talent and believed in her.
In 1957, Fairouz inaugurated Baalbek Festival. The great success she met took her in tour to Syria where she was as warmly hosted.

Fairouz is the only artist who sang to encourage Lebanese people during wars and conflicts.

Fairuz possesses a large repertoire of around 1500 songs out of which nearly just 800 have been released. She has also been offered prestigious awards and titles over the years (see Fairuz Awards and Recognitions).




Around 1985 Fairuz CDs, vinyls and cassettes have been officially released so far. Most of the songs that are featured on these albums were composed by the Rahbani brothers. Also featured are songs by Philemon Wehbe, Ziad Rahbani, Zaki Nassif, Mohamed Abd El Wahab, Najib Hankash and Mohamed Mohsen.

Many of Fairuz's numerous unreleased works date back to the 1950s and 1960s and were composed by the Rahbani Brothers (certain unreleased songs, the oldest of all, are by Halim el Roumi). A Fairuz album composed by Egyptian musician Riad Al Sunbati (who has worked with Umm Kulthum) was produced in 1980, but is unlikely to be released. There are also fifteen unreleased songs composed by Philemon Wehbe and 24 unreleased songs composed by Ziad Rahbani in the 80's.

Fairuz has also released an album on Folkways Records, entitled Lebanon: The Baalbek Folk Festival.


View the full website biography of Fairouz.