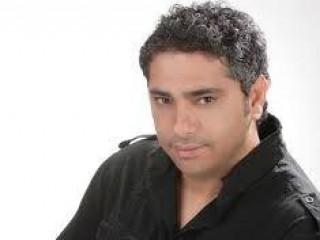 Fadel Shaker
Date of birth : 1969-04-01
Date of death : -
Birthplace : Saida, Lebanon
Nationality : Lebanese
Category : Arts and Entertainment
Last modified : 2011-04-13

Fadel Shaker, born Abdul Rahman Shamandar April, 1st, 1969 in Saida (Libanon), is a libanese singer.

Fadel Shaker first sang Umm Kulthum, Abdelhalim Hafez, Farid Al Attrach and other Arab Legends. Later on, he was discovered by an agent from Stallions Company label with whom he signed on for three albums.

Fadl's first album « Wallah Zaman » (Sweet old time) was released in 1998. Songs of the album were composed and written by well-known arab composers and songwriters.
« Baya'a El Qolob » (Cheater), was the second album of Fadel Shaker published in 1999. The title song was an overwhelming sucess. Hit # 1 on all charts in the first week, the song brought to Fadl the fame he aspired to and huge sales of the album in the Middle East.
In 2000, Fadel Shaker released his third album was « El Hob El Adem » (old love) with such hits like « Ash Men Shafak » (We have been missing you).

After « Hobak Khayal » (You love is a shadow) ( 2001), a successful duet with Arab Gulf singer Nawal (2002), Fadl Shaker released an outstanding radio smash-hit « Ya Ghayeb » (Why are you so far away) which reached # 1 status on all Arabic stations in the Middle East.

Fadl's coming album was "Dehkat Eldonya" (Life smiles at me). His latest album is « Ya msaharni lil » (I can't sleep because of you).

Albums

Walah Zaman 1998
Baya' El Oolob 1999
El Hob El Adeem 2000
Hobak Khayal 2001
Sidi Rouhy 2003
Saharney El Shook 2004
Allah Aalam 2006
Bada Al Bal 2009

Fadl enjoys fishing on his boat at the shores of his birth city, (Saida), and also enjoys most water sports. He loves to play the Piano and enjoys listening to old and modern music with his wife and kids. He's a big fan of sambosas and enjoys working at his restaurant in Saida.


View the full website biography of Fadel Shaker.