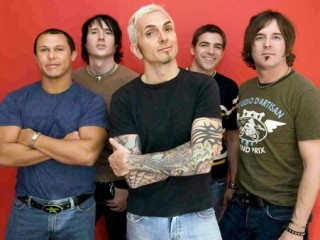 Everclear
Date of birth : -
Date of death : -
Birthplace : Portland, Oregon, U.S.
Nationality : American
Category : Arts and Entertainment
Last modified : 2012-05-02
Everclear is a well known American rock band formed in Portland, Oregon, USA, in 1992.

For most of its existence, Everclear consisted of Art Alexakis (b. 12 April 1962, Los Angeles, California, USA; vocals, guitar), Craig Montoya (b. 14 September 1970; bass, vocals) and Greg Eklund (b. 18 April 1970; drums). Eklund replaced original drummer Scott Cuthbert in 1994. Montoya and Eklund departed the band in 2003, but Alexakis has continued performing as Everclear with a new lineup.

After a solo tour in the fall of 2003, Alexakis decided to continue with Everclear, organizing a new band that made its debut in March of 2004. The new lineup consisted of bass player Sam Hudson, guitarist Dave French, and drummer Eric Bretl. In the summer of 2004, the band added keyboard player Josh Crawley, and swapped Bretl for former Everclear drum tech Brett Snyder. The new lineup released its first recording, a cover of Woody Guthrie's This Land Is Your Land, that summer. A self-released EP of performances recorded for XM Satellite Radio called Closure was given out at shows in the fall of 2004.

Free of a major label, Alexakis spent the ensuing year and half slowly recording material for a new Everclear release. He admitted that the time after the breakup of the original lineup served as a "wake up call", during which he suffered his third divorce and a filing for bankruptcy. Alexakis announced the completion of the album in early 2006, titled Welcome To The Drama Club.

With the Eleven Seven Music, the band released Welcome to the Drama Club on September 12, 2006, the title being in honor of their affection for the stage. Two songs were released from the album, "Hater" and "Glorious".

"Promenade" - Invisible Stars:


In January 2008, Alexakis posted on the band's Myspace that they were working on a cover album, and a new album, which should be released in 2008. In addition, two unreleased songs from the Drama Club sessions, "Downtime" and "Here Comes the Darkness", were posted.

The Vegas Years, a collection of cover songs was released April 15, 2008 by Capitol Records. It contains a mix of newly recorded, previously released, live, and remixed older covers. To celebrate the release, Art and the band hosted a live video chat. They confirmed they will be touring in the summer of 2008 including a possible UK tour in autumn. They also plan to release a series of singles for download online in the summer.

In August 2008 former Godsmack and Fuel drummer Tommy Stewart replaced Brett Snyder on drums. While guest hosting on Sirius radio station 24, Lithium, Art Alexakis debut on August 28, Alexakis debuted "Jesus Was a Democrat". The song can now be downloaded for free off the band's official website, or Myspace with free artwork and lyrics.

In November 2008 the band traveled around Iraq in support of the troops and the USO. They stopped at Camp Liberty, Camp Shield and Camp Slayer, FOB Echo and many other FOBs around the country. The sets were primarily done acoustically and consisted of most of the band's hits. In March 2009, Art Alexakis went on a solo acoustic tour, playing Hard Rock Cafes around the US. The tour was a benefit for the Musicians on Call charity.

On October 6, 2009 the band released In a Different Light, a collection of re-recordings of old Everclear songs in a more acoustic fashion. The collection also featured two new Everclear songs, "Here Comes the Darkness," which was actually a leftover track from Welcome to the Drama Club, and "At the End of the Day," which Alexakis had written and performed with Marion Raven.

On September 13, 2009, Alexakis posted a blog on Myspace that all of the current members had left the band, and were replaced by all new musicians. This included Freddy Herrera who was the bassist of The Exies, who had previously toured with Everclear. This new version of Everclear toured for two months in support of In a Different Light.

On December 28, 2009, Alexakis again posted on Myspace that former guitarist Davey French, was back on guitar, and Johnny Hawthorn was exiting the band. In the same blog, Alexakis said the band would be recording the next album in March and April 2010, for a 2011 release. On May 7, 2011, Alexakis announced on the band's Twitter page that keyboardist Josh Crawley had rejoined the band.

The band entered the studio in 2011 to record both a new forthcoming studio album and to record cover songs and re-recordings of past hits album entitled "Return to Santa Monica." Furthermore Extended Versions was released, which contains 10 live recordings of a show taken place on October 15, 2010 in Seattle, WA at the Historic Columbia City Theatre.

Art Alexakis stated on Twitter that a new Everclear album entitled Invisible Stars released on June 26, 2012.

View the full website biography of Everclear.