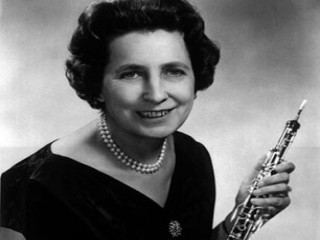 Evelyn Rothwell
Date of birth : 1911-01-24
Date of death : 2008-01-25
Birthplace : Oxford, England
Nationality : English
Category : Famous Figures
Last modified : 2012-01-16
Evelyn, Lady Barbirolli was an English oboist, and the wife of the eminent conductor Sir John Barbirolli. She was born Evelyn Rothwell, and was known professionally by that name until after she was widowed, when she became known as Evelyn Barbirolli. She rose to fame at a time when there were very few women in orchestras except for harpists.

and patron of the Bardi Symphony Orchestra and Mananan International Festival of Music and the Arts, Evelyn Rothwell, who also performs under her married name Lady Evelyn Barbirolli, champions community, academic, and world outreaches in the arts. In addition to being an honorary member of the International Double Reed Society, national honorary member of Delta Omicron International Music Fraternity, vice president of the Elgar Society, Freeman of the City of London, President of the Colne Philharmonic Orchestra, she is an Officer of the Order of the British Empire and honorary fellow of the Royal College of Music. In a world-class career that has placed her before the most distinguished assemblies of musicians, she has distinguished herself as soloist, teacher, lecturer, transcriber and editor of musical scores, and author of oboe texts.

Born in 1911 near Oxford, England, Rothwell attended elementary school at Downe House near Newbury, Berkshire. Her parents chose the institution for its strong music program. Rothwell concentrated in piano and sang in the choir. After the school's orchestra director petitioned for a replacement for the oboist, she took up an old Besson oboe, which she described in an article reprinted on the International Double Reed Society (IDRS) website as "an appalling instrument." Because the faculty lacked a proper tutor, she taught herself to play using "all the music I could lay my hands on--piano, voice, violin music ... anything."

It was not until Rothwell entered the prestigious Royal College of Music in London that she seriously considered specializing in reed instruments. With a Louis oboe, she trained under English master oboist and coach Leon Goossens; her lessons began with scales accompanied on piano. Of the reeds she used, she credited Thomas Brearley, who made reeds for students and professionals until his death in the 1940s. In the IDRS website article, she commented: "Younger players were forced to make their own reeds sometimes without much success." An American Fulbright scholar, Whitney Tustin, taught her reed-making and introduced her to the Tabuteau scrape, which she adapted to her own needs.

As Rothwell's skill eclipsed that of her instructor, Goossens hired her out for stage musicals and between-act performances. Her break came from appointment to the Covent Garden opera touring orchestra under director John Barbirolli. Barbirolli later conducted the Scottish National Orchestra, with which Rothwell performed the Pergolesi Oboe Concerto in 1935. Her fame grew from a recording of J. S. Bach's Brandenburg Concerto No. 2 in 1934 as well as from solo and principal oboe work for the Glyndebourne opera orchestra from 1934 to 1939 and principle work for the Sadler Wells Theatre orchestra in 1937 and 1938. Simultaneously, she joined the London Symphony Orchestra in 1934 and remained a member until 1939, when she married Barbirolli, a renowned musician 12 years her senior. In 1937 Barbirolli was invited to become the permanent conductor of the New York Philharmonic Orchestra; his tenure there lasted seven seasons.

As wife of a renowned director of the New York Philharmonic, Rothwell shouldered an irregular list of musical and social duties. When the couple resettled in Manchester with Barbirolli's appointment as director of the Hallé Orchestra in 1943, Rothwell resumed performing while serving as her husband's secretary. Within a year, Rothwell was scheduling up to 270 concerts annually for herself and maintained the heavy load until age 59. Noted film score composer Alan Rawsthorne honored her by dedicating his Oboe Concerto to her in 1947. In 1949 Rothwell became Lady Barbirolli after her husband's knighting. Reverting to her own name in print, in 1952 she published Oboe Technique, a long-lived tutorial that discusses the three-stage breathing technique. According to Martin Schuring, a professor at Arizona State University, the technique involves the expansion of the stomach, then the chest, and finally the upper chest just below the neck.

At the height of her career in the late 1950s and 1960s, Rothwell received two signal honors: Walter Thomas Gaze Cooper dedicated the 1956 Concertino for Oboe and Strings Op. 78 to Rothwell, who performed it twice under Cooper's baton. Two years later, Edmund Rubbra composed his lyrical Sonata for Oboe and Piano in C Major for her. Rubbra and Rothwell debuted it in Cologne, then introduced it in London on October 17, 1958. She teamed with her husband before the Vancouver Symphony. For her solo work in the Haydn Oboe Concerto in C, American Record Guide critic John P. McKelvey proclaimed her "one of the finest woodwind players of the century, a musician not inferior in her own right to JB [John Barbirolli] himself."

Widowed in 1970 after Barbirolli's death from a heart attack following a long battle with cancer, Rothwell promoted the Sir John Barbirolli Memorial Fund while editing and arranging music and teaching oboe at the Royal Academy of Music and in her private studio in northwest London. Of her three-hour lessons, former pupil Jerold A. Sundet, in an article on the IDRS website, recalled her quick assessment of hand, breath, and playing faults as well as the quality of reeds. She undertook a concert tour of the United States in January of 1972 and scheduled a recital series in Scotland the next month, followed by solo appearances in England on the average of one every other day. That same year, Elizabeth Maconchy wrote Three Bagatelles for Oboe & Harpsichord or Piano in Rothwell's honor. In 1973 she completed a tour of Canada and wrote The Oboist's Companion, a definitive text on the instrument.

Rothwell's reputation has held steady into the late twentieth and early twenty-first centuries. In 1995 Argentinian reed player Gonzalo Xavier Ruiz identified her and Leon Goossens as England's most influential baroque oboists. At age 90, she led master classes at the Birmingham Conservatory's School of Instrumental Studies, and she continues to teach and perform.

View the full website biography of Evelyn Rothwell.