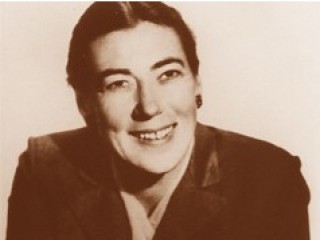 Evelyn Hooker
Date of birth : 1907-09-02
Date of death : 1996-11-18
Birthplace : North Platte, Nebraska, United States
Nationality : American
Category : Famous Figures
Last modified : 2010-08-23
Evelyn Gentry Hooker, born September 2, 1907 in North Platte, Nebraska, United States - died November 18, 1996 in Santa Monica, California, United States was an American psychologist whose groundbreaking research demonstrated that homosexuality is not a mental disorder.

Hooker was one of nine children born to Edward Gentry and Jessie Bethel, an impoverished farming couple in North Platte, Nebraska. When she was thirteen, she and her family loaded up their prairie schooner (one of her fondest childhood memories) and moved to Sterling, a small town in northeastern Colorado.

Admonished by her mother, who had only a third-grade education, to "get an education ... they can never take it away from you," Hooker was determined to pursue college studies. Expecting to attend a teacher's college, she was encouraged by several faculty members to enroll at the University of Colorado at Boulder, which she did in 1924 with a tuition scholarship. Hooker became a psychology major under the tutelage of Karl Muenzinger, who offered Hooker an instructorship her senior year and became her adviser as she pursued a master's degree in psychology after being awarded a bachelor's degree in 1928. After earning a master's degree in psychology from the University of Colorado in 1930, Hooker was offered a teaching position there. Despite the fact that the nation was in the midst of the Great Depression and jobs were few, she refused the offer and decided to pursue doctoral studies. Hooker wanted to attend Yale University, but the chairman of the Colorado psychology department, a Yale graduate, refused to recommend a woman for admission. Hooker thus attended Johns Hopkins University and in 1932 received a Ph.D. in experimental psychology. After receiving her degree, Hooker joined the faculty of the Maryland College for Women and taught there until the fall of 1934, when she became ill with tuberculosis. Following a year's recuperation at an Arizona sanatorium, Hooker taught for a year at Whittier College near Palo Alto, California. She applied for a fellowship to study in Europe for a year, and in 1937, increasingly interested in clinical psychology, she attended the Berlin Institute of Psychotherapy. There Hooker lived with a Jewish family and saw firsthand the rise of Adolf Hitler and the persecution of select groups, which spawned her desire to "make her life count in helping to correct social injustice."

In 1939, after another year at Whittier, Hooker became a research associate in the psychology department at the University of California at Los Angeles (UCLA). Except for a brief teaching stint at Bryn Mawr (1947-1948), Hooker remained at UCLA, where she conducted research and taught experimental and physiological psychology until her retirement from academic life in 1970.

While teaching an introductory course at UCLA in 1945, Hooker befriended one of her brightest students, a man named Sam From. Socializing outside the classroom, From introduced Hooker and her husband (she had married Donn Caldwell, a freelance writer, in 1941) to his circle of gay friends, both men and women, many of whom were among the intelligentsia of the day, including Christopher Isherwood and Stephen Spender. From urged Hooker to conduct research on homosexuals, contending that it was "her scientific duty to study people like us." Hooker had believed all the while that he and his friends were well-adjusted individuals, which contradicted the prevailing belief that homosexuality was a mental illness. Scientific curiosity prompted her to explore From's idea. She began to administer psychological tests to homosexual men whom From helped her recruit, but abandoned the project after divorcing Caldwell in 1947 and taking a teaching position at Bryn Mawr. She returned to California a year later, and in 1951 in London, England, married Edward Niles Hooker, distinguished professor of English at UCLA.

Determined to resume her study of homosexual men, and bolstered by the 1948 Kinsey Institute findings that homosexuality was more widespread than previously thought, in 1953 Hooker applied to the National Institute of Mental Health (NIMH) for a grant to study the adjustment of nonpathological homosexual men. The application, she was told by John Eberhart, chief of the NIMH grants division, was most unusual. After all, in the 1950s, at the height of the McCarthy era, homosexuality was considered to be a mental disorder by psychology professionals, a crime according to the law, and a sin in the eyes of the church. Moreover, there had been no scientific data gathered about homosexuals in settings other than prisons or mental institutions. Eberhart was persuaded by her proposal and awarded Hooker the NIMH grant.

Hooker recruited sixty male subjects (thirty homosexuals and thirty heterosexuals) whom she matched by age, socioeconomic status, and intelligence level. Each individual was given three projective personality tests widely used at the time--the Rorschach Test, the Thematic Apperception Test, and the Make-a-Picture-Story Test. Hooker submitted the results to three nationally recognized psychologists who were unaware of the subjects' sexual orientation. First, they evaluated each test for overall psychological adjustment; second, presented with pairs test results (of matched individuals), they attempted to distinguish the homosexual from heterosexual subjects. The results demonstrated that in the Rorschach Test the judges could not reliably distinguish the homosexual men from the comparable heterosexual men. The other two tests elicited narratives that did identify homosexuals. But overall, the scientists could not identify any adjustment differences. Hooker presented her findings, "The Adjustment of the Male Overt Homosexual," at the American Psychological Association Convention on 30 August 1956 in Chicago, Illinois, and published them in the Journal of Projective Techniques the following year.

Hooker continued her research into the 1960s and, because of her recognition as a leading authority on homosexual behavior, was asked in 1967 by the NIMH to head its task force on homosexuality. The final report of the task force was issued on 10 October 1969 and recommended, among other things, the establishment of the Center for the Study of Sexual Behavior and the repeal of sodomy laws.

Hooker authored several scientific articles, many of which were published in the Journal of Projective Techniques and contributed to several books on homosexuality. In 1970 Hooker retired from research at UCLA and established a private clinical practice in Santa Monica, California. She died at the age of eighty-nine and was buried at Woodlawn Cemetery in Santa Monica, next to her husband Edward Hooker, who had died in 1957. There were no children from either of her marriages.

An imposing woman with a six-foot frame (she was often compared to Eleanor Roosevelt), Evelyn Hooker was described by many as a researcher with a keen intellect, a charismatic educator, and a compassionate individual with a compelling sense of humor. She is remembered most for her pioneering study of homosexual men that provided empirical evidence that homosexuals were not inherently abnormal. Her research was a major influence on the 1974 decision by the American Psychiatric Association to remove homosexuality from its official list of mental disorders (Diagnostic and Statistical Manual of Mental Disorders, 3d ed.), acting on the governing board's recommendation of December 1973. In 1975 the American Psychological Association resolved that homosexuality per se implied no mental impairment but rather was within the normal range of human behavior. Hooker received many accolades throughout her career, including the American Psychological Association Award for Distinguished Contributions to Psychology in the Public Interest, the association's highest honor, in 1991. The writer Eric Marcus called Hooker the "Rosa Parks of the gay rights movement"; she was also recognized by many gay rights organizations for her role in the changing societal attitudes about homosexuality.
View the full website biography of Evelyn Hooker.