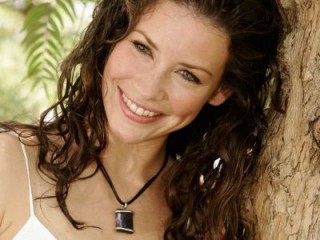 Evangeline Lilly (En.)
Date of birth : 1979-08-03
Date of death : -
Birthplace : Fort Saskatchewan, Alberta, Canada
Nationality : Canadian
Category : Arts and Entertainment
Last modified : 2011-04-16
Nicole Evangeline Lilly is a Canadian actress, best known for her role as Kate Austen in the ABC drama, Lost.

Born Aug. 3, 1979, in Fort Saskatchewan, Alberta, Canada, Nicole Evangeline Lilly's father was a home economics teacher and her mother was a beauty consultant. She grew up very athletic, devoutly Christian and seriously interested in charity work. She appeared in a few junior high and high school plays, but once she began attending the University of British Columbia, Lilly embarked upon a more altruistic path: she founded and ran a world development and human rights committee, then went on a mission to the Philippines. Lilly spent three weeks in the island nation living in grass huts in the jungle while assisting with her Christian group's missionary work.

To help pay for her college education, Lilly held a variety of colorful jobs, including flight attendant, waitress and mechanic, but eventually earned degree in international relations. Lilly's best-paying job, however, came when a Ford Modeling agent spotted her on the street and gave her a business card. Resistant at first, Lilly called the agent back after six months and soon found herself doing commercials – which she despised – and appearing in television and film projects like "Freddy vs. Jason" (2003) and "The Lizzie McGuire Movie" (2003), mostly as a glorified extra. One such appearance was in "Stephen King's Kingdom Hospital" (ABC, 2004), a supernatural miniseries about a haunted hospital built upon an ancient graveyard in which Lilly appeared in brief scene where she was shot in the head while lying in bed.

In a quintessential Hollywood fashion, Lilly was plucked from semi-obscurity when she auditioned for "Lost" (ABC, 2004-10), an ambitious TV series about 48 plane crash survivors who end up on an uncharted island and must learn to co-exist together while they unlock the mysteries of the island. After submitting her reel, not hearing back, and subsequently moving on with her life, she was shocked when executive producer J.J. Abrams called out of the blue and asked the unknown to audition for ABC executives. Lilly nailed the audition. In fact, Abrams and company so intensely wanted her cast as their female lead that up until the first day of shooting, they worked furiously behind the scenes to speed up her work visa approval process. The show – a dizzying blend of adventure, drama, romance, science fiction, mystery and mysticism – was an immediate sensation and became one of the most buzzed-about programs of all time. Lilly's Kate Austen, a mysterious fugitive, became a fan favorite and her romantic tension with both Jack (Matthew Fox) and Sawyer (Josh Holloway) kept viewers intrigued. Lilly enjoyed critical recognition for the role, including nominations for the Golden Globe and Saturn Awards, as well as a Best Ensemble award from the Screen Actors Guild.

During her "Lost" tenure, Lilly charmed in various talk show appearances, describing how she lived in a self-imposed "pop-culture bubble" and continued to travel all over the world on humanitarian missions. The actress refused nude scenes or sexually explicit roles, remaining levelheaded about her success and dedicated to her humanitarian roots. Not surprisingly, she also kept her personal life as private as possible, refusing to discuss her 2003-04 marriage to Canadian hockey player Murray Hone and choosing not to dwell on a 2006 fire that destroyed her home in Hawaii. Despite the best efforts of interviewers, she also avoided discussing her romance with "Lost" co-star Dominic Monaghan, who portrayed the island's resident heroin addict and fading rock star, Charlie Pace. The couple dated for three years beginning during the show's first season in 2004. Career-wise, Lilly opted not to aggressively pursue other high-profile roles during the run of "Lost;" instead, making French-Canadian psychological thriller "Et après" ("Afterwards") (2009) with John Malkovich and appearing in Kathryn Bigelow's Oscar-sweeping war drama "The Hurt Locker" (2009) as the concerned wife of star Jeremy Renner's explosives expert. She also signed on as one of the spokeswomen for L'Oreal Paris.

The unpredictable Lilly surprised many when she announced that after "Lost" ended, she was giving up acting to focus on humanitarian efforts, writing and eventually motherhood. She would amend this statement on "The View" (ABC, 1997- ), saying she wished to continue her "day job," but in moderation with her other interests. After the watershed finale of "Lost" in the spring of 2010, Lilly next made headlines with an appearance on "The Late Late Show with Craig Ferguson" (CBS, 2005- ) eagerly reciting the opening lines of her unpublished children's book called The Squickerwonkers and discussing her increased focus on her own writing.


View the full website biography of Evangeline Lilly (En.).